Finalmente ce l'ha fatta. Abbiamo atteso anni per vedere June mettere finalmente piede su suolo canadese. Un momento che sembrava non arrivasse mai fin quando The Handmaid's Tale 4 non ce l'ha regalato. Dopo l'intensissimo finale dello scorso episodio possiamo finalmente goderci ciò che viene dopo senza lasciare nulla off screen. June Osborn è finalmente libera di riappropriarsi del proprio nome, del proprio status e di una cittadinanza che i Figli di Giacobbe le avevano tolto. La donna è ufficialmente una cittadina americana richiedente asilo in Canada.
È come se qualcuno avesse finalmente acceso la luce in The Handmaid's Tale 4, e in questo panorama spicca quella meravigliosa bandiera canadese che mai avremmo creduto di esser tanto felici di vedere.
Tutto ciò che viene dopo sembra quasi un elogio alla normalità. Ai dettagli che diamo per scontato, che chiunque prima di Gilead dava per scontato. La bandiera americana, la hall di un hotel, un ascensore che non sembri una cella di Guantanamo, persone con diverse caratteristiche somatiche attorno, cibo variegato, dolci, arredi moderni. June ha disegnato in volto lo sguardo rapito dei bambini al lunapark. Difficile immaginare una reazione diversa dopo tutto il tempo trascorso a Gilead.
Questo episodio di The Handmaid's Tale 4 è caratterizzato da due elementi unici. Il primo è che si tratta del primo episodio in assoluto della serie svoltosi interamente al di fuori di Gilead, nel presente, e non persi in un flashback della vita prima del disastro. E il secondo è che finalmente abbiamo un'idea di quanto tempo sia trascorso da quando Gilead ha rovesciato il governo degli Stati Uniti imponendo il regime di terrore che abbiamo conosciuto: sette anni.
Sette anni. A pensarci gira la testa. Non ci si può stupire che per June ogni piccolo dettaglio di normalità sembri ora qualcosa di nuovo e di incredibile.
Persino vederla sotto la doccia fa pensare a come ci si debba sentire a compiere un'azione tanto normale quanto giornaliera senza sentirsi un animale in gabbia, preda di aguzzini appena dietro la porta del bagno. Finalmente dietro la porta di quel bagno, chiusa a chiave in modo quasi automatico, c'è "solo" Luke. Una persona amata. Una ricca cena, un morbido accappatoio, e un letto comodo sul quale godersi la prima vera dormita di una vita intera.
Tanti piccoli elementi che sembrano conquiste. Contorno di una libertà insperata, che assume ora un significato che dev'essere totalmente diverso da quello che forse s'immaginava un tempo, quando la libertà delle piccole azioni sembrava qualcosa di naturale e scontato. Per June è ancora tutto nuovo, ancora tutto da processare, da metabolizzare. La sua reazione è ancora quella ferma e misurata di una persona che ha dovuto imparare a controllare le proprie emozioni come se fossero frutto della meccanica.
La chiacchierata con Luke sembra essere il primo vero momento di sfogo, ma per quanto toccante, il divario emotivo tra l'uomo e la donna risulta chiaramente ancora vasto.
Luke ha ripreso già da molto tempo a piangere ed emozionarsi, mentre June deve ancora ritrovare la forza di lasciarsi andare. Per ora tutto quello che c'è è questo bisogno reciproco di scusarsi. L'uno per esser riuscito a scappare senza poter tirare fuori l'altra. E quest'ultima per esser riuscita a scappare senza poter salvare anche Hannah.
Ma pian piano le dinamiche del ritrovarsi aiutano June ad aprirsi, a piccoli passi e con piccole azioni. Finalmente è tempo di riabbracciare altri pilastri della sua vita dentro Gilead: Emily, Rita, Nichole, quella bambina che pure è una figlia che ha bisogno di sua madre, proprio come Hannah. Ognuno di questi abbracci ha il sapone del ritorno alla vita, ed è con essi, con la purezza dell'affetto, che June torna pian piano a essere umana, a "sentire cose" senza dover reprimere ogni centimentro della sua essenza.
The Handmaid's Tale 4 sceglie un posto tanto comune quanto cruciale per sottolineare la potenza del ritorno alla normalità per chi come June ha vissuto la repressione: un supermercato.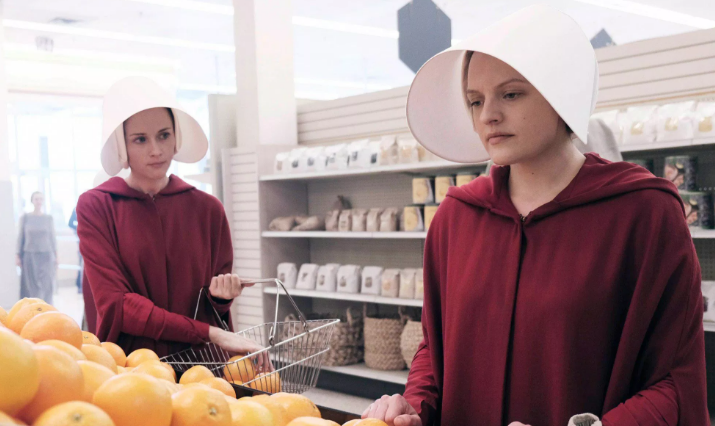 Quel posto che rappresentava per le ancelle un timidissimo attimo di "libertà", che tale poi non era. Un posto da frequentare come un dovere e al tempo stesso come una boccata d'aria, nonostante il capo chino e le guardie armate. Allo sterile monocromatismo dei supermercati di Gilead si sostituiscono ora i coloratissimi e fornitissimi supermercati canadesi, quelli di un mondo normale, in cui non ci sono ancelle terrorizzate, coperte da cuffiette bianche, che provano a sussurrarsi parole di lotta e di conforto.
Qui ci sono bambini che corrono, madri che li inseguono, coppie che si amano, donne che vestono come meglio credono. Qui c'è la bellezza della diversità, della normalità e della libertà. E ha un impatto così forte da tramortire l'animo di quella June che per troppo tempo è stata alienata da tutto ciò. Finalmente inizia a farsi strada in lei una certa umanità, che tuttavia non può tornare in modo del tutto indolore.
Per un attimo, tra i colori e i suoni di un mondo normale, tornano le visioni dell'orrore. Gli occhi di Alma tra le corsie che la perseguiteranno a vita assieme all'immagine delle sue amiche, trascinate via da un treno sulla strada della speranza. Le guardie, le armi, gli Occhi. E pian piano tutto torna a galla, a riscuotere il prezzo dell'orrore. Ogni immagine, ogni paura, ogni urlo e ogni colpo sofferto.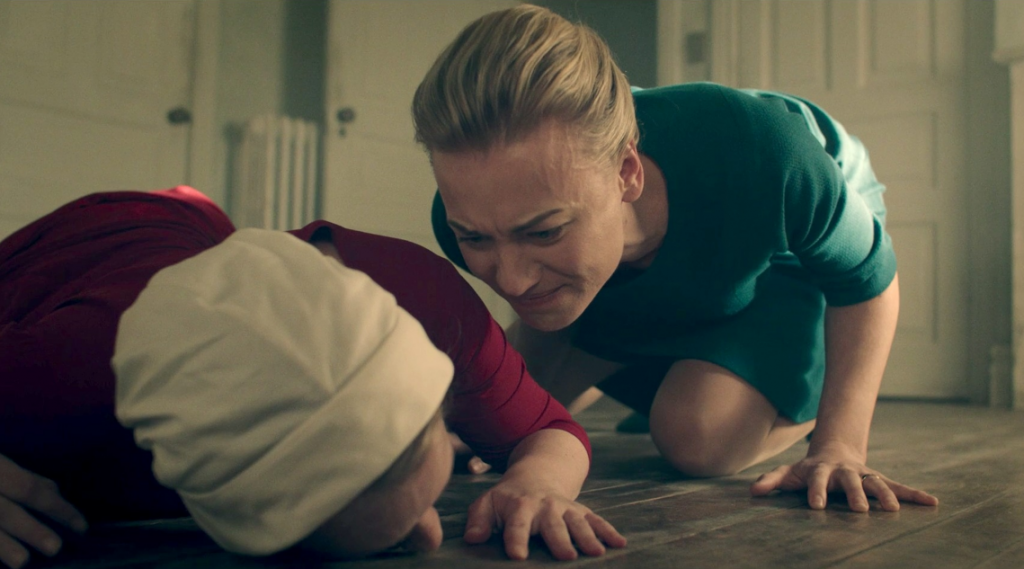 The Handmaid's Tale 4 ci fornisce qui una perfetta immagine del panico, quello della realizzazione di come siano stati quegli ultimi sette anni.
Per June è tempo di processare queste sensazioni. Di vincere i propri blocchi, le paure e i sensi di colpa. Nessuno può aiutarla meglio di coloro che già in passato hanno vissuto quel processo di rigenerazione. Moira, Emily e Rita. Ognuna di loro ha dovuto guardarsi allo specchio dopo la fuga e fare i conti con le proprie azioni. Azioni terribili cui la necessità di sopravvivenza stessa le ha costrette.
Ognuna di loro ha dovuto metabolizzare quello "shock culturale" e tutto ciò che si è portato con sé. Dal liberarsi degli anacronistici sensi di colpa inculcati a Gilead dalle varie 'zia Lydia' al fare i conti con la propria sfera sessuale, messa a soqquadro da stupri e violenze sistemiche. Non è facile, ma pian piano tutto torna, tutto guarisce. E perché guarisca è importante curare le proprie ferite con il giusto balsamo.
Per qualcuno è l'amore, per qualcun altro l'odio. Il più delle volte, in tali casi, entrambi. Come in quello di June. Che sulla strada della guarigione trova un ultimo ostacolo a dividerla dal lasciarsi andare: Serena.
O meglio, l'odio per Serena. Il bisogno impellente di sfogare la sua rabbia su chi le ha devastato la vita. June è ormai una donna d'azione, e non aspetta che si accumulino molteplici notti in bianco per levarsi il primo sassolino dalla scarpa. Chiamato Tuello in piena notte si fa condurre all'alloggio di Serena per dar inizio a una prima resa dei conti, ed è qui che assistiamo a uno dei momenti più intensi quanto soddisfacenti di questa serie tv.
Il confronto che aspettavamo da tempo, quello tra Serena e June in posizioni invertite. Quando finalmente è Serena a doversi inginocchiare supplicando clemenza e perdono con una dignità neanche lontanamente simile a quella che June ha mantenuto per tutto il tempo in cui è stata vittima della sua miseria. Il tentativo di Serena di far breccia nel cuore di June si scontra con l'incontenibile rabbia di chi conosce il proprio nemico meglio di quanto questo non creda e che ha messo da parte perdono e misericordia da molto tempo.
Le preghiere dell'una sbattono contro l'amaro realismo dell'altra, di una donna che sa chi e come l'ha salvata dall'orrore creato dalle stesse mani di quella pia donna che ora piange ai suoi piedi. Dopo anni arriva finalmente la soddisfazione della rabbia, delle urla e dell'augurio che una giustizia divina possa esistere e calare sul capo chino di Serena per farle provare anche solo "una frazione del dolore" che questa ha inferto a tutte quelle donne cui sono stati strappati dalle braccia i propri figli.
Non abbiamo più parole per descrivere la bravura di Elizabeth Moss. La sua capacità di dar vita alla rabbia di June è tale da bucare lo schermo e arrivarci dritta in faccia come uno schiaffo.
Il suo sfogo è tanto intenso da coinvolgerci. Sembra che assieme a lei persino i nostri muscoli si siano finalmente rilassati. June fa l'amore con Luke mentre noi facciamo l'amore con le emozioni che ci ha regalato in trenta secondi di ingiurie. È la forza della vita che torna in lei, dell'essere umano che si fa strada nella macchina creata da Gilead. È la guarigione che si veste di desiderio di giustizia e di ripresa del controllo: il controllo di sé stessa, delle proprie emozioni, e persino della propria sessualità.
Sono le ultime vesti dell'ancella che fu, che cadono per far spazio a nuovi abiti: quelli di una June che ora domanda giustizia. Per se stessa, per quelle donne marchiate da un anello rosso sull'orecchio e per tutte le persone che hanno pagato le conseguenze del fanatismo di Gilead. Dopo la resistenza, la fuga e la rivoluzione, è giunta una nuova fase della lotta: quella alla luce del sole.