Le serie tv sono ormai la nuova Hollywood e Hollywood è fatta di star. Potremmo provare a elencare i più grandi attori della cosiddetta "industry" e siamo sicuri che nelle liste di tutti noi salterebbero fuori sempre i soliti dieci nomi. Eppure non ci sono solo le grandi star a portare avanti il piccolo schermo, così come non ci sono solo i protagonisti a portare avanti il cast. Esistono personaggi secondari fantastici che però probabilmente amo solo io e attori molto sottovalutati. Un esempio tra tutti è di certo Ann Dowd che è apparsa in gran parte dei prodotti più interessanti e belli degli ultimi anni.
Come molti attori Ann Dowd ha trovato il vero successo piuttosto tardi, ma questo non le ha impedito di entrare di diritto nella rosa degli attori "da tenere d'occhio" e sia il suo Emmy per The Handmaid's Tale che la sua infinita pagina imdb ne sono la prova. Se però il passaggio sotto i riflettori è arrivato con la fantastica serie di Bruce Miller basata sul romanzo omonimo di Margaret Atwood, la carriera di Ann Dowd è molto più lunga e risale addirittura al 1990.
Le origini: una vita da attrice secondaria
La carriera di Ann Dowd parte, come per moltissimi attori, dal teatro già dal 1984 ma è soprattutto con cinema che comincia a farsi notare. Sempre con ruoli secondari, ha la possibilità di recitare con registi importanti – primi tra tutti Clint Eastwood e Steven Soderbergh – ma anche Bryan Singer e Jonathan Demme con l'indimenticabile Philadelphia. Lavorerà di nuovo accanto al miticoDenzel Washington con The Manchurian Candidate nel 2004. Presenza costante ma sempre defilata, lavorerà tra gli altri anche accanto a Susan Sarandon, Natalie Portman, Tom Hardy, Will Smith, Sandra Bullock.
Nonostante una carriera molto prolifica, possiamo dire che forse il primo vero riconoscimento alla carriera di Ann Dowd arriva solo nel 2012, quando ottiene il National Board of Review Award alla miglior attrice non protagonista per il film Compliance un thriller sconvolgente basato su una storia vera e diretto dallo stesso Craig Zobel di Omicidio a Easttown, miniserie gioiello di Sky Atlantic. Da questo momento in poi, la carriera televisiva di Ann Dowd compie un vero e proprio salto in avanti.
Ann Dowd e la televisione: un amore senza fine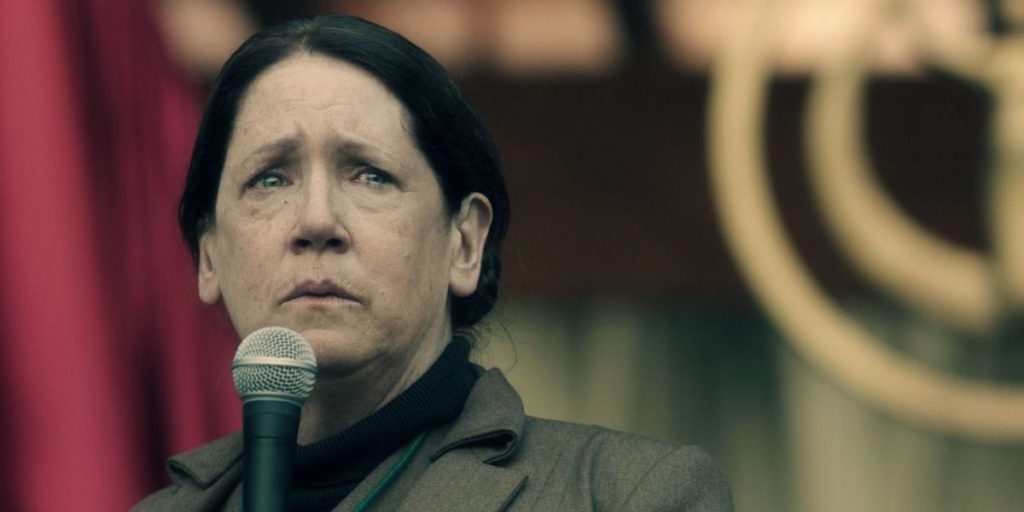 Se la carriera di Ann Dowd nel teatro inizia nel 1984, il debutto in televisione arriva solo un anno dopo, nel 1985. Risalendo al passato, possiamo ritrovane Ann Dowd addirittura in alcuni ruoli secondari in X-Files, Freaks e Geeks e Giudice Amy, due serie tv che tra il grande successo di pubblico e il cult successivo sono rimaste impresse nell'immaginario comune. Dopo una piccola capatina nell'acclamatissimo True Detective, Ann Dowd ha avuto finalmente la possibilità di sviluppare dei personaggi su più di un episodio.
Nel 2014 ottiene infatti il ruolo secondario di Bonnie Newton nella miniserie Olive Kitteridge, gioiellino targata HBO con Bill Murray tra i protagonisti. E nello stesso anno ottiene anche il ruolo della madre di Michael Sheen nell'acclamato Master of Sex. Il 2014 risulta proprio essere l'anno della svolta per Ann Dowd, che sarà la leader Patti Levin nella fantastica Leftovers,piccolo capolavoro di Lindelof all'indomani di Lost. Serie HBO dalla qualità altissima, Leftovers non riesce a superare lo scoglio della terza stagione, ma resta una piccola pietra miliare nella serialità americana. Con questa serie, Ann Dowd riceve una nomination come attrice non protagonista ai Critics' Choice Television Awards.
La consacrazione: Good Behavior e The Handmaid's Tale
Good Behavior è una serie in realtà passata decisamente in sordina sia in madrepatria che da noi in Italia. Pur avendo ottenuto buoni riconoscimenti sia di pubblico che di critica ed essendo stata rinnovata per due stagioni, è stata poi cancellata nel 2018. In questa serie, però, Ann Dowd ha avuto l'occasione di mostrare tutta la sua bravura nel personaggio ricorrente (ancora una volta, mai protagonista) dell'agente FBI Rhonda Lashever.
La consacrazione definitiva, anche se come personaggio comunque secondario, arriva con The Handmais's Tale nel 2017. Basata su un romanzo distopico del lontano 1985, la storia in realtà è da considerare futuristica ancora oggi. Quando debuttò su Hulu, The Handmaid's Tale fu una vera e propria detonazione e ricevette oltre il 94% di recensioni positive su tutto gli aggregatori di opinioni più famosi. Gli ascolti della seria ad appena una settimana dopo il debutto della prima stagione furono tali che la serie venne rinnovata per una seconda stagione e numerose furono le candidature e le vincite a tutti i principali premi.
Ann Dowd ottiene l'Emmy Awards come migliore attrice non protagonista nel 2017 per il suo ruolo ricorrente della terribile "zia" Lydia Clements.
Zia Lydia: la banalità del male
The Handmaid's Tale narra di un futuro distopico in cui la guerra e l'inquinamento hanno completamente cambiato la faccia del pianeta e della società. Da una parte assistiamo alla nascita del regime teocratico di Gilead al posto degli Stati Uniti, dall'altro alla nascita di classi sociali nuove al cui top ci sono i comandati e le loro "mogli" e in basso le "ancelle", le uniche donne fertili che vengono così possedute dai comandanti per portare avanti la specie. In mezzo, ci sono le "zie" che addestrano le ancelle a una vita di stenti e regole. Anna Dowd è una di loro.
Fin dall'inizio risulta chiaro come Lydia, più che malvagia di per sé, sia una credente fervente e già qui possiamo vedere quanto il confine tra credere ciecamente a un'ideale e legittimare nefandezze ne suo nome sia labile.
"You're girls are special"
È una delle prime cose che le sentiamo dire nella serie: voi siete speciali. La maternità è un dono derivato direttamente da Dio, siete vive e intatte per uno scopo. Non è solo quello che dice zia Lydia a essere terrificante, ma il tono con cui l'attrice Ann Dowd lo pronuncia. C'è una dolcezza nel suo tono che parla di completo brainwashing, di quelli più crudeli e profondi. La donna crede davvero che tutto ciò che fa serve alla sopravvivenza della specie e crede realmente che quel modo di trattare le ancelle sia l'unico possibile per vivere.
Uno degli esempi più egregi e sfumati di quella che Hannah Arendt chiamava "la banalità del male" e che Ann Dowd riesce e a ritrarre magnificamente grazie alla sua capacità di essere dolce e minacciosa allo stesso tempo. Una prova recitativa veramente ad altissimo livello che giungerebbe quasi inaspettata se non avessimo seguito Ann Dowd lungo tutta la sua unga, lunghissima, sottovalutata carriera. Potremmo chiamarla più una meritata investitura, con la speranza che questo ruolo possa spalancarle progetti sempre più prestigiosi. Sicuramente lo meriterebbe.
Scopri Hall of Series Plus, il nuovo sito gemello di Hall of Series in cui puoi trovare tanti contenuti premium a tema serie tv