L'universo televisivo è da sempre popolato da comedy nate con lo scopo di intrattenerci strappandoci qualche risata. La maggior parte di queste lo hanno fatto senza troppo impegno, mentre altre – specie nell'ultimo decennio – hanno dato alla loro sceneggiatura un'impronta un po' più impegnata. Sono nate così comedy del calibro di Modern Family, Grace and Frankie e altre che abbiamo elencato qui, che oltre alla comicità nascondono un significato molto più profondo. Eppure ce n'è una che non rientra in nessuna di queste due categorie: The Good Place.
Ideata da Michael Schur e conclusasi lo scorso gennaio dopo quattro stagioni, The Good Place ha riscosso un grandissimo successo di critica fin dal primo episodio. E per ragioni più che comprensibili.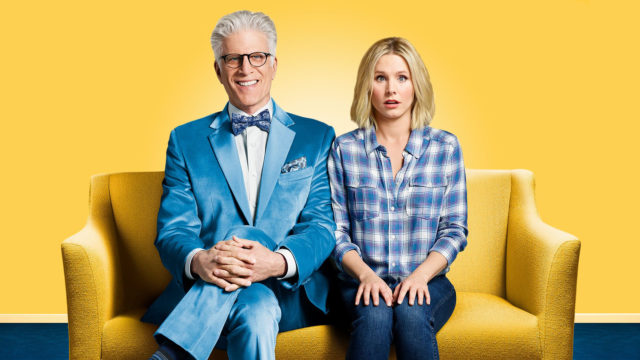 Diretta benissimo, recitata in modo sublime da una splendida Kristen Bell (che molti ricorderanno nel ruolo di Veronica Mars) e da un monumentale Ted Danson. Ma soprattutto scritta in modo ineccepibile. Al di là infatti degli innumerevoli pregi tecnici, The Good Place è stata apprezzata soprattutto per una caratteristica che la distingue da tutte le altre comedy moderne: l'originalità.
Un'originalità oltretutto molto versatile, poiché non è solo l'idea di base di questa serie tv a renderla completamente diversa. Lo stile, lo sviluppo generale della storia, i colpi di scena, e i dettagli che hanno impreziosito la sceneggiatura hanno reso The Good Place un vero gioiello del panorama televisivo. Un gioiello che combina una comicità sottile e intelligente a un significato profondamente educativo, facendo splendere entrambi allo stesso modo.
Non è un caso che la stessa Kristen Bell, subito scritturata per il ruolo di protagonista, abbia accettato la parte perché intrigata dal potenziale educativo della storia, come da lei stesso dichiarato nel 2016.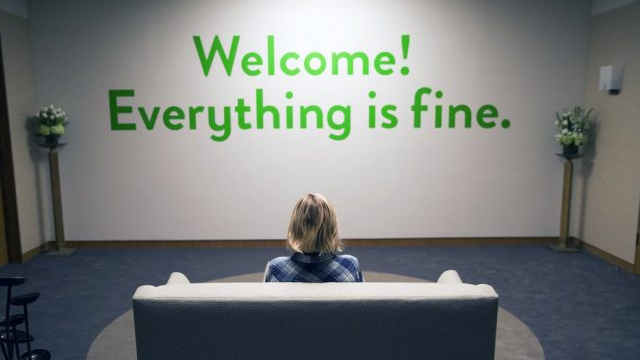 Ma andiamo con ordine. Come può una serie tv comica avere uno spessore di questo genere? In The Good Place ogni dettaglio ha giocato un ruolo fondamentale. Di sicuro l'impronta fantasy che ha portato la serie a svilupparsi in un contesto immaginario le ha garantito la possibilità di mettere in scena situazioni tanto paradossali da sfociare a tratti nel demenziale (senza mai esserlo davvero). In questo modo Schur ha potuto dar sfogo alla propria fantasia con trovate che risultavano incredibilmente divertenti senza passare per assurde in senso assoluto. Essendo l'ambientazione un immaginario aldilà, infatti, tutto risulta perfettamente lecito.
Garantito il piano comico – e arricchito da battute che non hanno risparmiato politica, musica e mondo dello spettacolo – Schur si è potuto dedicare così al piano più profondo ed emotivo della sua geniale creazione. L'idea infatti di sviluppare una storia che connettesse la vita di tutti i giorni degli esseri umani con la vita ultraterrena, ha dato modo all'autore di esplorare le più disparate intercapedini della morale e dell'etica.
Non si tratta perciò solo di una banale narrazione delle conseguenze di una vita terrena vissuta in un certo modo. The Good Place è un viaggio attraverso la complessità della vita e del concetto di moralità.
E il grandissimo pregio di questa serie è quello di esser riuscita ad affrontare questa ricerca non solo in modo sorprendentemente leggero e divertente, ma di averlo fatto in modo lineare e coerente. The Good Place infatti è riuscita di stagione in stagione a rinnovarsi con idee fresche e sempre più originali sorprendendo puntualmente lo spettatore con la presentazione di ulteriori implicazioni della storia precedentemente raccontata.
Infatti se all'inizio della prima stagione sembra che Schur voglia raccontare l'evoluzione nell'aldilà di un'anima all'apparenza perduta, dalla seconda stagione in poi risulta chiaro come tali intenzioni fossero ben diverse. L'autore infatti puntava a esplorare molteplici sfaccettature dell'essere umano. Dalla capacità di potersi sempre migliorare a quella di subire l'influenza positiva di una compagnia costruttiva. Ma anche molto altro.
The Good Place è una parabola sulla complessità del mondo moderno. Una parabola che si concentra inizialmente sul singolo salvo portare poi alla luce la sua impotenza all'interno della complessa rete sociale di un mondo globalizzato.
Si parte col riflettere sulla proverbiale deresponsabilizzazione che ogni uomo o donna applica a sé stesso/a per giustificare il marcio che si porta dentro, per giungere al più mastodontico marcio che infetta la società moderna. Una società che forse avremo costruito con le migliori intenzioni ma che ha finito per rivelarsi un'immensa macchina produci-ingiustizie sfuggendo al nostro stesso controllo. Sicuramente al controllo del singolo, che appare così solo un'insignificante creatura dinanzi alla complessissima macchina sociale azionata da ogni suo piccolo gesto. Positivo o negativo che sia.
Questa considerazione tuttavia passa attraverso una serie di altre considerazioni che generano nel corso delle stagioni riflessioni mai banali sulla relazione che unisce l'uomo alla vita. Sull'attaccamento che l'essere umano presenta con la stessa e sul compromesso fatto con l'idea di morte. In merito a questo, le numerose lezioni di Chidi sull'etica, su un'esistenza vissuta con moralità e e costretta in un tempo limitato sulla Terra, sono qualcosa di mai visto in tv.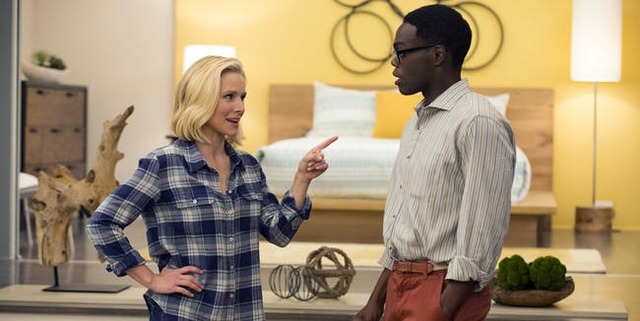 Se The Big Bang Theory è riuscita a rendere divertente la fisica quantistica, The Good Place è riuscita a renderci perfino Kant e altri grandissimi filosofi piacevoli da ascoltare.
Un'impresa tutt'altro che semplice. Vinta con la capacità di mettere davvero tutto in discussione. Il fatto stesso che Chidi alla fine risulti esser finito nel Bad Place, per via della sua cronica indecisione, ne è un chiaro esempio.. L'averlo messo al pari di chi ha vissuto una vita all'insegna dell'egoismo come Eleanor, mette in luce come anche i comportamenti all'apparenza più virtuosi possano essere non privi di macchia in questo mondo. E questo perché ogni decisione, compresa quella non presa, può avere una conseguenza che genere sofferenza ingiusta in qualcun altro.
The Good Place ci ha insegnato moltissimo. Ci ha fatto riflettere su cose a cui forse non avevamo mai fatto attenzione, e su tante altre che invece sembravano scontate finché qualcuno dei protagonisti non le ha formulate in espressioni ben precise.
Ci ha accompagnato attraverso le rocambolesche avventure dei protagonisti fino alla fine di quello che sembrava un obiettivo impossibile da raggiungere: riformare l'aldilà. Rivedere le valutazioni morali a cui sottoporre gli uomini. Tutto per permettere loro di avere un'ulteriore chance di cambiare, di vivere con più umanità e altruismo. O secondo etica, per dirla come Chidi.
E lo ha fatto in modo impeccabile nonostante l'evidente stanchezza che ha accompagnato la quarta e ultima stagione. Una stanchezza che ha evidentemente influenzato parzialmente anche il finale. Il lungo episodio finale di The Good Place infatti sceglie di focalizzarsi su un elemento più preciso: il senso della vita. La configurazione di quest'ultimo più in un obiettivo da perseguire che nella felicità. Notiamo così che persino la felicità finisce per diventare un obiettivo da raggiungere, facendo sì che in tale raggiungimento si esaurisca non solo la ricerca, ma dopo un po' anche il senso stesso che le dava respiro.
Ci ritroviamo così a scoprire ancora una volta quello che Chidi spiegò a Michael durante la seconda stagione in merito alla finitezza dell'esistenza e alla convivenza con la certezza della morte.
Nell'una risiede il segreto della seconda. E così scopriamo con un finale appropriato – anche se non sorprendente – che l'esistenza di un uomo non può nutrirsi di sola e pura felicità, ma ha bisogno di molto di più. Di un'evoluzione, di una serie di obiettivi, ma soprattutto di una fine. Sembra quasi un paradosso eppure The Good Place è riuscita con grandissima semplicità a spiegarci le ragioni di tutto ciò, confermandosi così una serie unica nel suo genere.