Attenzione: evitate la lettura se non volete imbattervi in spoiler sulla quarta stagione di The Crown.
Le tematiche trattate nell'articolo che segue fanno riferimento esclusivamente agli eventi narrati in The Crown e non intendono alludere in alcun modo alle vicende reali che hanno ispirato la serie tv.
Ero un estraneo il giorno in cui conobbi la principessa tredicenne che un giorno avrei sposato. E dopo tutti questi anni, lo sono ancora. Lo siamo tutti. Ogni persona in questo sistema è un estraneo smarrito, solo e irrilevante. Tutti a parte quella persona, l'unica e sola che conta. Lei è l'ossigeno che respiriamo, l'essenza del nostro dovere. Il tuo problema, se posso, è che sembri non aver capito chi sia quella persona.
Poche parole, tra le rare destinate a Filippo nella quarta stagione di The Crown. Ma cariche di densità emotiva, come raramente accade nella "gelida tundra" di casa Windsor. Tutto il cuore di un uomo "condannato" a vivere in una prigione dorata si unisce per un secondo alla profonda disillusione di chi ha imparato, faticosamente, a sopravvivere entro i confini di uno spazio molto circoscritto.
Un corridoio angusto, soffocante, nel quale le individualità non sono più individualità, ma pedine al servizio di un'altra pedina, la Regina, impotente donna di potere a sua volta asservita a un bene maggiore.
Parole appassionate, e allo stesso tempo glaciali. Coltellate dirette al cuore di una donna, Diana, incapace di accogliere quel mondo nella stessa misura in cui quel mondo la rigetta e la mette al secondo piano persino rispetto ai cani. Ma anche il paradossale abbraccio di un padre che sembra aver trovato nella moglie di un figlio, mai davvero amato, una giovane nella quale immedesimarsi. Almeno un po', fino al punto di rottura. L'extrema ratio, l'anticamera della tragedia, il sovvertimento di un sistema incontrovertibile.
Fino alla morte, evocata in uno scatto finale negli occhi di una Diana impaurita, terrorizzata dalle parole di un uomo che sembra capirla benissimo, apprezzarla, persino volerle del bene, ma che allo stesso tempo è intimidatorio nel rimarcare uno status quo che prescinde dai desideri di tutti.
Estranei, in una famiglia di eterni sconosciuti. Privilegiati, senza il diritto massimo: essere davvero liberi.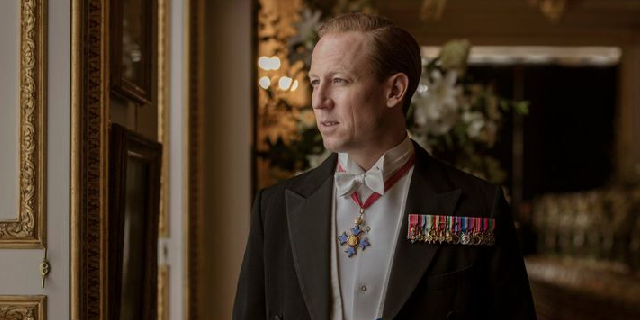 Le parole di Filippo rappresentano quindi una sintesi ideale non solo del tragico destino che attende la povera Diana nella quinta stagione di The Crown, ma soprattutto l'essenza dell'intera serie: dal Duca di Edimburgo alla futura Regina consorte, passando per la triste Margaret, l'insoddisfatta Anna e chiunque altro orbiti intorno a Buckingham Palace, tutti sono estranei condannati a recitare un ruolo infausto. Esclusa Lei, Elisabetta. Ma fino a un certo punto, perché sarà anche vero che "il potere non sia niente senza autorità", ma è altrettanto vero che un potere formale non rappresenti sempre un vero potere.
Lei lo sa bene, chiunque abbia ormai confidenza con The Crown lo sa bene. E bene lo sa anche Filippo: svuotato d'ogni forma di autonomia reale, del giovane uomo incapace di accettare l'onere di affiancare una Regina senza alcun onore non è rimasto niente. All'apparenza, almeno. Ma ha imparato a recitare un copione, stare al suo posto, mettere da parte qualsivoglia forma d'idealismo o di potenziale rivalsa personale. Il giovane Filippo, ucciso dal Duca di Edimburgo, ha trovato la sua dimensione passiva: forse infelice, ma sicura, stabile e dettata al dovere.
Chi non lo accetterà mai sarà invece Diana, incaricata del medesimo compito. Lady D., la principessa triste dagli occhi spezzati in una lacrima sospesa dentro uno scatto. Nell'ultimo istante della quarta stagione di The Crown si sintetizza la tragedia imminente, la presa di coscienza di una via d'uscita impossibile, l'insanabile incompatibilità tra i suoi sogni e la triste realtà di un mondo che non sarà mai suo. L'urlo strozzato in gola si riflette nel quadretto di quella che dovrebbe essere la quintessenza della quiete felice, una foto di famiglia scattata a Natale. Terrorizzata, non accoglie l'abbraccio di Filippo ma recepisce la minaccia, facendosi schiacciare una volta per tutte dal destino che purtroppo conosciamo tutti. Laddove Filippo s'è arreso, Diana combatte vanamente. Nello spazio in cui Diana cerca di fuggire, una gabbia inespugnabile si stringe intorno a lei.
Vittime e carnefici hanno un solo, unico volto. Lei no, non ieri, non a quel pranzo natalizio di 30 anni fa, non nel breve futuro che incombe all'orizzonte. L'innocenza violata non svanirà mai. Dell'empatico rapporto con Filippo restano solo poche parole: "Non finirà molto bene". Dell'amore per Carlo, l'ombra ingombrante di Camilla. Di quella che si ostina a chiamare "mamma", l'asettica coordinatrice di un regno. Della sua vita pochi sprazzi di straordinaria umanità condivisa col popolo del quale non smetterà mai di far parte, timide luci in un'esistenza macchiata col rosso del sangue.
Del finale della quarta stagione di The Crown si imprime nella memoria l'ode spassionata all'estraneità. E un ritratto di famiglia, profondamente diverso da quello che aveva chiuso il primo atto di questa incredibile saga. Alla gioia sincera dei bambini, appena affacciatisi in un mondo che ancora non li ha plasmati, si contrappongono gli sguardi tirati di donne e uomini svuotati della propria individualità, asserviti alla sfinge che dirige il sistema, la goffa recitazione di alcuni, la serenità imperturbabile dell'anziana matriarca e, ai lati, due figure fuori dal coro: Diana, in lacrime, estraniata. E Filippo, nella posizione destinata all'estraneo degli estranei. Dentro lo scatto, eppure fuori dal cerchio. Irrilevante, tra gli irrilevanti. Perché "inquieto giace il capo che porta la corona", ma per i satelliti invisibili di una regnante può essere perfino peggio. Almeno finché non si accetta il compito ingrato.
Antonio Casu