L' episodio della settimana scorsa ha fatto esultare i fan e ci ha fatto ben sperare per il futuro. The Big Bang Theory sembrava essere tornata ad i livelli di una volta e ci ha fatto ridere come non faceva da tempo. Questo quinto episodio sarà stato all'altezza? O si sarà rivelato ripetitivo e noioso?
Ma prima di esprimere un giudizio sull'episodio di questa settimana, ricapitoliamo cosa è accaduto!
NATURALMENTE SE NON AVETE VISTO L'EPISODIO NON CONTINUATE A LEGGERE:
CONTIENE SPOILER!
Gli sceneggiatori hanno preferito continuare a sfruttare la convivenza di Amy e Sheldon per un altro episodio nella speranza di poter continuare a far divertire il loro pubblico. Ma è abbastanza  questo per suscitare interesse? Amy e Sheldon devono affrontare i primi problemi causati dal loro esperimento di convivenza. Che Sheldon fosse un coinquilino irritante e fastidioso lo aveva già chiarito Leonard, ma, a quanto pare, Amy non aveva capito fino a che punto potesse essere snervante il suo fidanzato. I primi problemi insorgono e fanno litigare gli Shamy, coppia di punta della Serie.
Per una coppia come la loro ogni cosa può rappresentare un problema, anche  dividere il contenitore per gli spazzolini (e pensare che in How I met your mother Lily e Marshall dividevano direttamente lo spazzolino). Sheldon inoltre vuole imporre alla sua ragazza regole ferree per tutto e persino dei turni per l'uso del bagno.
La lite spinge Sheldon a minacciare di interrompere la convivenza. In loro aiuto giungono Leonard e Penny, che sanno sempre come risolvere la situazione. Leonard dà nuovamente consigli ad Amy su come poter rendere più sopportabile Sheldon e su come trattarlo. La esorta anche a non cedere alle sue assurde richieste e gli fa notare tutti i progressi che il dottor Cooper ha fatto già grazie a lei. Sebbene sia interessante soffermarsi sul rapporto d'amicizia tra Leonard ed Amy, che raramente viene valorizzato in "The Big Bang Theory", mi chiedo se fosse necessario ascoltare nuovamente gli assurdi difetti di Sheldon ed i consigli del suo coinquilino. Le scene tra Amy e Leonard avevano un retrogusto di deja vu, essendo fin troppo simili a quelli della settimana scorsa.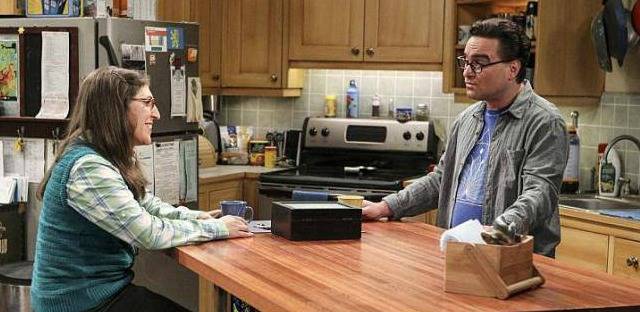 La parte certamente più interessante dell'episodio di questa settimana è stato il dialogo tra Penny e Sheldon. Questi due personaggi antitetici hanno un feeling particolare che li rende adorabili insieme. Certo la coppia più spassosa della serie sono gli Shamy, ma al secondo posto metterei sicuramente i due amici Sheldon e Penny. Fin troppo simili, sono capaci di aprirsi l'uno all'altro e di confessarsi preoccupazioni, timori e segreti.
L'amicizia di Sheldon e Penny ci aveva già regalato molte scene divertenti e speciali ed anche stavolta i due non ci hanno deluso. Penny accompagna Sheldon in una gelateria perché lui vuole rimorchiare una ragazza, ma ovviamente rinuncia prima  iniziare. In compenso però Sheldon si mette a nudo e mostra la sua fragilità, confessando alla sua vicina di casa che i problemi dei suoi genitori lo hanno spinto a non fidarsi molto della vita di coppia. E che teme che la sua relazione con Amy possa entrare in crisi come quella dei suoi genitori.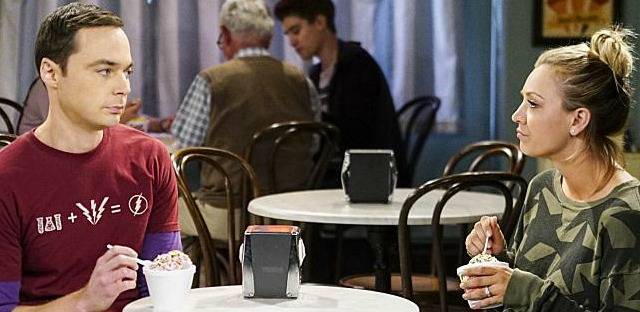 Ha anche rivelato la ragione per cui bussa sempre tre volte prima di entrare. Ha ricordato infatti che a 13 anni una volta è entrato nella stanza dei suoi genitori senza bussare ed ha sorpreso il padre che tradiva la madre. Chi avrebbe immaginato che dietro il famoso "Knock Knock Knock Penny" non ci fosse un disturbo ossessivo compulsivo, ma un triste ricordo della sua infanzia.
Alla fine comunque Penny lo convince a non preoccuparsi delle crisi e ad impegnarsi a non perdere Amy, così Sheldon accetta di mettere il suo spazzolino nello stesso bicchiere di quello di Amy e gli Shamy si riappacificano.
Intanto Howard e Bernadette si apprestano a partire per un weekend romantico a Palm Springs, ma la donna a causa delle nausee mattutine provocatele dalla gravidanza preferisce rimandare il viaggio. Decidono allora di restare a casa per stare un po' da soli in intimità, ma all'improvviso vengono spaventati da un rumore e scoprono che c'è un intruso nella loro casa.
Dopo un po' di paura controllano e scoprono che l'intruso non è altri che Stuart, intrufolatosi per sfruttare la loro vasca idromassaggio. In seguito si aggiunge anche Raj, che ha avuto la medesima idea credendo che Howard e Bernadette siano in vacanza. I due si mettono a conversare a mollo nella vasca idromassaggio, senza sapere che i loro due amici li osservano dalla finestra. Scopriamo così che Raj è di nuovo single e che sta soffrendo molto, ma che ha deciso di non rivelarlo a nessuno perché se ne vergognava molto.
Ma solo io credo che Stuart e Raj sarebbero una coppia perfetta? Io ho sempre atteso il coming out di Raj e Stuart sarebbe per lui il compagno ideale… Anche Stuart ha le sue vicissitudini da raccontare: non ha più la corrente nel suo appartamento. Raj allora si offre di ospitarlo: chissà se lui accetterà. Sarebbe interessante e divertente vederli convivere.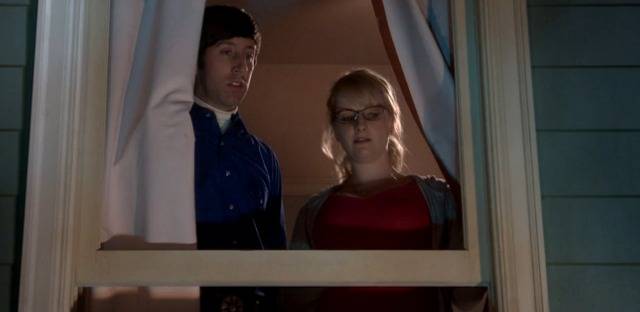 Fare un episodio che sembra davvero troppo simile a quello della settimana scorsa non è stata affatto una grande mossa. Quello che è venuto fuori è un'unione di scene già viste, noiose e ripetitive. Sia che si tratti dei litigi di Sheldon ed Amy, sia che si tratti del ritorno di Stuart, non possiamo che notare che l'episodio è davvero deludente.
La schiera di episodi divertenti si è già interrotta purtroppo, mostrando che The Big Bang Theory ha bisogno ogni settimana di qualche situazione nuova ed originale su cui lavorare altrimenti stanca.
Naturalmente non tutto l'episodio è da buttare: la confessione di Sheldon fatta nella  gelateria è stata interessante e la scena di riconciliazione degli Shamy, sebbene inserita solo per accontentare i fan, è stata davvero carina. Per non parlare del fatto che abbiamo finalmente scoperto qualcosa sulla vita amorosa di Raj.
Insomma questo quinto episodio ha alternato alcune scene apprezzabili a situazioni da deja vu e ci ha lasciato l'amaro in bocca. Speriamo che il prossimo possa essere migliore.