The Big Bang Theory è una di quelle serie tv che non ha bisogno di presentazioni. Una delle sitcom più amate degli ultimi dieci anni (tanto da essere stata copiata con insuccesso, ve ne parliamo qui), è stata padrona del piccolo schermo per dodici stagioni e, anche adesso che si è conclusa ormai da diversi mesi, è difficile smettere di parlarne.
Una delle caratteristiche che più ha saputo catturare gli spettatori di The Big Bang Theory sono stati i suoi personaggi, in particolare i suoi protagonisti, agli antipodi rispetto agli stereotipi e, soprattutto, nel caso di Sheldon, Leonard, Howard e Raj, caratterizzati da diverse stranezze, che li hanno resi sopra le righe e decisamente indimenticabili.
Le manie di Sheldon, il mutismo di Raj, le insicurezze di Leonard e la capacità di Howard di essere sempre fuori luogo, tuttavia, non sono le uniche bizzarrie che lo spettatore si trova a incontrare nella serie. Gli autori di The Big Bang Theory non si sono risparmiati, costellandola di personaggi assurdi che non possiamo non ricordare col sorriso.
5) Bertram "Bert" Kibbler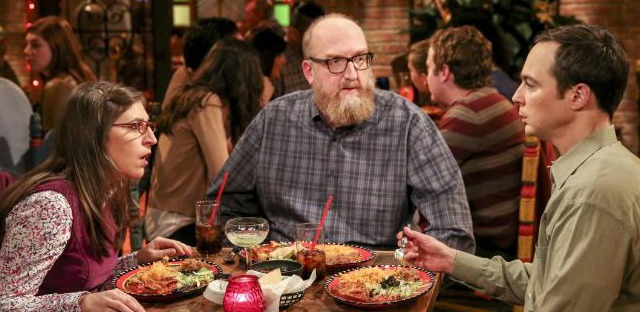 Bert è un geologo alla Caltech presentato da Amy agli altri membri del gruppo. Prima della sua presentazione ufficiale, però, potrebbe esservi sfuggito che Bert era già comparso per pochi minuti sullo schermo nella sesta stagione, quando Raj stava organizzando un appuntamento in biblioteca con una ragazza. Quando nella settima stagione Amy fa le presentazioni tra Bert, Howard e Raj, quest'ultimo sembra non ricordarsi di lui, ma la sua breve comparsa nella stagione precedente già ce l'aveva dipinto come un tipo bizzarro quando chiede di poter prendere parte all'appuntamento tra Raj e Lucy.
Bert è ossessionato dalle rocce, e questa è forse la sua caratteristica più peculiare oltre ad avere un comportamento particolarmente impacciato ed essere a volte fuori luogo (caratteristica non estranea a molti personaggi della serie). L'interesse morboso di Bert emerge in particolare quando invita Amy a una mostra di rocce, finendo poi per andarci con Howard e Raj: durante il viaggio in macchina, l'uomo esprime la sua euforia urlando "Mostra delle rocce! Mostra delle rocce!" e sbattendo le mani sul cruscotto dell'auto, lasciando i due non poco perplessi e pentiti di aver assecondato Amy.