Charles Michael Levine, meglio conosciuto come Chuck Lorre, è un regista, produttore e sceneggiatore statunitense. Non so voi, ma per quanto mi riguarda il nome di questo signore mi si è stampato nel cervello non troppi anni fa, durante la prima maratona rewatch di The Big Bang Theory. Dopo 10 episodi la schermata nera di fine puntata continuava a dirmi che ciò che stavo vedendo era un'idea del signor Chuck Lorre. Mi sono allora ricordato di aver già sentito questo nome svariate volte negli anni della mia adolescenza, ma di aver sempre confinato questa informazione in un area del mio cervello che corrisponde al cestino di un desktop. Un cestino che non viene mai svuotato e da cui ogni tanto qualche nozione viene ripristinata.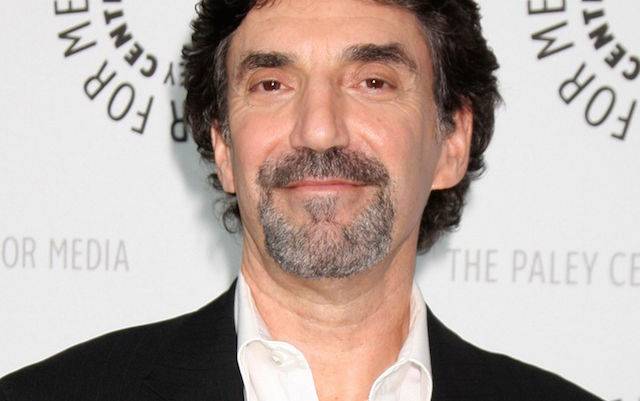 La curiosità mi ha portato allora a indagare un po' in quali progetti avevo sentito parlare di Chuck Lorre prima di The Big Bang Theory. Così ho scoperto due cose. La prima è che (e mi vergogno un po' a dire di averlo dimenticato o addirittura di non averci dato abbastanza attenzione all'epoca) è alla sua fantasia che dobbiamo due delle serie più geniali di fine secolo: Dharma & Greg e Due uomini e mezzo. La seconda è che Chuck Lorre non sbaglia un colpo. Se fate mente locale sulla sua carriera praticamente il 90% delle sue creazioni sono stati successi. Oltre alle due citate poco fa e a The Big Bang Theory (eletta da un recente sondaggio la serie più amata di sempre), ci sono Mike & Molly; Mom; Young Sheldon e il recentissimo Il metodo Kominsky. 
La rivoluzione del punto di vista
Le due scoperte mi hanno quindi portato a chiedermi: che cosa c'è nei suoi show che piace così tanto? È banale dire che piacciono solo perché sono divertenti. La risata fine a se stessa alla lunga stufa. Chuck Lorre ha rivoluzionato il punto di vista. Più in generale, se vogliamo, la narrazione. Il suo punto di vista è sempre negli occhi di chi non ti aspetteresti e la narrazione ruota attorno a gruppi sociale e a figure mai raccontate prima. O per essere più precisi mai approfondite prima. 
Pensate ad alcune serie tv degli anni '70, '80 o '90. I Jefferson, I Robinson, Genitori in Blue Jeans, Friends, Willy il principe di Bel Air, Quell'uragano di papà, La vita secondo Jim…e potrei andare avanti a elencare. Bellissime serie, che ho amato e che rivedo sempre col sorriso. Al centro della storia c'è una famiglia, un gruppo di amici, un gruppo di colleghi, alle prese con situazioni semi-normali di tutti i giorni. Nella loro normalità, però, si sentiva spesso puzza di finzione e di stantio. Puoi variare le verdure, ma un minestrone non inizierà a chiamarsi pizza.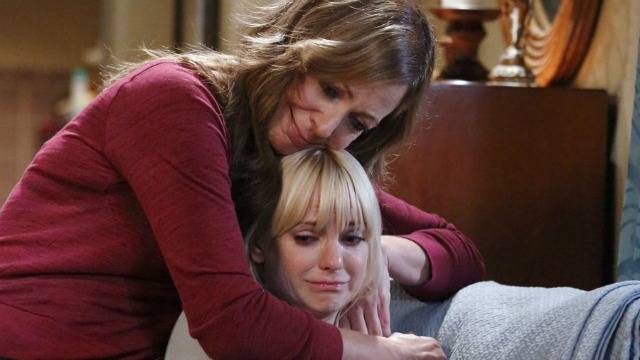 Chuck Lorre ha rotto lo schema classico della sitcom. Ha iniziato piano piano a farlo con Dharma e Greg, in cui il punto di vista era spaccato a metà. Greg, la metà convenzionale, avvocato di grido figlio di una facoltosa famiglia borghese. E Dharma, la metà rivoluzionaria, istruttrice di yoga, cresciuta dai genitori Abby e Larry in modo fortemente anticonvenzionale come una hippy. I due si incontrano, si innamorano e si sposano il giorno stesso. Poi con Due uomini e mezzo, una sitcom tutta al maschile in cui a vivere insieme sono i due fratelli Charlie, Alan e il mezzo del titolo, Jake, figlio di Alan.
E Mom, che cronologicamente si posiziona nel 2013 quando The Big Bang Theory è già affermatissima, rappresenta la definitiva rottura del punto di vista della famiglia che definiremmo "classica". Praticamente un'antitesi. Una giovane madre single con due figli, un ex marito irresponsabile e assente. Una donna che cerca di liberarsi da un'infanzia difficile, un passato di dipendenza da alcol e droga, condiviso con la sua stessa madre, alle prese con problemi comuni a tutti noi. Il lavoro, le spese, i problemi dei figli (parecchi in questa serie, ma non vi spoilero oltre).
Ora, leggendo la breve trama di Mom ci credereste che è quella di una sitcom? Io direi piuttosto un dramma! Eppure ecco la rottura, la rivoluzione. Christy, la protagonista, è così reale. Un'eroina in negativo, tanti errori alle spalle, tanti rimpianti, eppure una vita a cui sorride tra il grottesco e il drammatico. E noi sorridiamo e ridiamo con lei. Una donna che prende per mano la sua vita e che potrebbe essere la nostra più cara amica. E qui sta il tocco di genio di Lorre per avvicinare lo spettatore, accorciare le distanza: il titolo dell'opera. La serie non si chiama Mother, ma Mom, che in americano è il modo informale di chiamare mamma.
Punti di vista in famiglie non convenzionali, questo potrebbe essere un buon sottotitolo per un documentario su Lorre. Chissà se mai qualcuno vorrà farlo.
All started with the Big Bang
La vera rivoluzione, soprattutto in termini di successo, arriva prima di Mom con loro: i nerd. Nel 2007 inizia The Big Bang Thory. Chuck Lorre ha costruito un'intera serie su una categoria che veniva di regola associata alla concetto di "non figo", il cui momento di gloria maggiore è stato il film del 1984 La rivincita dei nerds. Una categoria spesso rappresentata come odiosa, sapientona, con personaggi da cui distaccarsi. Mai prima d'allora era stato scelto come punto di vista principale quello di un gruppo così non canonico. Una serie che come claim ha avuto: smart is the new sexy. Il successo è stato stratosferico.
Niente Superman, niente Wonder Woman. Ci rimangono solo un Flash rachitico, un Acquaman indiano, un Lanterna Verde cieco e un Cavaliere Oscuro lillipuziano.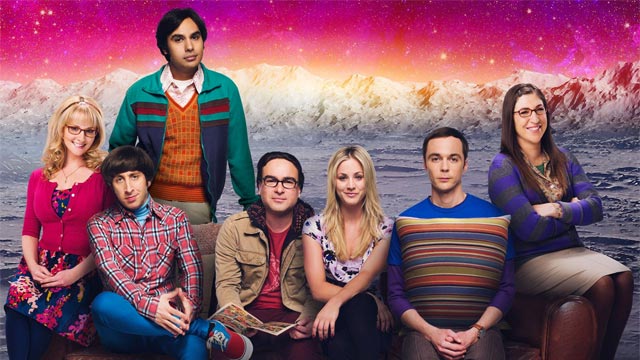 Le premesse erano talmente buone che nel momento in cui il punto di vista iniziale si è perso per strada per dovere di storia, The Big Bang Theory ha iniziato a stufare il pubblico. Quando cioè la narrazione ha iniziato a girare intorno alle coppie di fidanzati, che diventavano marito e moglie, padre e madre e smettevano di essere intelligentoni allampanati di buon cuore, ma con evidenti problemi sociologici.
Chuck Lorre presenta: Il metodo Kominsky
Il metodo Kominsky (in questo articolo vi abbiamo raccontato la nostra opinione) è ancora un passo più in là. Un'avventura nella dramedy. È una commedia che fa ridere più con i non detti, gli sguardi di Alan Arkin e le allusioni di Michael Douglas. Ed è una commedia che fa piangere perché le piccole riflessioni sulla vita, sulle amicizie, sull'amore diventano enormi negli occhi dolci di due "non più giovani".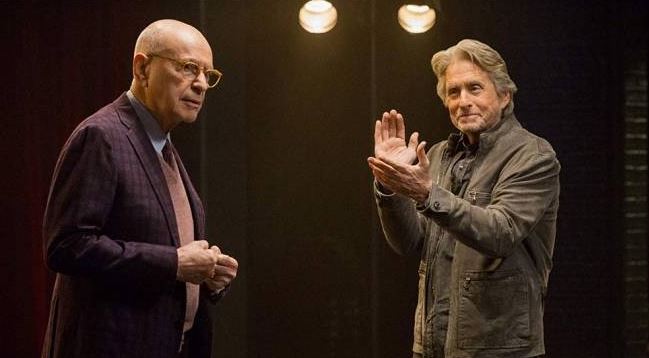 Un cast (Michael Douglas e Alan Arkin, i protagonisti, e poi Nancy Travis, Susan Sullivan, Lisa Edelstein) che da solo regge l'80% della narrazione. Due mostri sacri del cinema hollywoodiano in: due vecchietti che si ritrovano improvvisamente ad affrontare la vita. Molto semplice, eppure così complesso. L'esistenza vista da chi l'ha già vissuta quasi tutta e ora si ritrova a dover continuare senza l'amore che lo ha guidato per 50 anni o con piccoli problemi che dicono "Ehi, hai 70 anni, non 30!" Sorreggendosi l'un l'altro, finti burberi, troveranno nell'amicizia reciproca più di quanto avessero mai sperato.
Chuck Lorre non sbaglia un colpo. Chissà cosa ci riserverà in futuro?