Può una figura pirandelliana conquistarci nella sua autenticità? Il Philip Jennings di Matthew Rhys ci spiega come questo sia possibile.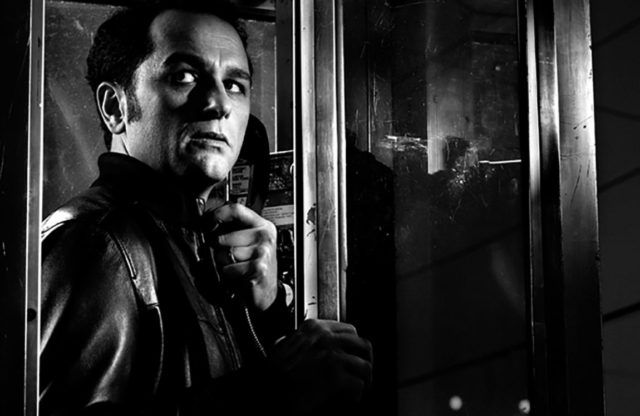 We'll get another chance…to go home. It wasn't the right time. — Philip Jennings
What's the right time? — Elizabeth Jennings
Washington, 1981. Gli anni della presidenza Reagan. Gli anni della guerra fredda.
La parola russa товарищ (továrišč) viveva di un solo, unico significato. Manifesto di un popolo, di un sistema, di quell'idea monolitica racchiusa nella sigla CCCP. Un tempo ormai parte di un grigio passato, sepolto nelle pagine impolverate della storia. Il mondo è cambiato. La Russia è cambiata. Oggi la parola "compagno" assume sfumature più generiche, tenui.
Philip Jennings è espressione stessa di questo cambiamento.
Un personaggio polivalente, capace di incarnare il significato passato e attuale di quel vocabolo, nel solco di una storia che andava compiendosi e che in cuor suo sapeva già decisa.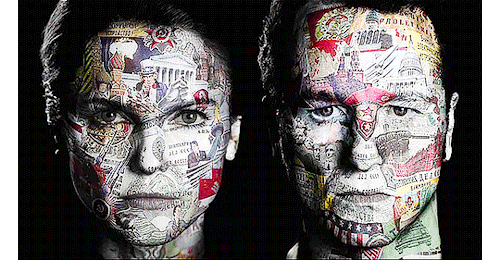 Philip, insieme a sua moglie Elizabeth, è l'anima camaleontica di The Americans, Serie Tv ideata da Joe Weisberg e trasmessa in Italia su FOX.
Personaggio incomparabile per scrittura, spessore, profondità. Il protagonista si esalta nella perfetta e magistrale interpretazione di Matthew Rhys, in una simbiosi, quella tra l'attore e il suo ruolo, culminante in una fusione inscindibile. Un magnetismo empatico che si realizza nell'originalità, distintivo a tal punto che agli occhi del pubblico risulta impossibile immaginare Philip Jennings interpretato da un altro nome.
Eclettico, dinamico, cosciente. Grazie alle sue doti, Rhys concede allo spettatore il punto di vista del suo alter ego condividendone ogni singolo sentimento, dubbio e preoccupazione.
Ma è nella componente metarecitativa di The Americans che esplodono il talento dell'artista e la grandezza del ruolo.
Nel suo trasformismo Philip indossa una e più maschere, fatte di nomi, storie, intenti celati e che, nonostante si nutrano di menzogne, non vedono mai i propri contorni perdersi nella deriva della loro stessa finzione. Individui fittizi, eppure così reali, resi autentici da quella scintilla che emerge dalla personalità di un protagonista estremamente sensibile. Perché si può essere veri pur vivendo nei panni di qualcun altro.
МИХАИЛ/PHILIP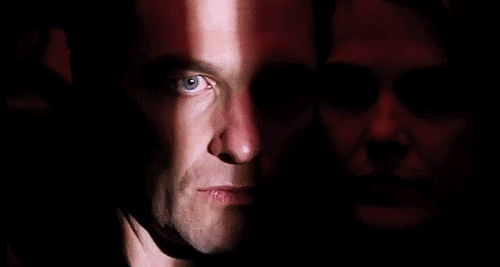 D'altro canto la stessa esistenza del protagonista è di per sé una gigantesca finzione.
Mikhail nasce a Tobolsk. Qui cresce senza il padre, immerso nella violenza di un paese che vive anni difficili. Una vita da cui desidera scappare e che il KGB gli permette di lasciarsi alle spalle. Un viaggio, una missione, che lo cambieranno per sempre. Oggi quel ragazzo che tutti chiamavano Mischa è impossibile da riconoscere. Si cela nell'intimità più recondita dell'uomo chiamato Philip: padre di famiglia, titolare di un'agenzia di viaggi, americano. Eppure, in quanto spia comunista che risponde al direttorato "S", Mischa è sempre lì, da qualche parte.
Al contrario della sua partner, il protagonista è combattuto tra le sue due anime. Non è il fascino corrotto del capitalismo a farlo vacillare, quanto la scelta che ha da offrire, la possibilità di assicurare a coloro che ama un'esistenza, un futuro diverso e autonomo.  Paradossale che proprio l'amore sia la ragione che lo spinge a continuare in questa sua vita illegale. Proteggere i suoi figli e stare al fianco di Elizabeth, l'amata Elizabeth, il cui spirito imperturbabile è devoto alla causa come il primo giorno.
Una vita che non gli appartiene più. La stessa vita che gli ha consegnato le uniche certezze tali da farlo sentire un uomo libero.
Un conflitto interiore onnipresente, che porta con sé questioni, problemi e speculazioni le quali non solo alimentano la Serie Tv stessa, ma che finiscono col garantirci un personaggio in continua evoluzione.
ELIZABETH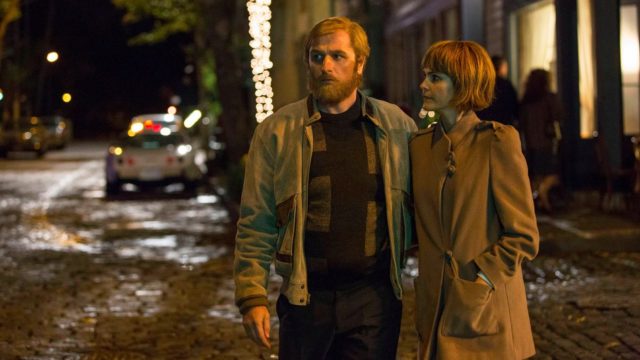 I'll do my job. I've always done it. — Philip Jennings
I know. — Elizabeth Jennings
Elizabeth è l'ago della bilancia.
Come in un ballo, i due si sono conosciuti spogliandosi di paure e segreti, affrontando prima se stessi, fino al cogliere la consapevolezza nascosta dietro le loro individualità. La dedizione di lei è incondizionata, inflessibile, in bilico solamente quando i figli rischiano di subire le ripercussioni del loro lavoro. Philip invece ne è soffocato. La patria è lontana, gli Stati Uniti gli hanno mostrato una nuova prospettiva: un mondo diverso, accessibile, dove Paige e Henry non dovranno affrontare le stesse difficoltà che lui ha passato. Un mondo di sicurezze.
In un'esistenza dettata dalla spersonalizzazione, i volti di Mikhail e Philip vengono a coincidere in quelli di marito e padre.
Il legame con la donna che ha sposato è ciò che lo tiene a galla e allo stesso tempo lo imprigiona. La domanda se stiano facendo la cosa giusta, se sia corretto stravolgere la quotidianità degli individui con cui entrano in contatto, la volontà di andarsene che sembra non voler uscire dalla sua testa. Ognuno di questi dubbi pare essere silenziato dal dialogo con Elizabeth, che lo richiama alla missione. Un confronto tra due esseri molto diversi, ma fisiologicamente legati da un amore puro, come un seme sbocciato da un terreno arido, dove il dovere verso lo Stato e il KGB dettano le regole.
Immerso in questo dilemma morale, Philip si ritrova in balia di eventi e situazioni da cui esce grazie all'esperienza, alla complicità della sua compagna, ma che inevitabilmente lo prosciugano come essere umano.
PADRE E SPIA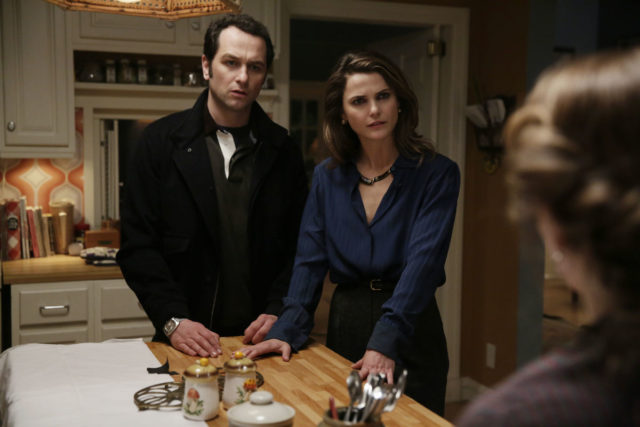 We don't want this. This is a disaster for us. — Philip Jennings
For YOU? — Paige Jennings
È nella famiglia che Philip Jennings concretizza la sua esistenza e a cui è unicamente devoto. Il ruolo di padre e spia si confondono, portando a tensioni e imprevisti. Il rapporto con Gabriel, la gestione del Pastore Tim, la stessa amicizia con Stan, vicino, amico e agente dell'FBI, dimostra come ormai Mischa sia soltanto un'ombra ingombrante da cui Philip tenta di scappare.
Così la continua ricerca di una risposta, di un equilibrio al di fuori della routine da con cui deve fare i conti, lo induce a tentare strade alternative, come i seminari dell'EST (Erhard Seminars Training): momenti in cui cerca di scoprire se stesso, attraverso le sue emozioni, quelle radici che oggi sono la sua gabbia.
Mikhail, Philip, Clark, Scott, Justin, Ted
Facce di un medesimo dado che rotola su quel tavolo da gioco che è la guerra fredda. A lanciarlo un individuo che assomiglia a un eroe tragico. Una persona stritolata nel sacrificio, la quale consacra forzosamente sull'altare di un ideale ormai abiurato, sogni e futuro.
Il mondo a cui appartiene e che lo ha plasmato dandogli uno scopo è il suo padrone. Quel mondo che significava una nuova possibilità, lo ha messo in trappola.
Philip è un animale stanco, costretto a continuare una guerra non più sua. Desidera la fine, nonostante quella sia la sua unica strada. Perché The Americans è anche questo: svolgere il proprio ruolo, nonostante tutto. Essere un compagno significa immolarsi ed essere Philip Jennings significa non poter essere se stessi, pur sapendo di essere cambiati.