Non mentire non è solo uno dei comandamenti che dovremmo seguire se non vogliamo dannare la nostra anima, ma è anche uno dei primi dogmi che (nella vita reale come nelle Serie Tv) insegniamo da sempre ai bambini. Eppure provate a indovinare qual è l'insegnamento a cui più disobbediamo nel corso della nostra vita?
Siamo tutti d'accordo che mentire per ferire il prossimo sia profondamente sbagliato e non deve essere fatto. Ma come la mettiamo con le white lies, le così dette bugie bianche? Che male c'è, ogni tanto, a dire un'innocua bugia per fare bella figura?
Ecco 10 Serie Tv che ho fatto finta di vedere (perché non avrei mai potuto ammettere il contrario)
1) Game of Thrones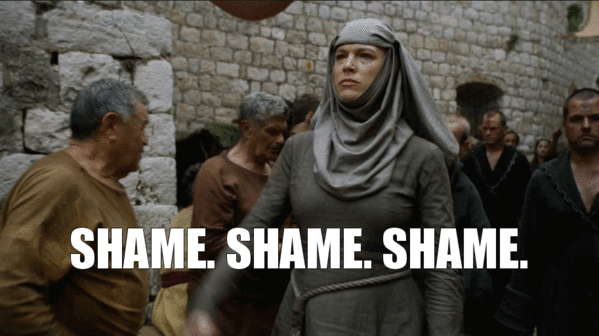 Ci metto subito la faccia e assegno il primo posto alla regina delle Serie Tv della nostra generazione: Game of Thrones. E sì, la vostra reazione è esattamente il motivo per cui non ho mai potuto ammettere apertamente di non averla mai vista, ma continuo ad affermare il contrario.
Ci ho provato, ovviamente, ma è più forte di me: semplicemente Martin non fa per me, così come la Serie tratta dai suoi libri. Ma tentate un po' voi a convincere il mondo di essere degni e capaci di scrivere di Serie Tv se non guardate GoT (con tutto il successo che ha avuto)?
Così eccomi condannata a questa bugia bianca. D'altronde tra spoiler sui social e amici che non possono fare a meno di parlarne, portare avanti questa finzione è ben più facile di quanto si creda. E poi davvero pensate che i molti personaggi di Game of Thrones, con la loro dubbia moralità, non approverebbero questa mia strategia?