# #
Sons of Anarchy è il coraggio, il vero fulcro di ogni cosa.
L'urlo libero dell'anima che libera l'essenza. Lo spettatore non invidia la bellezza di Jax, la forza di Clay o il potere maligno e seducente di Gemma. SoA racconta l'urlo che permette all'uomo di accantonare le dominanti logiche del compromesso e dell'assuefazione.
Agàpe e tharros, amore e coraggio in un amplesso erotico, in un poetico e tragico connubio.
Una bionda chioma sfreccia sulla interstatale 580, è ormai tarda sera, un giovane uomo fuma disteso e orgoglioso a bordo della sua Harley. Un impeccabile e dannato Jax percorre una strada già maledetta, una strada dove è presente un iscrizione mortale, una strada già intrisa del sangue di un Teller.
Una strada già avvolta da un'aura metafisica. Una via pericolante che porta a Charming.
Jax sprigiona il suo fascino, la sua forza, la sua fierezza,
il principe dei SamCro
è temuto e rispettato come pochi.
Due corvi
sul sentiero dell'anarchico Jax Teller apriranno e chiuderanno questo maestroso capolavoro.
Due corvi
,
simbolo di morte
e personificazione della agitata e maledetta
famiglia Teller
.
Questi corvi gracchianti, Clay e Gemma, inaugurano la scena e calano il sipario su Sons of Anarchy, in un gioco contraddittorio e metafisico di luci e ombre. SoA è un gioco ed una trappola del destino, nell'interlasso temporale della sigaretta di Jax, è descritta la parabola tragica più sontuosa e degna di essere tramandata. Come se quella prima sigaretta non si fosse mai spenta…
Dal principio alla fine, sempre sulla via di Jackson. Dal ritmo selvaggio e tambureggiante di "
Hard Row"
dei Black Keys passando per le note strazianti e intense di "
Come Join
The
Murder".
Sutter
chiude quello che è un
perfetto cerchio
delle pure e contrastanti emozioni di SoA.
L'oscurità e la luce. La prima corsa notturna, cupa, aggressiva e l'ultima corsa libera, poetica e raggiante. Il dramma luminoso di Jax-Amleto.

La lussureggiante e libidinosa California diviene il palcoscenico di una superba rappresentazione drammatica. Un Amleto forse ancora più tragico e maledetto di quello shakespeariano, l'Amleto del mondo biker. L'urlo che squarcia la vita repressa in una coltre cinerea di denaro, tolleranza e vano orgoglio. I Sons sono centauri da invidiare e commiserare, i Samcro, a differenza di tutti, vivono al massimo.
I Sons of Anarchy sono anarchici pronti a farci capire la condanna di un errore e la dolce e illusoria ricerca di libertà. Romanticismo e libertà viaggiano sulla stessa desolata direzione, sulla stessa via della morte e del tradimento. Anarchici sanguinari senza scrupoli che finiranno col cadere vittima del peso della propria coscienza.
# #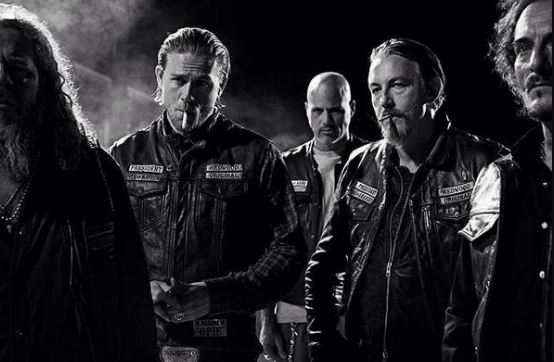 L'amore-tradimento che rende John Teller schiavo di Gemma, l'amore oscuro per la matriarca che sfocia poi nel tradimento fraterno firmato dal 'fratello' Clay. L'illusoria idea di libertà di un consumato criminale come Jackson che ormai può soltanto scegliere come morire. Giusti o sbagliati, recidivi o pentiti troppo tardi, i Sons hanno un'amplificata percezione della vita, e quindi di ogni suo sentimento. Jax ha il cuore maledetto di Amleto e la predisposizione titanica di un giovane e sofferente Werther.
Gente che avverte il peso dell'essere diversi, gente schiacciata dal peso della coscienza, gente lacerata dall'essere e dal non essere.
Il suicidio visto come ingloria, che diviene invece opera d'arte.
Il coraggio della verità che si ripropone in nuova condanna, l'essere coraggiosi che collima con l'essere soli. Si muore e si uccide per l'amore, per vendetta, per spettrali memorie macchiate dal sangue. Lo spettatore è accecato dall'invidia, prima ancora che essere rapito da un senso empatico e di pietà per gli amati e morenti Sons.
Il coraggio di ascoltare la voce mortifera di un padre, il coraggio di rendere la morte protagonista. L'amore che diviene coraggio di macchiarsi di un funesto matricidio, tanto brutale e commovente quanto ormai inesorabile.
Un diario prova a tenere lontano un giovane uomo dal suo patrigno e da sua madre, un diario prova a riequilibrare la misera e lacerante, nonchè già scritta, sorte di quell'imperituro scontro tra crimine-giustizia, tra regola e anarchia, tra male e bene. La morte che parla alla vita. Un diario diviene l'eco rivelatorio di un fantasma, di un buon padre ormai morto e sepolto.
Quest'amore metafisico di un padre per suo figlio riesce a trovare un pertugio. Pensieri, sogni, utopie e delusioni solcati su fogli stanchi e ingialliti.
Jax è il coraggio dell'amore e della vendetta, Bobby è il coraggio dell'ideale, Opie è il coraggio del sacrificio, Chibs il coraggio della lealtà, Wayne è il coraggio dell'amore platonico, Wendy è il coraggio dell'accettazione del ruolo, Tig è il coraggio della rivelazione della propria natura, Gemma è il coraggio dell'orgoglio, Nero è l'amorevole coraggio di un padre mancato.
Sons of Anarchy è il coraggio come peso della verità e come asfissia della responsabilità.
Il coraggio della verità che si ripropone in nuova condanna. L'essere coraggiosi, cambiare una vita per salvare gli altri e non se stessi. Il coraggio di bruciare le foto e i pensieri su carta, ardere le cose più preziose che racchiudono la propria vita per tenere lontano i prossimi innocenti di nome Abel e Thomas.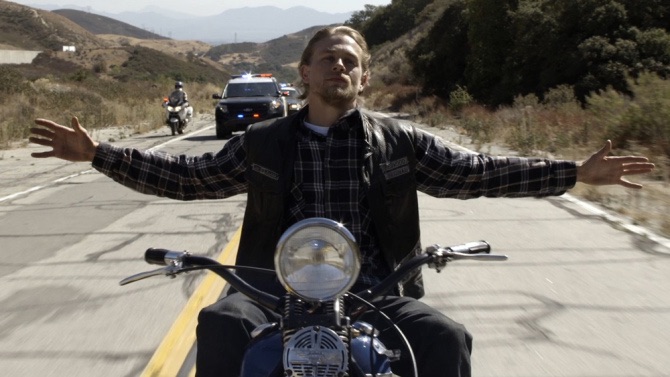 L'epilogo descrive l'ultimo riflesso della coscienza nella parabola discendente dell'anarchico più selvaggio e generoso.  L'essere soli e dialogare con una roccia ormai sacra, proprio sulla moto di quel caro spettro. Parlare ad un fantasma poco prima di annullarsi e morire, nel più tardivo e luminoso riflesso della coscienza di un figlio. Abbracciare per l'ultima volta, o forse per sempre, le cose buone di papà (papa's goods).
Invidiosi e vittime, non ci resta che piangere e soffrire con i nostri cari Samcro.
Un ringraziamento speciale ad Andrea, Alessandro, Vincenzo e Michael, veri fratelli e veri Samcro