Doveroso avvisare chiunque abbia intenzione di approcciarsi alla visone di Sons of Anarchy, uno dei capolavori televisivi più riusciti degli ultimi anni. Se non avete mai visto la serie di Kurt Sutter che ha segnato e spezzato il cuore dei suoi inamovibili fan considerate che l'articolo è pieno di spoiler, per cui valutate bene se continuare a leggere dato che andremo a tributare le ultime parole pronunciate dagli indimenticabili personaggi di questa intramontabile tragedia moderna.
E già alludendo a una tragedia, e i fan di Sons of Anarchy sanno bene cosa intendo, si può intuire che queste ultime parole siano state dette in punto di morte per buona parte dei protagonisti. Parole d'addio, prese di posizione disperate atte a proteggere le persone amate, frasi di resa. Tutte veicoli di congedo usate per lasciare qualcosa di indelebile a chi avevano di fronte, magari proprio la persona che li ha condotti alla fine.
Rileggiamole insieme allora, ritrovando la malinconia di quando le abbiamo ascoltate la prima volta in Sons of Anarchy.
Clay Morrow: "Va bene qui?"
Forse non sono parole particolarmente degne di poesia e intensità, ma la scena in cui vengono pronunciate ne è intrisa totalmente. Pensando erroneamente di essere fuggito alle leggi risolutorie dei SAMCRO, il Re caduto finisce nella trappola del Re reggente ma senza ribellarsi alle inevitabili conseguenze quando scopre di non averle eluse.
Clay si lascia letteralmente giustiziare, senza difendersi, senza tentare di scappare e senza provare a mettere in piedi uno dei suoi soliti vantaggiosi patti ambigui. Accetta la sentenza, chiede se va bene il punto dove intende riceverla e il dialogo finisce lì. Quello verbale. Perché quello fisico si svolge su livelli emotivi chiarissimi quanto quelli parlati di poco prima, guardando Jax come un padre scorretto e rassegnato, ma pur sempre come un padre, e poi la sua Gemma. Gli ultimi sguardi e l'ultimo respiro sono tutti per lei. Ed è un saluto bellissimo.
Wayne Unser: "Non posso, mi rimane solo questo"
"Vai a casa" lo implora Jax per la seconda volta, intuendo già che se il fedele Unser non smetterà di tentare di salvare la sua Gemma dovrà uccidere anche lui. Sons of Anarchy è tra le altre cose una grande storia d'amore, raccontata attraverso svariate estensioni tra cui l'amicizia e la comunità. Quella di Unser è da sempre una storia d'amore inespressa e destinata all'univocità ma reale tanto quella delle altre che si sviluppano durante la serie e, come molte di esse, finisce nel sacrificio: il suo per Gemma è uno dei più tristi ma anche dei più logici.
Jax Teller: "Ora so chi eri e che cosa hai fatto. Ti voglio bene papà"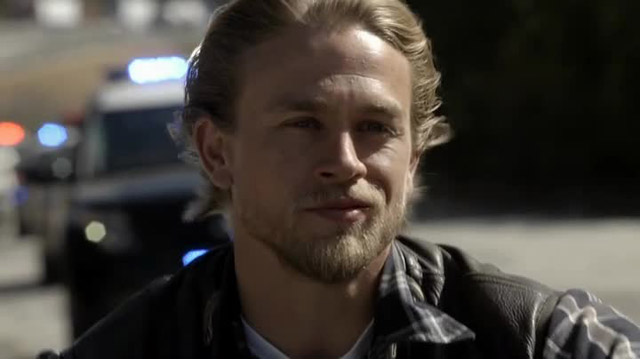 Le ultime parole vanno all'uomo che non lo ha mai cresciuto, quello che ha demonizzato per una vita intera e a cui consegna la sua confessione finale. Se ne va così uno degli eroi più amati del piccolo schermo, dopo aver sistemato i suoi conti in sospeso ed essersi congedato dal mondo, così come lo ha conosciuto, con il cuore più leggero. Sentendosi più padre di quanto forse non si sia sentito durante tutto il suo percorso, dopo aver compreso quella scelta paterna che non aveva mai concepito, subendola da piccolo.
Se ne va regolando conti e chiudendo un cerchio in cui in troppi sono rimasti intrappolati, offrendo un orizzonte diverso per chi resta e ama di più.
Gemma Teller: "Lo devi fare. È nella nostra natura"
Gemma Teller è stata il personaggio più controverso di tutto lo show. Amata e odiata in egual misura ma senza dubbio capace di stimolare dibattiti e toccare corde molto precise nella coscienza di chi la guarda e ascolta.
Il suo addio al mondo avviene in un giardino fiorito, consapevole e preparato, per mano della persona che ama di più e che ha ferito nel modo peggiore. L'unica persona a cui avrebbe concesso di togliergli la cosa più preziosa di tutte senza combattere. "Ti voglio bene Jax. Dalla parte più pura e profonda del mio cuore. Lo devi fare, è la nostra natura", ricorda al figlio giustificando l'innaturale gesto che è chiamato a compiere. "Va tutto bene. Il mio piccolo bambino. Sono pronta".
Gemma Teller non molla niente neanche davanti al Triste Mietitore.
Opie Winston: "I got this"
Lo riportiamo in lingua originale solo perché risulta molto più incisivo del semplice "So cosa fare" che si è scelto per la traduzione italiana.
La morte di Opie resta uno tra i momenti più dolorosi accusati dai fan di Sons of Anarchy. Efferato, ingiusto, straziante.
Mosso da una risoluta consapevolezza che esprime con quelle tre semplici parole, consapevolezza che a noi manca totalmente. Noi che a distanza di anni ancora troviamo insopportabile che Tig sia rimasto al sicuro dietro a quel vetro mentre Opie ci lascia per sempre.
Chibs Telford: "Ti voglio bene fratello. Sarai fiero di me"
Concludiamo con le ultime parole dell'erede che raccoglie lo scettro del potere direttamente dalle mani del Re. Chibs lascia lo schermo pronunciando quel saluto che abbiamo sentito ripetere mille volte durante la serie, la dichiarazione d'amore più profonda che ogni membro del clan esprime all'altro, specie quando teme di non rivederlo più.
La promessa di non deludere l'amico e il fratello a cui è sempre stato fedele e che non poteva che lasciare nelle sue mani il destino del club.
Un club libero dall'illegalità del traffico d'armi ed epurato dal veleno delle vendette passate, l'ultimo regalo di Jax alla sua famiglia.