Se è vero che un re ha la possibilità di abdicare alle proprie funzioni, è altrettanto vero che un padre non può delegare le proprie decisioni.
John Teller ne ha preso coscienza, e da questa consapevolezza l'uomo della proposta si è deliberatamente "evoluto" nell'uomo dell'oltraggio come ultima mossa possibile.
Dalla resa imminente, dall'impossibilità di divenire un esempio diretto, questo è stato in grado di declinare la propria esperienza nel ludibrio, nell'esempio da non seguire che contiene in sé l'esempio giusto. Nell'esempio, quindi, indiretto.
Soltanto due stagioni fa, abbiamo lasciato Jax tramortito dal dubbio della rivoluzione, abbandonato all'idea di "cambiare le cose".
Come un'avvenente Harley azzurro lucente, questo riserbo da parte del principe dei Sons è stato privato del rombante motore e provvisoriamente posizionato in fondo ad un corridoio, sul piedistallo di una bacheca che funge da simulacro, ad invecchiare ed assumere il prestigio necessario per essere rimesso in discussione al momento opportuno.
Per questo motivo, la seconda stagione di Sons of Anarchy figura come una meravigliosa digressione, una parentesi che specifica ruoli ed affina rilievi di personaggi fino ad allora soltanto comprimari nella piacente attesa di una scelta.
Dopo questa "lunga" apposizione, rappresentata dalla seconda manche di episodi, la moto viene rilanciata in strada con l'innesco che collega impulsivamente ed ossessivamente la rabbia all'azione, con la perdita di Abel.
La terza stagione accantona, a tratti, il Jax che è immagine speculare dell'Amleto, per far spazio al granitico intento risolutore e vendicativo che la perdita di suo figlio alimenta più della resurrezione spirituale di suo padre.
Questo non allieta però la tematica del dubbio, il travaglio del conflitto interiore che nella terza stagione è anche sottilmente simbolico.
L'elemento materiale, simbolo della dicotomia tra corpo e spirito della figura di Jax, è rappresentata dalla baldanzosa coppia di anelli che accomoda fiera sulla sua mano sinistra.
Dopo aver ceduto il primo alla lapide di suo padre, Jax trascorre quasi tutta la terza stagione indossando un solo anello, quello con impresse le lettere "NS", come a somatizzare una personalità letteralmente divisa tra cuore e ragione, e momentaneamente recluso nei rigidi assiomi della seconda. "NS" rappresenta, dunque, il simbolo che racconta la parte razionale di Jax, la quale in tutte le decisioni importanti della serie avrà palesemente il sopravvento: nella scelta di allontanare Tara, così come in quella più complessa di lasciar andare Abel, sebbene entrambe smentite dal naturale corso degli eventi.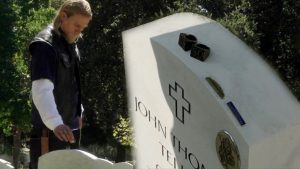 Ognuna delle conseguenze che costellano la terza stagione di Sons of Anarchy è legata al rapporto con la famiglia, ed il leitmotiv dell'intero arco narrativo è l'andamento oscillatorio, periodico, quasi danzante che si muove ad elastico tra l'avvicinamento e l'allontanamento dal contesto familiare.
È un dettame raccontato con schiettezza, oltre che mostrato, quando Gemma nei primi episodi suggerirà a Tara: "non lasciare che la famiglia ti sfugga via".
La ricorrenza della famiglia è un elemento indipendente: dal viaggio a Belfast (con la notevole scelta di arrangiare la sigla in chiave folkloristica) e l'incontro di Jax con la sua sorellastra Trinity, la riconciliazione di Chibs con moglie e figlia, la visione di Alvàrez con in braccio sua figlia inserito in un inedito "contesto famiglia", finendo nel legame tra Gemma e suo padre.
Quest'ultimo, in particolare, puntella perfettamente il concetto di negatività vista come allontanamento dalla famiglia e quest'ultimo come "smarrimento di sé stessi": Nate, padre di Gemma malato di Alzheimer, arriva ad un punto di saturazione quando fa ammenda con i propri ricordi e momentaneamente affigge alla memoria la morte di sua moglie Rose; da allora, per tutto il tempo passato in casa, la permanenza mnemonica regge e l'accettazione della morte di sua moglie, insieme con l'idea di dover finire in ospizio, è una convinzione quantomai armonica nella sua transitoria idea di futuro.
Prima di lasciare casa, Nate parafraserà il consiglio rivolto da Gemma a Tara nel ricordarle l'importanza della famiglia.
Quando Nate arriva all'entrata dell'ospizio, per la prima volta fuori dall'ambiente atavico che è il covo familiare, dimentica nuovamente di sua moglie.
Il tempismo a cui viene associata la sua (inevitabile) ricaduta è simbiotico, in linea col disfacimento che è causa dell'abbandono della famiglia.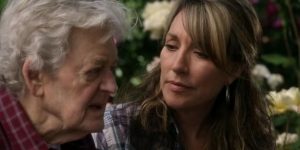 La terza stagione di Sons of Anarchy segue questa direttiva come fosse il viatico di una corsa che, seppur rallentata da qualche buca, ha soddisfatto anche con ambientazioni, personaggi secondari e ben combinati intrecci al margine dell'arco narrativo principale.
L'agrodolce e malleabile autorevolezza di McGree, la volgare dolcezza di Trinity e l'incompresa reticenza di padre Kellan sono le presentazioni che accompagnano le evoluzioni.
Prima tra tutte quella di Stahl, che da semplice interlocutore a comprimaria nella seconda stagione, sboccia finalmente come antagonista ontologica, consacrandosi tale paradossalmente solo poco prima della dipartita.
Malgrado qualche tentennamento nell'utilizzo delle mine vaganti come motore della trama (uno tra questi Hector Salazar e la sua estemporanea e scarsamente espressiva vendetta), Sutter mette tutti d'accordo facendo scuola con la scrittura di un season finale che rappresenta la perfetta ed incontrovertibile chiusura di un cerchio.
Nel confronto finale privato tra Stahl e Jax, faccia a faccia, ci viene offerto uno dei pochi indizi sapientemente disseminati lungo il fertile terreno della terza stagione: dopo il rifiuto di Stahl di firmare il proprio accordo prima di poter incontrare Jimmy O', Jax mostra il suo disappunto e la sua preoccupazione prima di accettare le condizioni dell'apatica agente dell'ATF e voltarsi per farle strada verso l'officina.
È in questa sequenza che notiamo il disappunto di Jax trasformarsi in un malizioso ghigno di soddisfazione e sollievo (come mostrato nell'immagine seguente).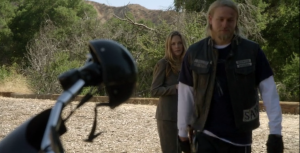 Un tornante profetico del piano che verrà svelato di lì a poco, quello impresso sul volto di Jax.
Altro indizio significativo è il momento in cui Tig, dondolante sull'altalena, si rivolge a Kozik chiedendogli di non abbandonare il club in quanto "necessario per ciò che c'è da fare, insieme con altre tre persone" (affermazione che prepone anticipatamente una funzione di Kozik nel piano finale), dopo aver votato contro la sua ammissione per la seconda volta.
La suddetta chiusura del cerchio avviene poi dirompente, e tutte le morti hanno un senso anche insito prendendo atto per mano di chi ha sofferto maggiormente: Opie che smette di essere "il fuorilegge che ha avuto pietà", e Chibs che "ricambia il sorriso" di Jimmy O' a due mani armate di lama, somatizzando la malsana sensualità della vendetta.
L'atto finale infonde, per la prima volta così intensamente, la percezione di coesione.
L'aggregazione è utile a quell'esplosione che libera la tensione: i Sons of Anarchy si sono compattati, riuniti in voto per poi esplodere come una supernova per liberarsi dal peso della minaccia.
Ma in questo processo, c'è chi ha avuto qualcosa in più della libertà a cui ha dovuto fare a meno.
In questa ordalia sacrificale, Jax ha dovuto abbandonare la metà di sé che gli era rimasta (il secondo anello) e poggiare la sua ragione sulla lapide di John Teller, laddove aveva già lasciato il cuore.
Ponendo cuore e ragione fuori di sé, Jax si dimette da umano per compiere l'eroico ed impersonale sacrificio di un soldato.
In attesa di essere recuperata, la sua essenza è una cauzione sulla tomba di suo padre.
Realizzando di star annegando nell'ingiuria, il re non si è ribellato.
Ha tenuto stretta la zavorra dello spergiuro per privarla a chi sarebbe arrivato.
É per questo che Jax prende una strada diversa da John Teller, grazie a John Teller.