Non è stato semplice. Credetemi. Iniziare Sons of Anarchy ha cambiato le mie abitudini, i miei orari e inevitabilmente tutta la mia vita.
È una lunga storia quella che vi sto per raccontare. Consiglio di mettervi comodi e prepararvi un bel tè, o qualcosa di più forte perché ci addentreremo finalmente nel mondo oscuro dei consigli degli amici sulle serie da vedere assolutamente!
La mia vita si svolgeva tranquillamente, era tutto perfetto finché non cominciai a fare promesse. E credetemi fare promesse sulle Serie Tv non va affatto bene. Significa in un certo senso firmarsi da soli il ricovero per un TSO. Ma siamo sinceri, non riusciremmo a rimanere indifferenti davanti a una provocazione seriale neanche se ci sfidassero a guardare tutta Don Matteo in una settimana.
Non che io l'abbia fatto.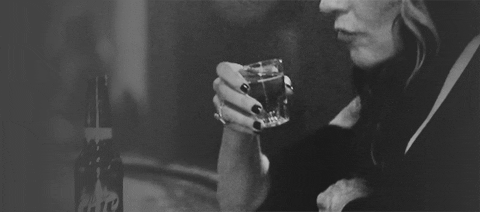 Arrivati a questo punto: probabilmente il trattamento sanitario obbligatorio forse ci servirebbe seriamente. Ma siamo comunque consapevoli di avere un'ossessione, ed è già un passo avanti. Eppure ho impiegato tantissimo tempo a comprendere questo mio piccolo problemino. Nel frattempo, ho abilmente dribblato ogni tipo di conversazione, evitato di cliccare su articoli che avrebbero potuto anticiparmi ogni tipo di morte e ho praticato il salto dello spoiler arrivando persino a ricevere una virtuale medaglia d'oro olimpica da me stessa. Tutto questo ovviamente anche e soprattutto per ogni serie che non avevo ancora visto. E naturalmente anche per Sons of Anarchy.
Ed era evidente che dovesse arrivare anche il mio tempo. Avevo già intenzione di recuperarla, ma magari tra qualche anno, quando la lista delle serie che ho in sospeso sarebbe stata finalmente vuota. Va beh, mi rendo conto che fa ridere e non posso essere credibile. Comunque sia, non ho fatto in tempo. Ad anticiparmi ci ha pensato Silvia. Ciao Silvia.
E insomma la mia amica e collega mi consigliò di vederla. Consigliare, che bel verbo. Sembra quasi che qualcuno voglia regalarti un po' di quella felicità che sente quando entra in contatto con qualcosa di speciale.
Ma quella fu una condanna, una delle mie condanne più belle.
Le sue argomentazioni a favore di Sons of Anarchy erano geniali e c'era qualcosa di intrigante ad affascinarmi. Ma non potevo, non dovevo iniziare quella serie, sarebbe stata la mia rovina, avevo una tesi da preparare, un vestito da comprare e la mia relatrice da trovare. Poi un giorno arrivò quella proposta, quella che nessuno studente, o nessun essere umano già troppo indaffarato, dovrebbe mai farsi fare.
Ma noi addicted siamo masochisti a un livello vergognoso, certe cose ce le aspettiamo, quasi non vediamo l'ora che accadano, e allo stesso tempo ne abbiamo timore.
E fu così che in una notte di mezza estate mi convinse definitivamente a iniziarla. Inutile dire che sto cercando di evitare gli spoiler come le zanzare, peggio di prima. Anche perché, come è possibile prevedere, adesso che ho cominciato Sons of Anarchy mi ritrovo la bacheca di qualsiasi social intasata di notizie riguardanti la serie e lo spin-off. Ovviamente è colpa di Silvia che scrive articoli su articoli su Mayans M.C.
Ebbene, un mea culpa qui è d'obbligo. Avrei dovuto iniziarla prima.
Ma meglio tardi che mai. Avrei dovuto dare retta a ogni recensione che ho letto negli anni. Perché come volevasi dimostrare le pressioni dei social, che chissà come mai sanno esattamente cosa stai guardando quando lo stai guardando, e i consigli diretti e indiretti di amici e persone a caso sono stati provvidenziali. Sons of Anarchy è ormai ufficialmente entrata nella mia lista di Serie Tv. Adesso dovrò solo recuperare sette stagioni nel minor tempo possibile, basterà non dormire per un paio di mesi, dare gli esami a febbraio e chiedere al tempo di dilatarsi e far durare ogni ora anche solo quaranta minuti in più. Non è poi così impossibile.
Anche perché ho già trovato il mio personaggio preferito. E no, non è biondo.
Leggi anche – Mayans M.C.: il pilot batte quello di Sons of Anarchy