Si è da poco conclusa la XX edizione del Comicon, la Fiera del Fumetto che viene annualmente organizzata alla Mostra d'oltremare a Napoli da ormai venti anni. Quest'anno il Comicon ha chiuso i battenti con numeri da record: 150.000 visitatori, più di 300 ospiti, circa 600 eventi che hanno riguardato non solo il mondo del fumetto ma anche dei videogiochi, del cinema e delle Serie Tv. Si pensa infatti erroneamente che il Comicon sia unicamente un luogo per appassionati dei manga, degli anime e dei fumetti supereroistici ma non è affatto così. Sono ormai diversi anni che la Fiera ha deciso di dare più spazio agli show e ai protagonisti del piccolo schermo, consci che ormai il mondo delle Serie Tv e quello del fumetto si sono fusi.
Io posso confermarvelo dopo che per conto di Hall of Series ho vissuto un folle weekend al Comicon, combattendo contro l'afa e le interminabili file armata della mia macchina fotografica e di una Coca Cola alla spina (e indossando un cosplay a quanto pare poco riconoscibile).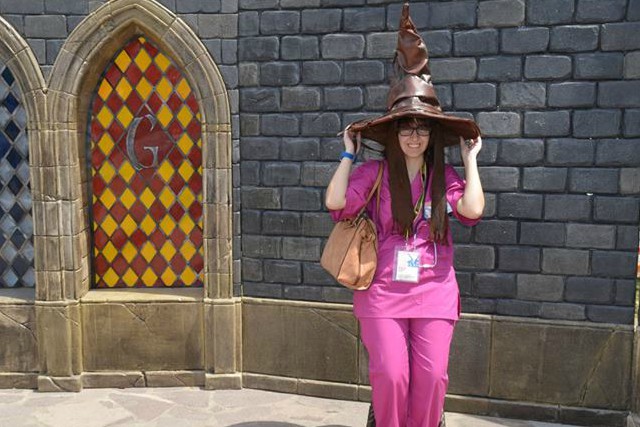 Prima di tutto la Fiera era piena di stand dove era possibile acquistare T-shirt, portachiavi e altri gadget delle Serie Tv più famose come Doctor Who, Game of Thrones, Once Upon A Time o The Walking Dead, ma cercando bene era possibile anche trovare alcuni speciali gadget di qualche Serie Tv di nicchia. Molti sono stati anche i cosplayer che hanno sfilato all'interno della Fiera vestiti come i personaggi delle loro Serie Tv preferite. Tra i tanti cosplay della Casa de Papel, che è decisamente la Serie Tv più chiacchierata del momento, c'è stato al Comicon anche spazio per qualche cosplay decisamente più originale. Ho visto sfilare Max e Caroline di Two Broke Girls, diversi dottori di Doctor Who, Lenny Belardo da The Young Pope, una bellissima Daenerys Targaryen della famosa Serie Tv Game of Thrones e addirittura Mulder and Scully da X-Files.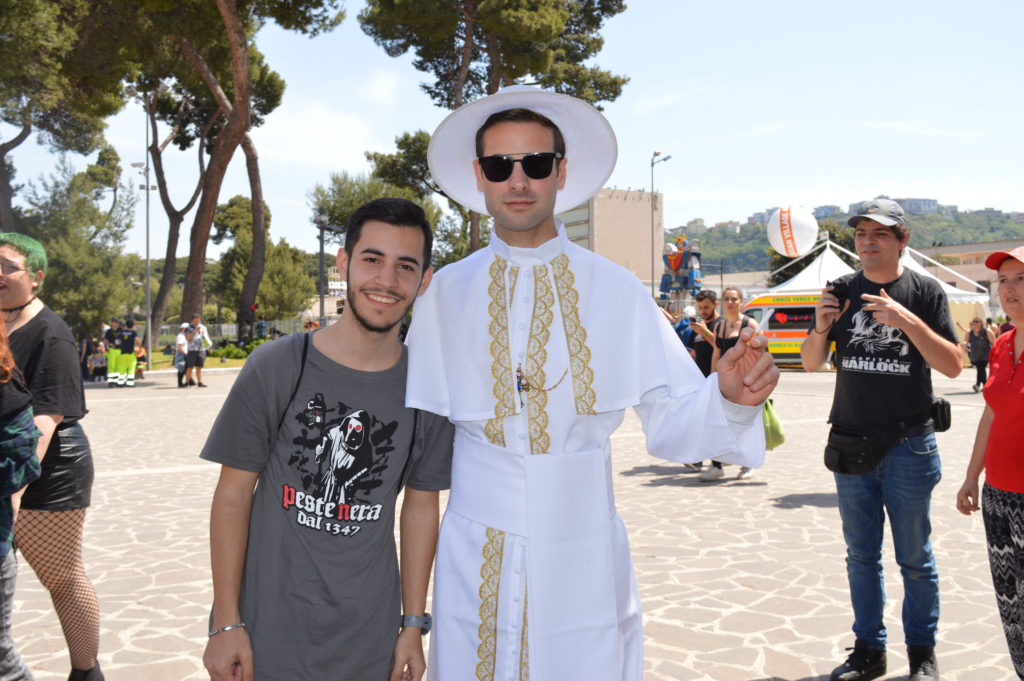 Ma noi Serie Tv addicted abbiamo trovato all'interno della Mostra d'oltremare delle sorprese molto gradite. In un edificio dentro la Fiera era possibile vedere da vicino e sedersi sul magnifico Trono di Spade imbracciando una spada e un uovo di drago tra gli stemmi dei Lannister e dei Targaryen e sognare quindi di essere la regina Daenerys o il coraggioso Jon Snow.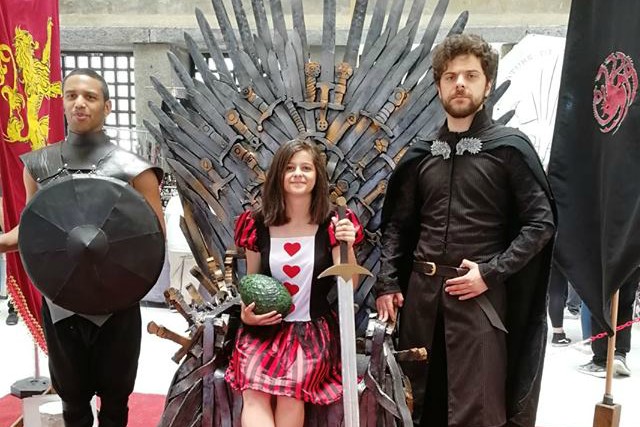 Ma c'era anche un'area allestita all'aperto chiamata "I cantori di Westeros" in cui era possibile combattere davanti a un Trono di spade e agli Estranei, sognando di essere un cavaliere di Westeros. Ovviamente all'interno del Comicon c'era anche un bellissimo Tardis davanti al quale tutti i Whovian potevano scattare delle foto.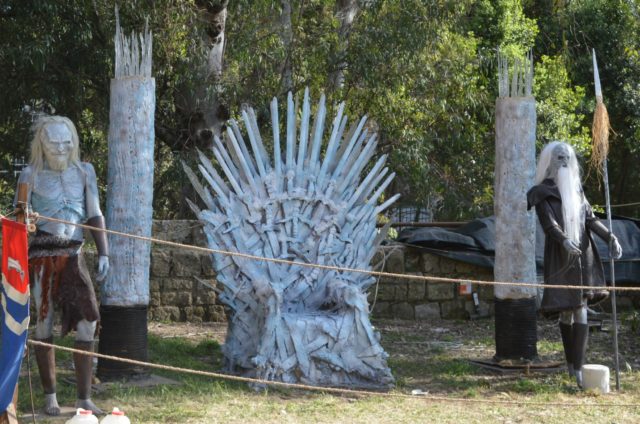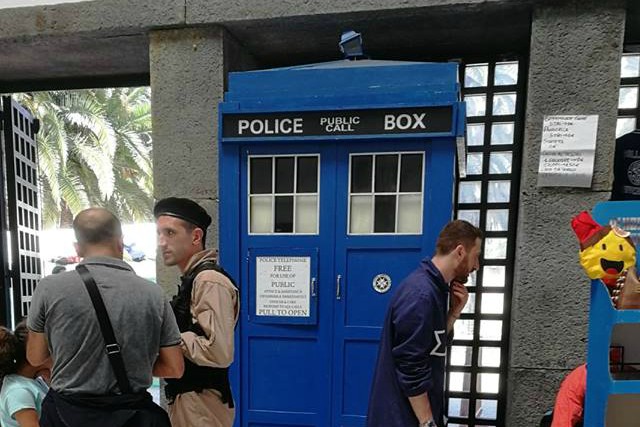 Inoltre anche quest'anno, come da diversi anni a questa parte, sono stati tanti gli eventi dedicati alle Serie Tv. Nell'auditorium CartooNa oltre a essere stati proiettati in anteprima diversi film come L'isola dei cani, Mary e il fiore della Strega e La truffa di Logan, sono stati presentati al pubblico gli episodi di molte Serie Tv di spicco.
Noi Serie Tv addicted abbiamo potuto vedere in anteprima il primo episodio della seconda stagione della Serie Tv Atlanta, la premiere della seconda e attesissima seconda stagione di The Handmaid's Tale (leggi qui la nostra recensione della premiere) e due episodi dell'acclamato spin-off di The Big Bang Theory, Young Sheldon.
È vero che avremmo potuto guardare qualche ora il giorno successivo questi episodi in streaming tranquillamente seduti a casa nostra, ma non avremmo provato le medesime emozioni. Sussultare insieme, ridere insieme e applaudire tutti all'unisono alla fine della proiezione è stata un'esperienza veramente indimenticabile.
Ma grazie alla collaborazione con Tim Vision e Infinity tanti sono stati gli ospiti che noi Serie Tv addicted abbiamo potuto incontrare.
Domenica 29 aprile il cast di Skam e il regista della Serie Tv, Ludovico Bessegato, hanno infatti incontrato i numerosi fan. Skam è un remake italiano dell'omonima serie norvegese che, distribuita dal 20 marzo sulla piattaforma di TimVision, ha avuto subito grande successo tra i giovanissimi, avendo il merito di saper raccontare perfettamente il mondo adolescenziale. In tantissimi sono accorsi per incontrare Ludovica Martino, Ludovico Tersigni, Benedetta Gargari, Federico Cesari, Martina Lelio, Greta Ragusa e Beatrice Bruschi.
I ragazzi hanno risposto garbatamente alle domande dei loro fan, spiegando le difficoltà di riadattare alcuni dei temi principali della Serie norvegese come il Russ per il pubblico italiano e hanno anche dato qualche anticipazione riguardo i prossimi episodi. Il regista Ludovico Bessegato, senza sbilanciarsi troppo, ha anche parlato di una possibile seconda stagione: quando un fan gli ha chiesto se stessero pensando di realizzarla, lui ha risposto che sarebbe stato più che contento di girare dei nuovi episodi ma che ovviamente la decisione sarà presa dai dirigenti di TimVision.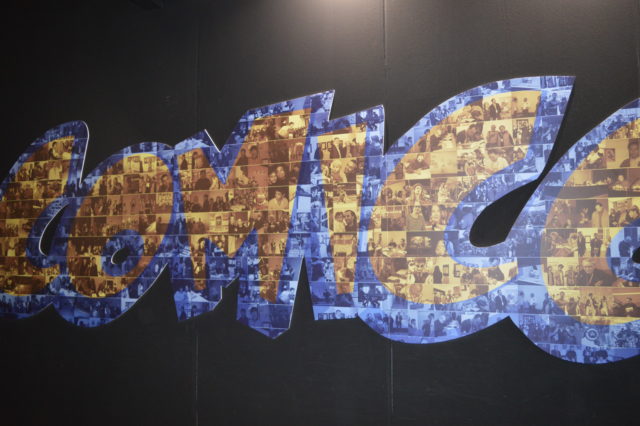 Tra gli ospiti del Comicon di quest'anno c'è stato anche Marco D'Amore, il famoso Ciro l'Immortale di Gomorra, che recentemente si è messo dietro la macchina da presa per dirigere alcuni episodi della Serie Tv che lo ha reso noto al grande pubblico.
Ma Marco D'amore non è andato al Comicon per parlare di Gomorra: l'attore ha presentato e consigliato un romanzo fantasy che ha amato molto, Petrademone: Il Libro delle Porte vol.1 scritto dal regista Manlio Castagna.
Insieme a Castagna Marco D'amore ha parlato del suo grande amore per il mondo fantasy e del rapporto tra cinema, fumetti e libri. A tal proposito l'attore ci ha tenuto a ricordare come il racconto orale abbia sempre influenzato la scrittura e come anche oggi molti sceneggiatori di cinema e Serie Tv tendano a partire da qualcosa di scritto per realizzare i loro lavori. Chi avrebbe mai pensato che dietro Ciro l'Immortale ci fosse un vero e proprio nerd?
Ma l'ospite più atteso da tutti i Serie Tv addicted di questa XX edizione del Comicon era sicuramente Lucy Lawless, la meravigliosa attrice che è entrata nei nostri cuori grazie alla Serie Tv Xena – Principessa guerriera.
 La Lawless è venuta a Napoli per presentare l'ultimo imperdibile episodio di Ash vs Evil Dead, ma prima ha fatto due chiacchiere con noi fan e con i giornalisti presenti nella sala. Con molta ironia e simpatia ha parlato dei ruoli più iconici della sua carriera, del suo affetto per i suoi fan e anche del suo amore per il caffè napoletano.
Ha ovviamente parlato del suo ruolo in Ash vs Evil Dead che pare abbia accettato unicamente per punire Bruce Campbell e per avere nuovamente la possibilità di lavorare con i membri del team con cui aveva già amato lavorare precedentemente. Ovviamente ha poi risposto alle numerose domande riguardo al personaggio della principessa guerriera che l'ha fatta entrare nei nostri cuori e ha parlato anche della possibilità di realizzare un reboot (scopri qui cosa ha detto). Ha poi firmato autografi e scattato foto con alcuni fortunati fan che l'hanno attesa per ore fuori l'auditorium.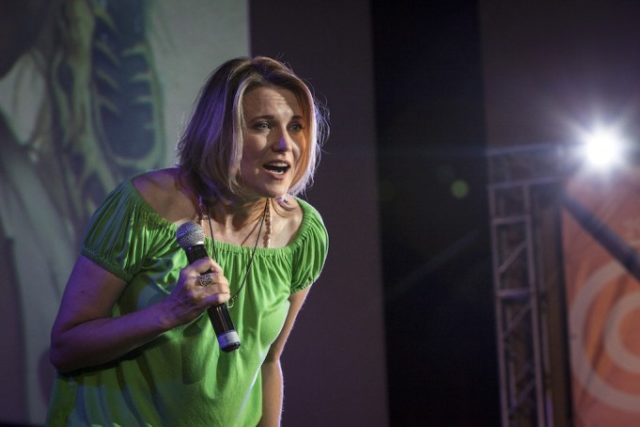 Ma il Comicon è soprattutto la Fiera del Fumetto e per questo tanti sono stati i fumettisti che hanno incontrato i fan al punto autografi o agli stand collocati nei vari padiglioni. Tanti fan hanno atteso diverse ore prima di poterli incontrare e avere sul proprio albo a fumetti un autografo o una vignetta.
Tra i tanti nomi dei fumettisti che è stato possibile incontrare c'erano diversi grandi nomi del fumetto italiano tra cui Zerocalcare, Sio, Tanino Liberatore e Roberto Recchioni e grandi firme del fumetto mondiale come Brian Azzarello, Mike Allred, Sarah Andersen, José Muñoz.
Ma è stato sicuramente Frank Miller l'ospite d'onore della XX edizione della Fiera del Fumetto. Il noto fumettista, sceneggiatore e regista statunitense, creatore tra le altre cose della serie di Sin City ha incontrato insieme a Milo Manara i fan nel Teatro Mediterraneo per parlare dei suoi progetti futuri. 
I due grandi autori hanno ripercorso la loro carriera e ricordato il loro primo incontro al Comicon di San Diego e oltre a essersi fatti vicendevolmente i complimenti hanno anche manifestato la loro grande stima nei confronti di Hugo Pratt, che è stato per entrambi un punto di riferimento. Alla fine hanno regalato ai fortunatissimi fan presenti in sala un'anticipazione sulla loro futura collaborazione: Manara ha proposto a Miller di lavorare insieme a un adattamento del romanzo  America di Kafka ambientato nel mondo di Sin City. Miller non solo ha accettato la proposta, ma si è anche offerto di scrivere una storia per l'insigne collega davanti a un pubblico in visibilio.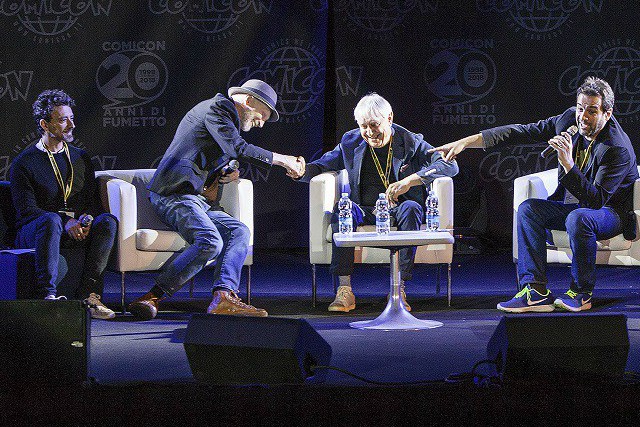 Ormai avrete capito che il Comicon è il luogo perfetto per incontrare i propri miti, per comprare gadget originali, per vivere tante divertenti esperienze e per incontrare simpatici cosplayer. Ma la cosa più bella del Comicon è il senso di fratellanza che si crea: si possono trovare tante persone che condividono le tue passioni e parlare per ore delle proprie Serie Tv preferite senza essere giudicati.
Insomma sia che siate fan dei fumetti o delle Serie Tv al Comicon siete i benvenuti per trascorrere un divertente weekend e anche se alla fine vi sentirete distrutti saprete che ne è valsa la pena.