ATTENZIONE: questo articolo contiene spoiler sul finale di Sons of Anarchy!
Il finale di Sons of Anarchy sembra ormai essere così lontano. Ma i SAMCRO sono rimasti nel nostro cuore e ben presto ritorneremo nel mondo dei biker con Mayans MC, lo spin-off ideato da Kurt Sutter. In questo nuovo progetto la presenza di Charlie Hunnam (Jax Teller) sembra improbabile. Lo ha confermato l'attore in una recente intervista con Entertainment Tonight, raccontando le emozioni provate durante l'interpretazione di Jax Teller.
Charlie Hunnam non sarà in Mayans MC, ma il ricordo di Sons of Anarchy e di Jax Teller è più vivo che mai.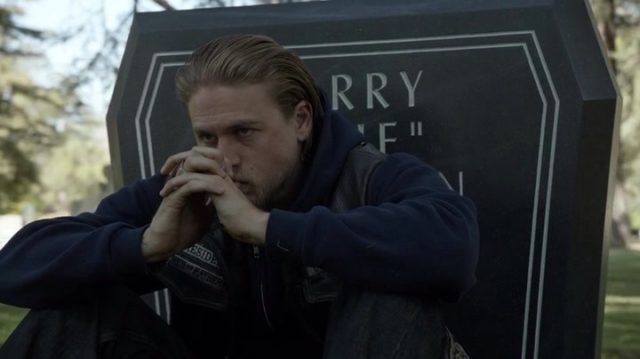 Le parole dell'attore sottolineano il suo attaccamento al personaggio:
È stata l'esperienza più profonda della mia carriera. Ero diventato quel personaggio. Ma ero così coinvolto dalla situazione che non me ne sono reso conto fino a quando non abbiamo finito le riprese. Lo abbiamo messo a riposo e ho passato due o tre settimane di lutto sincero.
Charlie Hunnam ha poi continuato l'intervista focalizzandosi sull'emozione necessaria per interpretare Jax, riferendosi al personaggio con il termine sacro. Ecco le sue parole:
Ho il suo gilet di pelle a casa e molte persone hanno voluto provarlo, ma io ho sempre detto: "Nessuno indosserà più questo gilet. Dobbiamo rispettare il ragazzo. Non è più tra noi". Quindi non lo farei mai tornare dal mondo dei morti. Sono stati sette anni della mia vita… Jax è quasi sacro per me.
I fan di Sons of Anarchy hanno sviluppato un forte legame nei confronti di Jax Teller. Indubbiamente lo ha fatto anche Charlie Hunnam, l'uomo che gli ha dato un volto. Le parole dell'attore non possono che dimostrare questo attaccamento.
Jax Teller appartiene ormai al passato: nonostante il personaggio se ne sia andato, il suo ricordo rimarrà vivo a lungo.