"Sons of Anarchy" è una Serie colma di protagonisti leggendari che rimarranno impressi per sempre nella mente dei fan, ma forse se ne sottovalutano altri…
Jax Teller: un personaggio incredibile, colmo di dubbi e tormenti, ma al contempo capace di donare gioia a chiunque gli stia a cuore e infondere speranza in chi crede che la vita non merita di essere vissuta.
Clay Morrow: il villain per eccellenza, arroccato sulle posizioni rigide e stimolanti dell'egoismo e della cupidigia, con qualche sporadica apertura verso una donna che ama e odia allo stesso tempo.
Si potrebbe andare avanti per ore a parlare dei volti noti di "Sons of Anarchy", la folle creatura di Kurt Sutter che nelle sue 7 stagioni ci ha condotto sul dorso di una moto custom verso l'oblio della dipendenza, una dipendenza da Serie Tv.
L'ambientazione, le vicende, gli sviluppi, i voli pindarici, le scene d'azione, i giubbotti di pelle: tutto, ma proprio tutto di questo crime drama ha meritato di essere visto, assaporato e goduto…compresi i personaggi secondari.
Si perché non c'è solo spazio per le primedonne sulle strade di Charming, anzi, esiste tutto un universo di figure incaricate di lasciare le luci della ribalta ad altri, senza però rinunciare alla propria dignità e con licenza di incidere (chi più, chi meno) sul destino dei SAMCRO, a prescindere dal fatto che essi rimangano o meno impressi nella memoria dei fan.
Insomma, oggi siamo qui per parlarvi degli 8 personaggi più sottovalutati di SOA, con la speranza che voi possiate cogliere più a fondo determinate sfumature e magari scoprirne di nuove. Fateci sapere che ne pensate!
PS: sappiate che potreste incappare in alcuni SPOILER, perciò se questo elemento non vi aggrada, aggrappatevi ai freni e fate fare una rapida retromarcia al vostro mezzo rigorosamente a due ruote. Grazie.
8) Lee Toric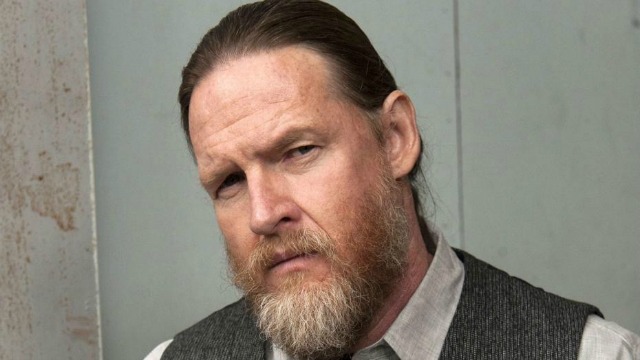 Ve lo ricordate questo ex sceriffo decorato clamorosamente puntiglioso e indigesto ai Sons of Anarchy? Beh sappiate che Big Eight e i suoi sfinteri se lo ricordano ancora molto bene. Toric ha infatti un conto aperto con l'ex motociclista che gli ha freddato la sorella e decide di vendicarsi non solo su di lui, ma anche sul suo club e le persone a lui vicine. Lee scava a fondo, fa domande, segue tutte le piste possibili, fa sostanzialmente il suo lavoro spinto dal sacro fuoco della vendetta e dell'estremismo, che lo porta a minacciare e (quasi) ad incastrare Tara e Nero.
Complice una notte poco fortunata con una prostituta, e delle esigenze di produzione che hanno accelerato di molto l'uscita di scena del suo personaggio, il piedipiatti dura solamente sette episodi prima di finire sotto le grinfie di Big Eight, ma la sua importanza è capitale perché di fatto il club non si riprende mai del tutto dopo le bordate ricevute da quest'irlandese maledetto.