Sons of Anarchy è una di quelle Serie che tutti, almeno una volta nella vita, dovrebbero guardare (se non ne siete convinti vi consiglio caldamente di leggere questo articolo).
Maestra di vita e di valori indispensabili quali l'amore, l'amicizia e la fratellanza, riesce ad unire tutto ciò ad una buona dose di azione, violenza e forza. Le motociclette e le giacche di pelle sono solo una copertura. Dietro c'è ben altro. La prima stagione ne è una dimostrazione.
Ricca di momenti determinanti, accoglie nelle sue tredici puntate attimi che, da soli, contribuiscono a mutare rapporti, decisioni, vicende. Se in positivo o in negativo sta a voi scoprirlo.
Ecco i 10 momenti cruciali della prima stagione di Sons of Anarchy.
(Se non avete finito l'intera stagione attenzione, presenza di spoiler!)
1) Il ritrovamento del diario, 1×01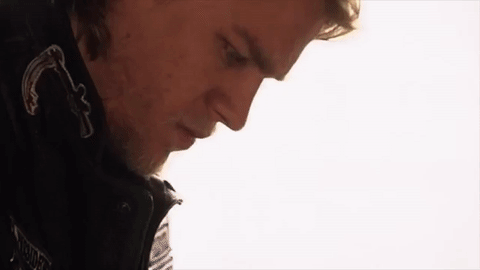 "Ho tutti questi ricordi, io non so per cosa, li ho e non posso farne a meno. Alcuni straripano e si riversano fuori come onde, alcuni li custodirò per il resto dei miei giorni" cantano i Sun Kill Moon in sottofondo.
Il divino ideatore dei SAMCRO, Kurt Sutter, non poteva trovare miglior colonna sonora per fare da sfondo a quello che è, senza dubbio, il momento cruciale non solo della prima stagione, ma dell'intera Serie. È opportuno, dunque, soffermarvisi in maggior misura.
Il nome di John Teller appare al nostro Jax in tutta la sua potenza, uno scatolone, una manciata di fotografie e poi lì, che fa capolino, il manoscritto della verità, il diario che accompagnerà il nostro Jax in un cammino cosparso di amore e al contempo odio per il club fondato da suo padre. Un padre che aveva un'idea molto semplice: un gruppo di persone, una fratellanza che fosse sinonimo di ribellione sociale, qualcosa di facile e, certamente, non di illegale. Un club che abolisse ogni forma di costrizione esterna. Parole e ricordi stampati che John ha lasciato per i posteri, per i suoi figli, o, più semplicemente, per togliersi un peso dal cuore. Jax capisce che i Sons of Anarchy delle origini sono diventati ciò che suo padre non avrebbe mai voluto.
Sulla copertina campeggia una scritta, poche parole piene di significato, che racchiudono, in sintesi, quello che le pagine successive racconteranno con maggior vigore. Mai titolo fu più esemplificativo.
"Vita e morte dei SAMCRO. Come si sono persi i Sons of Anarchy. 
Di John Thomas Teller"
 Da qui in poi il diario diventerà il filo che muoverà tutto e tutti.