ATTENZIONE – IL SEGUENTE ARTICOLO CONTIENE SPOILER SU TUTTA LA SERIE SONS OF ANARCHY
Jax Teller prova ammirazione verso quel padre che ha perso troppo presto. Tutti dicono che gli somigli e tutti lo descrivono come un grande uomo.
Se dovessi spiegare in breve di cosa parla Sons of Anarchy direi che parla di amore in senso ampio e in particolare del rapporto padre/figlio. I SAMCRO sono padri biologici, spesso poco presenti o con relazioni familiari complicate. Ma sono anche padri "affettivi", linee guida nei confronti dei ragazzi più giovani del club che a loro volta crescono e diventano genitori.
Sons of Anarchy racconta la paternità come una grande responsabilità che dà all'uomo la gioia più grande, a volte passando attraverso la sofferenza o un cambiamento. Perché parla di uomini che devono staccarsi dall'essere solo figli per poter diventare anche padri.
Infatti il vero protagonista non è Jackson, bensì il rapporto tra lui e il padre John. Un personaggio assente ma di cui sentiremo costantemente la presenza.
Alla fine dell'ultima puntata ci siamo fatti tutti la stessa domanda: Jax Teller è l'ombra di suo padre?
Conoscendone la storia e vedendo la caduta nel vortice che Jax si ritroverà ad affrontare, fino a terminare la sua vita nello stesso tragico modo, la domanda sorge spontanea.
Nella vita di ogni figlio c'è il momento in cui si rende conto che il proprio genitore non è esattamente come lo vedevano i suoi occhi. Per un bambino il padre è un eroe fino a quando non diventa adulto lui stesso. Ed è a quel punto che l'eroe prende la forma di un essere umano con i propri difetti e le proprie debolezze. Non è una cosa semplice da accettare.
Il percorso di Jax inizia il giorno in cui trova il manoscritto di suo padre: "La vita e la morte di Sam Crow. Come i Sons of Anarchy hanno perso la loro vocazione". Il tema principale del diario è il rimpianto di John su ciò che il club era diventato rispetto all'idea originale per cui era stato fondato.
Per i miei figli. Thomas, che già riposa in pace. E Jackson, possa non conoscere mai questa vita piena di caos.
Eccola nero su bianco la speranza di John Teller: che il figlio possa non ripetere i suoi errori. Da quel momento Jax ha voluto portare a compimento i tentativi del padre e ha imparato a distinguere le persone che lo amavano dai nemici. Per lui è stato inevitabile ritrovarsi a passare sopra le stesse orme di quel padre che emulava. Ogni volta in cui si ritrovava di fronte alla responsabilità di prendere una decisione, il suo pensiero andava a come si sarebbe comportato John Teller. Ancorato a quell'idea di eroe da cui un figlio fatica a distaccarsi.
Jax ripeterà molti gesti compiuti dal padre, si ritroverà a vivere gli stessi cambiamenti e a desiderare le medesime cose. Non vi elencherò le similitudini tra i due, le conosciamo molto bene, e mi porterebbero a rispondere con un istintivo "Sì, Jax Teller è l'ombra di suo padre".
Lo notiamo anche da quella frase: "Possa non conoscere mai questa vita piena di caos".
Tutti nella vita sbagliamo. Tutti abbiamo qualcosa nel nostro DNA che ci porta ad assumere i comportamenti di un padre o una madre, nel bene e nel male. La vera svolta è quando riusciamo a vedere i nostri genitori come persone che hanno fatto un errore e, invece di colpevolizzarli, li accettiamo e sfruttiamo i loro fallimenti come esempio contrario. E' proprio grazie ai tentativi falliti di John Teller che Jax ha saputo quale strada intraprendere e quando cambiare rotta.
Sappiamo che a differenza del padre lui ha allontanato la sua famiglia da quel mondo, ha salvato il club e ha raggiunto lo scopo di entrambi. Quindi no, non è uguale a lui. Ma non è neanche migliore. Loro due hanno lavorato insieme. Sono talmente identici che senza le scelte sbagliate dell'uno, l'altro sarebbe incorso nei medesimi errori.
Io trovo che questa collaborazione padre figlio sia uno degli aspetti più romantici di Sons of Anarchy.
Anche se le vicende dei due si sono svolte su due linee temporali diverse è come se avessero vissuto fianco a fianco. Come se potessimo immaginarli di fronte a due porte che portano nella stessa direzione, ma solo una contiene la giusta via. Per assicurarsi la certezza di raggiungere il risultato desiderato devono sacrificarsi entrambi. E' un lavoro di squadra.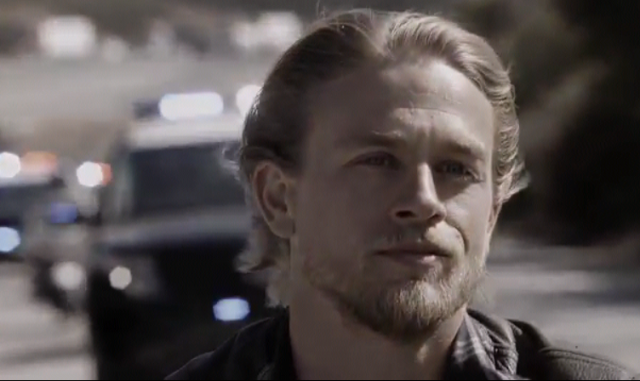 Sono riuscita così a dare una personalissima e, forse non condivisa, risposta alla domanda "Jax Teller è l'ombra di suo padre?" con un secco "No".
Per fare un gioco di parole "di ombra non ne vedo neanche l'ombra".
Vedo invece l'opposto: un padre che attraverso i suoi fallimenti illumina la strada del figlio. E un figlio capace di riconoscere il sentiero illuminato dal padre.
Jax Teller è la luce di suo padre. Come John Teller è la luce di suo figlio.