Gemma Teller e Cersei Lannister sono due tra le donne con più personalità del mondo delle Serie Tv: proviamo a metterle a confronto!
Viviamo (grazie al cielo) nell'epoca dell'emancipazione: sempre più spesso troviamo donne impegnate in carriere brillanti o a capo di aziende, spogliate del retrogrado legame con ferri da stiro e cucina, perfettamente allineate agli uomini sia dal punto di vista dei diritti che da quello delle potenzialità. Anzi, molto spesso sono le femminucce a risultare più efficienti.
Anche all'interno del mondo delle Serie Tv le protagoniste stanno assumendo ruoli via via sempre più centrali e oggi Hall of Series ha scelto di parlarvi di due perfette esemplificazioni dell'evoluzione della figura femminile applicate al contesto seriale.
Cersei Lannister è una bionda malvagia e iraconda, Gemma Teller una biker cazzutissima che non ammette un no come risposta: quali sono i punti di contatto tra queste due? Quanto sono differenti i loro estremi stili di vita? Possiamo forse concludere che una sia migliore dell'altra?
Tra un po' di analisi psicologica, qualche SPOILER e una dose massiccia di spirito d'osservazione, scopriamolo insieme!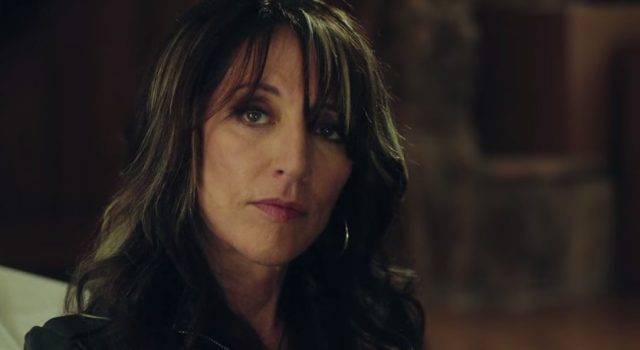 Gemma Teller vive di istinti primordiali, di conseguenza è in grado di amare, odiare e soprattutto picchiare con un voltaggio a cui solitamente le donzelle non riescono ad arrivare.
Per lei esiste solo ed unicamente suo figlio, Jax (di cui vi abbiamo parlato qui), che protegge 24h al giorno, 7 giorni su 7, 12 mesi all'anno da quando è nato: chiunque passa in secondo piano per lei quando c'è di mezzo il biondino e in suo nome la Valchiria è disposta a dichiarare guerra a chiunque, anche al suo stesso marito Clay Morrow, che è arrivato addirittura a menarla come un tamburo tale era la pressione e l'aggressività a cui la donna lo stava sottoponendo in quel momento. E lei? Lei soffre, incassa e supera, come ha sempre fatto in tutta la sua vita, compreso il feroce stupro che ha dovuto subire per mano dei nemici dei Sons of Anarchy, che però non ha fatto che rallentare l'impetuosa marcia della vedova.
Più che difendersi, però, il personaggio magistralmente interpretato da Katey Sagal preferisce attaccare o comunque agire in prima persona mettendosi in mezzo alle dinamiche interne del club, sfracellando uno skateboard in faccia alla sua presunta rivale in "amore", insultando senza remore tutto l'albero genealogico di chi la contraddice e, nella più assoluta e folle manifestazione della sua aggressività, a uccidere selvaggiamente Tara, l'anima gemella del suo adorato figlio, nella convinzione di salvarlo dalle grinfie di una traditrice.
Una donna estremamente impulsiva quindi, che non ha il minimo problema a sporcarsi le mani: l'approccio di Cersei, in questo senso, è un tantino differente…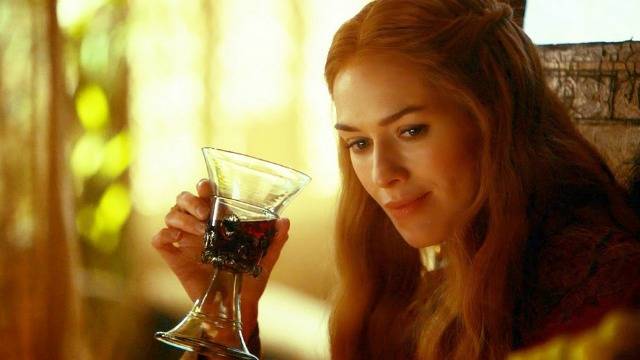 La figlia prediletta di Tywin Lannister è una stratega e una manipolatrice eccellente, che piuttosto che affrontare i problemi in fretta e di petto, con il rischio altissimo di commettere errori tatticamente sanguinosi, preferisce lavorarli ai fianchi per poi planare su di essi senza pietà.
Dopo essersi trovata a fianco un marito rozzo, grasso e più in generale profondamente diverso dall'unica persona che questo freddo pezzo di ghiaccio abbia mai amato (suo fratello gemello), Cersei sceglie di attendere anni prima di sbarazzarsi di quell'insulsa palla al piede. Nel frattempo investe il proprio tempo nell'allestimento di un'ascesa al potere che teoricamente si sarebbe dovuta concretizzare attraverso i figli, i quali però si sono rivelati troppo pazzi o immaturi per ricoprire il ruolo di fantocci, quindi è emersa la necessità di sedersi in prima persona sul bramato Trono di Spade nonostante l'altissimo numero di pretendenti: come riuscire in una simile impresa?
La Regina madre tesse per settimane la sua ragnatela. Incassa l'umiliazione dell'Alto Passero, mente, pianifica, si arrocca nella sua preziosa Fortezza Rossa circondandosi di uomini (o quasi, nel caso della Montagna) pronti a difenderla in casi estremi e poi alla fine riesce ad unire tutti i suoi nemici in un unico luogo, prima di farlo esplodere grazie all'operato dei suoi piccoli sgherri, ritrovandosi nello spazio di pochi minuti senza avversari e con la strada spianata verso la corona.
Un piano perfetto, subdolo e malvagio, che per essere realizzato appieno ha richiesto enormi sacrifici e studi, laddove una come Gemma avrebbe risolto tutto (o almeno ci avrebbe provato) con una sana rissa da bar.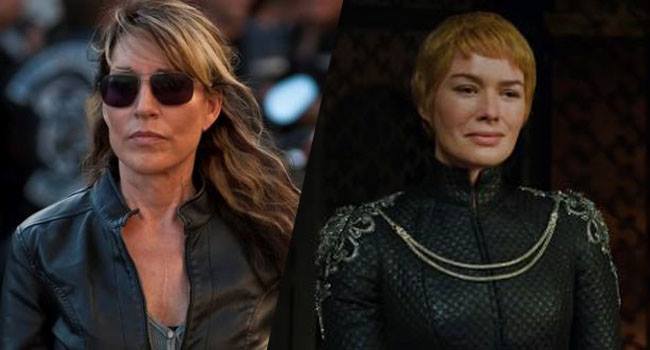 Pianificazione e impulsività, ragionamenti e cazzotti, sottili allusioni e insulti da scaricatore di porto: Cersei Lannister e Gemma Teller sono due donne profondamente diverse, ma entrambe di grandissima personalità e con qualche altro punto di contatto a unirle.
Ad esempio l'affetto smisurato per i propri figli, che tentando di proteggere anche quando sono indifendibili o, al contrario, le circostanze non lo richiedono, nella convinzione che l'essere madre è un lavoro a tempo pieno che non va preso sotto gamba neanche per un secondo.
Collegandosi al tema delle parentele, c'è poi un elemento ambiguo che va sottolineato: vi abbiamo raccontato qualche riga fa dell'amore che Gemma prova per il figlio Jax che (in base a qualche sottile sfumatura suggerita da Kurt Sutter nel corso della narrazione) va interpretato nell'accezione letterale del termine e anche se esso non arriva mai alla sua concretizzazione materiale come il sentimento che unisce Cersei e Jaime, al pari di quest'ultimo va a costituire un qualcosa di enormemente intenso nella sua malcelata incestuosità.
Va lodata anche la resistenza di queste due donne. Nonostante passino gli anni, i loro mariti scompaiano e arrivino via via sempre più nemici intenzionati a disarcionarle dalle loro posizioni privilegiate, esse mettono in campo tutto quello che hanno e riescono a respingere le difficoltà mantenendo la possibilità di incidere in prima persona sul destino da una parte di Westeros e dall'altra di Charming.
In conclusione, è impossibile stabilire se esista o meno una migliore tra le due per il semplice fatto che rappresentano un'interpretazione differente (al netto di qualche affinità) della vita e del mondo in cui viviamo: il consiglio è quello di ammirarle nelle due meravigliose Serie Tv che le vedono protagoniste e, se lo ritenete opportuno, scegliere voi stessi se parteggiare per la mora o la bionda!