«I need to get to know London again. Breathe it in. Every quiver of its beating heart» – Sherlock, The Empty Hearse, 3×01
Londra non è altro che uno dei personaggi della penna di Doyle. Più che uno sfondo, è a tutti gli effetti protagonista dei racconti di Sherlock Holmes, ed in particolare la Londra moderna lo è in Sherlock.
Se siete amanti di questa strepitosa serie e siete capitati nella capitale di Albione, saprete sicuramente di cosa sto parlando. Passeggiare per le strade della città, tra la sua storia regale, i monumenti, i ponti sul Tamigi, senza riconoscere in continuazione le ambientazioni di Sherlock è impossibile, ed è anche questo che rende l'esperienza così magica. Vale assolutamente la pena mettersi sulle tracce dell'intramontabile duo e scoprire luoghi peculiari.
Poiché l'estate sta arrivando (semicit.) e il tempo dei viaggi e delle vacanze è alle porte, potrebbe tornarvi utile un itinerario, o una mappa dei luoghi di Sherlock, per un po' di sano turismo seriale. E poi un ripassone prima della quarta stagione fa bene a tutti!
Vi daremo indicazioni su come ripercorrere le tracce di Sherlock Holmes e John Watson raggiungendole con la metropolitana, che come sappiamo collega in modo efficiente tutta Londra.
Bart's
Come non cominciare da dove tutto ha avuto principio?
Il St. Bartholomew Hospital, come nella serie, è il luogo in cui avviene il fatidico primo incontro tra Holmes e Watson. Come nel 2010, alla fine dell'800 Holmes eseguiva i suoi peculiari  esperimenti, conquistando Watson all'istante.
Proprio nei suoi laboratori Sherlock esordisce con la domanda "Afghanistan o Iraq?", aggiudicandosi – sorprendentemente – in men che non si dica un nuovo coinquilino.
Non solo è il luogo del primo incontro, ma ricorre molte volte nella serie: per esempio, lì appare per la prima volta Moriarty, sotto le vesti del nuovo fidanzato di Molly Hooper, e ovviamente dove ha luogo il confronto finale tra Sherlock e Moriarty in The Reichenbach Fall (2×03).
Guardare dal basso il cornicione da cui Sherlock chiama John prima di buttarsi nel vuoto ha del surreale, bisogna ammetterlo.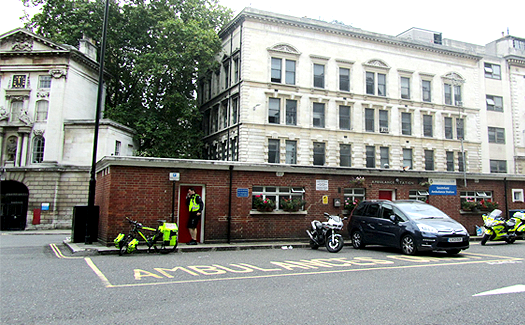 Quel galeotto scorcio presso la stazione delle ambulanze.
E diavolo, se non si vede davanti ai propri occhi il volo pindarico di Sherlock!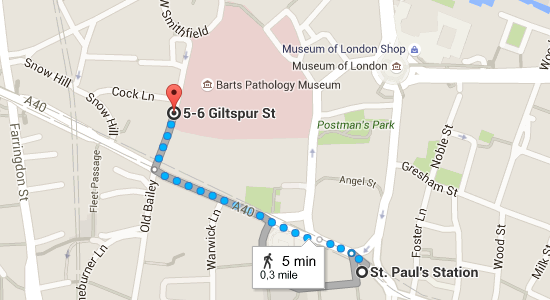 Per raggiungere il Bart's dalla stazione di St. Paul's (Central line) procedete lungo Newgate Street, fino a che a vi ritroverete all'incrocio con Old Bailey (in The Reichenbach Fall il processo a Moriarty ha luogo lì); salite lungo Giltspur Street et voilà! Ecco a voi il Bart's e tanti feels per tutti.