Attenzione: l'articolo contiene spoiler su Il problema finale, la puntata conclusiva di Sherlock.
"Miss me", "Miss me", "Miss me" o come nel doppiaggio italiano "Ti sono mancato?" è il mantra che sente ripetere il dottor Watson prima di perdere i sensi colpito alle spalle dalle guardie della prigione di Sherrinford. A pronunciare queste parole è il viso enigmatico e sarcastico di Moriarty. Stiamo per entrare in una delle sequenze più belle dell'intera Sherlock. Una scena che rappresenta in modo eclatante la qualità drammaturgica e attoriale che permea l'intero prodotto confezionato da Steven Moffat e Mark Gatiss.
Un'intera stagione, la terza, una buona parte dell'ultima e uno episodio speciale sono stati attraversati da una domanda suadente e cervellotica nella sua semplicita: "Miss me", "Ti sono mancato?".
Su questa efficacissima intuizione, su questo dubbio insinuato fin da subito, gli autori di Sherlock sono riusciti a creare un'aspettativa e una molteplicità di punti di vista in grado di alimentare ed aumentare un interesse enorme nel pubblico. Hanno anche saputo inserire all'interno della Serie stessa, in un gioco delle parti tra pubblico e protagonisti, ipotesi e intuizioni su come fossero andati realmente gli eventi.
Continui accenni e rimandi degli episodi precedenti hanno il solo scopo di portarci a questo momento. Dubbi, perplessità, ipotesi. Ogni cosa troverà risposta a questo punto. La scena è carica di un pathos crescente. Euros, la sorella geniale degli Holmes è libera. Il vento dell'Est è arrivato e sta travolgendo tutto.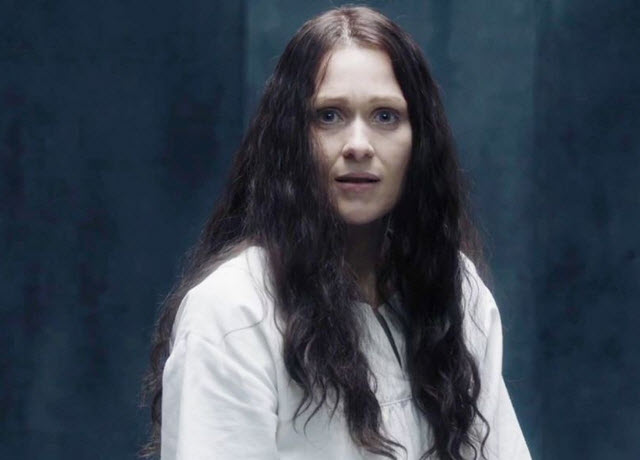 Veramente Moriarty è morto? Veramente le cose sono andate come Sherlock Holmes ce le ha raccontate? Dove eravamo rimasti?
Il dottor Watson, senza parole per l'immagine allo schermo del volto di Moriarty che ripete incessantemente "Miss me". Incredulità, incomprensione e stupore passano rapidamente sul volto, come succede ad ognuno di noi mentre ci troviamo di fronte all'imponderabile. A qualcosa che esula dalle nostre facoltà di comprensione. Mentre la telecamera accompagna il viso di Watson nella caduta e l'immagine si fa sempre più sfocata, la voce di Moriarty continua incessante a ripetere "Miss me, Miss me, Miss me". L'inquadratura inizia a girare vorticosamente mentre la dissolvenza corre verso il nero.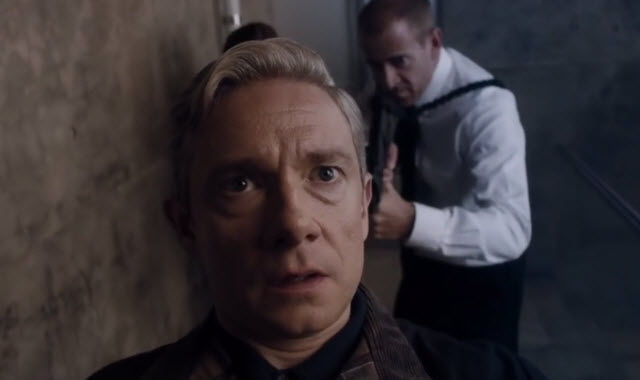 Le note della batteria si spandono già nell'aria e arrivano potenti e inesorabili alle nostre orecchie. L'immagine si apre inquadrando dal pelo dell'acqua l'isola in cui si trova il carcere di Sherrinford. Alla batteria iniziale che diviene via via più chiara e familiare si aggiunge una chitarra mentre l'inquadratura sorvola dall'alto l'intera isola. Di sottofondo il rotore di un elicottero prende forza e il cambio scena ci porta a vedere a tre quarti il direttore del carcere mentre vede passare dalla finestra nella scogliera del suo ufficio, un elicottero. La voce. Potente, chiara e cristallina come l'abbiamo sempre ascoltata erompe sulle note chiare indimenticabili della voce di Freddie Mercury.
"I want to break free"
Ed eccolo. Mentre in sottofondo si sente l'ovazione della folla dal portellone dell'elicottero, cuffie nelle orecchie esce lui. La star. Come una star. Moriarty.
Lo sguardo che punta in basso. Si alza, fiero e sarcastico, solo quando il portellone è completamente aperto e può radrizzare l'intero corpo. Occhiali da sole. Per una frazione di secondo resta lì in piedi appeso con una mano alla maniglia come un divo che sa di dover appagare fan e fotografi. Poi scende a terra e avanza di un paio di passi.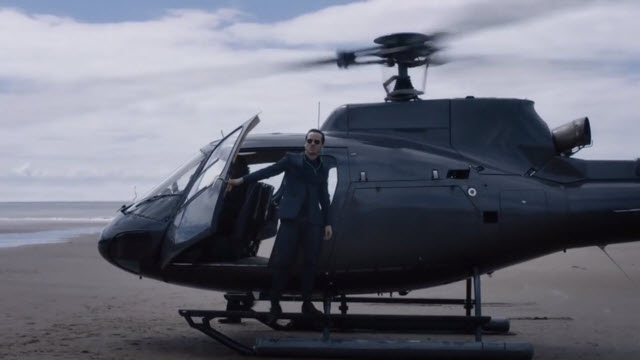 Sappiamo che non può essere lui. Sappiamo che è morto. Ma con un'entrata in scena così ci aggrappiamo alla speranza. D'altra parte, parafrasando nelle Serie Tv ciò che cantava Lucio Dalla:
"Potenza della lirica dove ogni dramma è un falso"
A questo punto ci è lecito sperare. Forse davvero le cose non sono andate come sappiamo. Forse davvero è tornato. È tutto perfetto: una situazione intricata oltre ogni immaginazione, una trappola architettata magistralmente che fa cadere entrambi i fratelli Holmes e "I want to break free" di sottofondo: "Voglio liberarmi". E noi vogliamo che dietro a tutto ci sia lui: Moriarty. Perchè il noto è più consolatorio dell'ignoto. Perchè in fondo lui ci piace. E ci piace parecchio. Perchè è la nemesi di Sherlock Holmes. Il "problema finale" è perfetto per lui, cucito su di lui.
Soluzioni semplici a problemi complicati. Questo è il modello d'indagine di Sherlock Holmes e questa è la strada che intraprendono Moffat e Gatiss per questo episodio. Semplicità, non banalità.
Poi scende a terra e avanza di un paio di passi.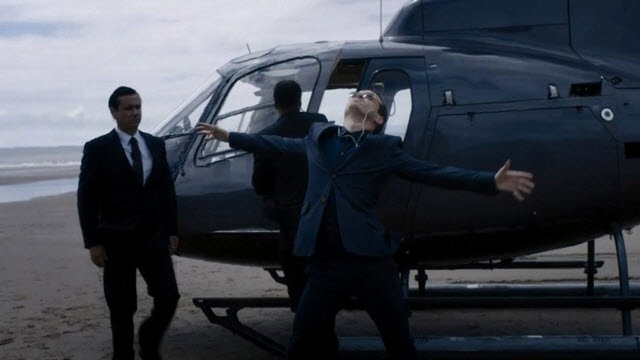 E qui la genialità drammaturgica sposa l'espressività recitativa. Moriarty sulla spiaggia, sceso dall'elicottero, si lancia in un balletto autoreferenziale incurante di chi ha di fronte. Lo fa per sé stesso, per il suo ego. Lo fa per noi. Una metaforica spaccatura nella quarta parete. Letteralmente buca lo schermo.
"I want to break free from your lies,
you're so self satisfied, I don't need you
I've got to break free
God knows, god knows I want to break free"

"Voglio liberarmi dalle tue bugie
Tu basti a te stessa, non ho bisogno di te
Devo liberarmi
Dio sa, Dio sa, quanto voglio liberarmi"
Lo sguardo è soddisfatto, appagato. L'autocompicimento della realizzazione. Un uomo che non deve chiedere, in grando di prendere quello che vuole, compresa la sua stessa vita, per ottenere quello che vuole. Così distante dalla noia che gli procura la gente. Così distante dalla banalità del mondo. C'è solo lui e il mondo intero può attendere.
Torniamo al gusto raffinato ed elegante della scena. Moriarty è inquadrato di spalle appena dietro la sua nuca. Un'attimo prima che le voce superba di Freddie Mercury ci porti nel punto più vicino al sentimentalismo del testo della canzone pronunciando la parola per antonomasia che rappresenta questo concetto "love", si toglie le cuffie. La musica scompare sostituita dal potente rotore dell'elicottero e dallo stridio dei gabbiani.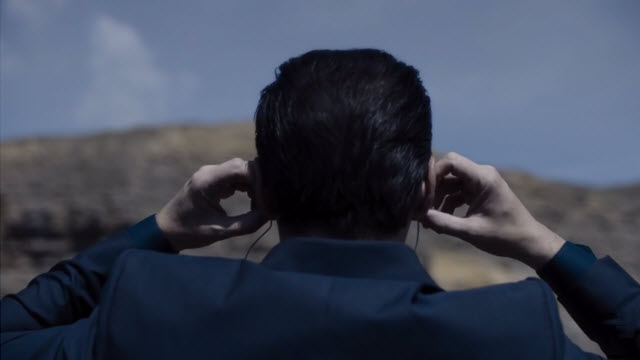 Lo sguardo feroce e sarcastico con cui ritorna alla realtà si alterna all'immagne del direttore del carcere che lo attende. Si avvicina a quest'ultimo. I pochi secondi di dialogo che ne scaturiscono sono così surreali da chiarire una volta per tutte che siamo davanti al vero, folle e magnifico Moriarty. È lui, è al carcere, e non sappiamo cosa potrà accadere.
Ce l'hanno fatta. Moffat e Gatiss l'hanno riportato davvero tra noi. Moriarty si è liberato. Si è liberato dalla morte per il suo pubblico, per noi: "I want to break free from your lies" "voglio liberarmi dalle tue bugie". Con lo stratagemma più semplice, ma realizzato in modo superbo: il flashback. Bastano infatti pochi secondi per svelare il mistero. Per sciogliere definitivamente il dubbio. Eppure per poco meno di due minuti ci hanno dato il sogno. Ci hanno liberato tutti. Ogni fantasia, ogni ipotesi, ogni intuizione del pubblico, per due minuti è stata vera.
"It's a kind of magic", "è una spece di magia" cantava un'altra canzone dei Queen. E anche in questo caso ci è stata confezionata con maestria una splendida magia. Con un trucco, certamente. Ma è di questo che sono fatte le magie: trucchi e sogni. Perchè anche noi vogliamo liberarci, anche solo per due minuti, dalla realtà.
Un saluto agli amici di Sherlock (BBC) Italia