Le ragazze sono tornate. È stata confermata la nuova stagione di Sex and the City e in primavera cominceranno a girare i 10 episodi di And Just Like That, titolo del settimo capitolo della serie. Ma c'è un grosso problema: niente Samantha Jones. Che è un po' come la reunion dei Take That senza Robbie Williams!
Kim Cattrall, vista di recente nelle serie Tell Me a Story e Filthy Rich, ha detto più volte che non avrebbe mai partecipato a ulteriori stagioni di Sex and the City per divergenze con l'altra protagonista, Sarah Jessica Parker, e ormai questa notizia è confermata.
Ma Sex and the City senza Samantha Jones, non è Sex and the City.
É solo una copia dell'originale, un'imitazione per far ascolti attirando l'attenzione delle irriducibili fan di mezzo mondo. Ecco tutti i motivi per cui secondo noi un revival della serie senza Samantha Jones non può funzionare.
1) Rimarrà la City ma addio il Sex
Delle 4 protagoniste, Samantha è il personaggio con le avventure sessuali più indimenticabili. Carrie, Miranda e Charlotte hanno provato a eguagliarla, ma senza arrivare al suo livello. Sam è anche quella con il numero più alto di uomini improbabili e divertenti: dal toy boy all'anziano ultrasettantenne riccone, dall'uomo più basso di New York al modello di giocattoli sessuali che voleva fare il poeta. Schietta, sfacciata e assolutamente senza vergogna, era il personaggio più originale e divertente di Sex and the City, e sarà difficile rimpiazzarla.
Io sono trisessuale: almeno una volta ho provato tutto.
2) Chi sperimenterà le nuove tendenze?
Pioniera nella scoperta di nuovi sex toy e sperimentatrice di tutte le ultime tendenze della Big Apple, Samantha è l'unica del quartetto che ha provato interventi estetici, peeling chimici – con terribili risultati – cocktail vitaminici per la salute sessuale e creme ricche di ormoni. Anche se lei ritiene che contro le rughe il miglior rimedio sia del buon sesso, ora chi testerà in anteprima le mode più estreme made in USA per il pubblico femminile più timoroso?
Io non credo nel matrimonio, mentre il botox invece funziona ogni volta!
3) L'ultima irriducibile single
Se nelle prime stagioni tutti i personaggi principali erano single e si parlava molto più di sesso, uomini e sentimenti, quando 3 di loro si sono sistemate Samantha è rimasta l'unico membro del gruppo ancora in vena di buttarsi in rapporti di coppia non convenzionali. Per uno show che originariamente ruotava intorno agli appuntamenti, al sesso e alle relazioni del ventesimo secolo cercando di abbattere ogni tabù a riguardo, a meno che Sex and the City 7 non veda la fine di uno dei 3 matrimoni o l'abbandono della monogamia di una delle 3 coppie, Sam sarebbe stata l'unica protagonista ancora in vena di sperimentazione. Inoltre avrebbe mostrato una scelta alternativa, ma ugualmente dignitosa, nella vita di una donna: non tutte le storie devono per forza finire con un matrimonio e la maternità.
Il matrimonio non garantisce il lieto fine, ma solo una fine.
4) L'equilibrio del gruppo è compromesso
Ogni protagonista di Sex and the City rappresenta un tipo di donna.
Miranda è quella in carriera, Charlotte è la principessa delle fiabe, Carrie è la romantica creativa, e Samantha è quella schietta e sincera. Senza quest'ultima al gruppo manca un po' di equilibrio. Sam con la sua schiettezza, a volte brutale, non ha mai alimentato favole o illusioni ma ha sempre portato le altre a vedere la realtà per quella che era. Che fossero questioni amorose o lavorative, ha posto le domande scomode, a tratti fastidiose, ma sicuramente utili, per farle arrivare al nocciolo della questione. È difficile immaginare che le loro chiacchierate saranno altrettanto complesse e preziose senza avere accanto quel tipo di amica.
Cara se sembra troppo bello per essere vero, probabilmente lo è.
5) Fine serata nei locali più cool di New York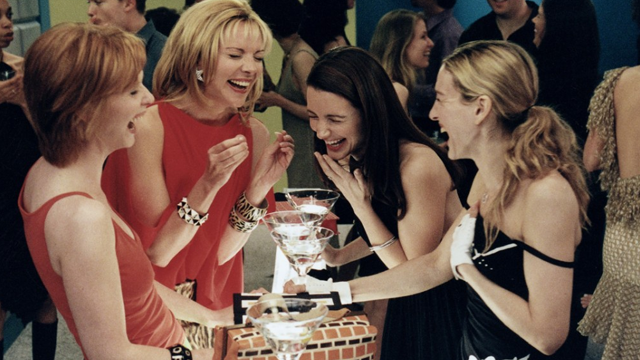 Samantha Jones è una PR di successo quasi sempre invitata ai party più esclusivi e alle inaugurazioni dei locali alla moda della città. Questo l'ha resa l'artefice di molte delle migliori serate in città delle ragazze. Con quel suo potere che la rende in grado di convincere anche la più pigra o depressa a partecipare a sfilate, anteprime di film e feste, come faranno le altre che hanno pure messo su famiglia a trovare il tempo per uscire e divertirsi nei locali di tendenza di New York? Sarà il lockdown, sarà che non si può viaggiare, ma ci manca proprio vedere qualche bella inaugurazione di bar o ristorante newyorkese.