È proprio vero: Sex and the City 7 si farà. L'annuncio è arrivato direttamente dalle 3 protagoniste – Sarah Jessica Parker, Kristin Davis e Cynthia Nixon – che hanno postato sui loro profili Instagram la notizia, accompagnata da un breve trailer, e annunciando che sarebbero tornate a vestire i loro vecchi panni. Tutte tranne una: Kim Cattrall aveva dichiarato più volte di aver chiuso con la serie e al momento non è stata inclusa nel cast delle nuove puntate.
La settima stagione verrà lanciata sulla piattaforma a pagamento HBO Max e le riprese dovrebbero iniziare a New York in primavera. I fan si sono già scatenati sui social per chiedere anticipazioni, che però scarseggiano ad arrivare. Solo The Hollywood Reporter ha scritto che And Just Like That, così si chiamerà il nuovo capitolo della serie, seguirà Carrie, Miranda e Charlotte mentre affrontano la vita da cinquantenni.
Effettivamente da quando le abbiamo lasciate nel 2004 molte cose sono cambiate, o evolute. Se dobbiamo rinunciare a Samantha, vorremmo però ritrovare uno show moderno e al passo con i tempi. Ecco le 5 cose che vorremmo assolutamente vedere nel nuovo Sex and the City.
1) Un gran bel melting pot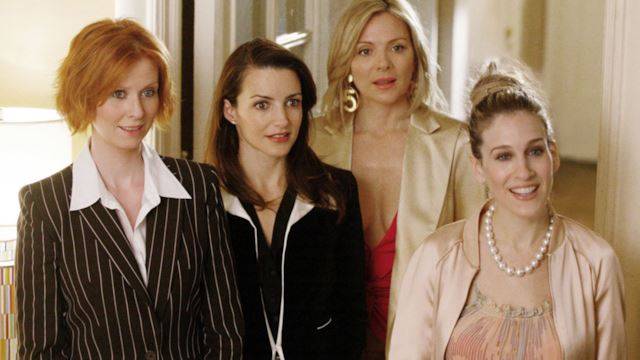 New York è una città straordinariamente varia. Ci fa sognare anche per il suo carattere cosmopolita e l'ineguagliabile mix di etnie e culture diverse che la abitano. Allora perché la stragrande maggioranza dei protagonisti di Sex and the City sono bianchi? I personaggi di colore sono apparsi di tanto in tanto nelle varie stagioni, e quando lo hanno fatto non sono stati mai portatori di idee progressiste, ma sono rimasti quasi sempre sullo sfondo. Così come le minoranze etniche, ispaniche o asiatiche, sono sempre state relegate ai ruoli di domestici o confinate entro i saloni di bellezza.
Con l'elezione della newyorkese Alexandria Ocasio-Cortez al Congresso, e con il recente movimento Black Lives Matter, non solo a New York ma in tutta l'America si è risvegliato un sentimento comune contro le discriminazioni. E noi vorremmo che arrivasse fino a Sex and the City, magari influenzando la scelta del nuovo cast per rappresentare sullo schermo una maggior diversità, permettendo allo show di riconnettersi e riflettere il pubblico del 2021.
La stessa Kim Cattrall parlando della sua assenza ha detto al Daily Mail:
Forse il mio ruolo potrebbe essere interpretato da un'altra attrice. Magari potrebbero trasformarla in una Samantha Jones afroamericana o ispanica.
2) Le nuove tecnologie
Nel corso delle 6 stagioni i cellulari sono diventati più piccoli, i telefoni pubblici sono scomparsi e le app di dating online sono diventate sempre più popolari. Carrie scriveva su un laptop, ma aveva bisogno di un'assistente per inviare un'e-mail correttamente. Fortunatamente la tecnologia da allora ha fatto passi da gigante e saremmo curiosi di vedere le protagoniste di Sex and the City confrontarsi con smartphone, Uber e app di incontri online.
Vorremmo sentirle parlare sfrontatamente di Tinder e Grindr, o far provare a Carrie Facebook Dating in vista del nuovo articolo della sua rubrica. Siamo curiosi di sapere se Charlotte avrà o no una Smart House, con tanto di frigo che ordina online il latte una volta finito. E se Miranda è più un tipo Android o Apple.
3) La generazione Z
Charlotte e Miranda sono due tipologie di donne completamente agli antipodi. Entrambe però si sono confrontate con la maternità, affrontandola in modo diverso, ma restando sempre presenti l'una per l'altra con il vantaggio di poter crescere insieme i loro figli.
Le avevamo lasciate che accompagnavano i figli alla scuola materna, e ora dopo oltre 15 anni vorremmo vedere come sono cresciuti Brady, il figlio di Miranda, e anche Lily e Rose, le figlie di Charlotte. Sono diventati dei teenager stile Gossip Girl o sono più imbranati tipo Sex Education? Parlano di amore e sesso con le loro madri oppure a casa l'argomento è un tabù?
Il rapporto genitori-figli potrebbe modellare dialoghi ironici e inediti per Sex and the City, la quale non aveva mai avuto adolescenti nel cast. Lo show potrebbe così arricchirsi della nuova prospettiva della generazione Z nel linguaggio, nei temi e anche nei nuovi trend della moda.
4) Gli outfit ideati dalla storica costumista Patricia Field
Colonna portante della serie, insieme all'amore, è lo stile. Grazie a Sex and the City sono esplosi dei veri miti come le Manolo, la Birkin o la Baguette di Fendi che ancora oggi ci fa sognare. Nati dalla creatività della costumista Patricia Field, abbiamo visto indossare alle protagoniste degli outfit indimenticabili. Anche se non ci sono state conferme, noi vorremmo che fosse di nuovo la storica costumista newyorkese l'artefice dell'armadio di Carrie Bradshaw, per ritrovare la stessa eccentricità e genialità a cui ci aveva abituato.
La nuova Sex and the City avrà sicuramente lo stesso potere di attrarre le maggiori firme della moda e l'attenzione del pubblico femminile. Cosa sostituirà il vestito newspaper con i pezzi di giornale di John Galliano del 2000 di Carrie? La protagonista continuerà a correre per la città sui tacchi a spillo firmati Manolo Blahnik, oppure sceglierà una nuova linea di scarpe SJP della stessa Sarah Jessica Parker? Dopo un anno passato soprattutto a casa in tuta da ginnastica, vogliamo vedere i nuovi outfit delle protagoniste e siamo pronte a prendere appunti!
5) Personaggi curvy e il movimento "Body Positivity"
Durante le prime stagioni della serie il movimento "body positivity" non era ancora diffuso tra le donne in generale, tantomeno tra le protagoniste di Sex and the City. Le quattro amiche prendevano in giro le modelle perché eccessivamente magre, i fisici dei loro partner perché troppo pelosi o molto esili, e a volte anche loro stesse. Charlotte odiava le sue cosce, Miranda si lamentava di essere ingrassata dopo la gravidanza e Samantha per colpa dello stress di Los Angeles si vedeva più brutta. In Sex and the City si doveva essere sempre impeccabili, o nascondere i difetti con abiti di lusso e accessori all'ultimo grido.
Nel frattempo, negli ultimi 10 anni, abbiamo assistito a un cambiamento nel modo di rappresentare il corpo nei media. Dall'affermazione delle modelle curvy al movimento "body positivity", è stato promosso un self love radicale di quei corpi visibilmente in sovrappeso. Dai social questa rivoluzione è arrivata ai giornali e poi alla cultura mainstream. Saremmo curiosi di vederla anche in Sex and the City 7, con protagoniste che non nascondano i segni del tempo o qualche chilo di troppo, ascoltandole parlare con la loro proverbiale ironia della moda plus-size.