Tra i tanti motivi per cui ci innamoriamo di una specifica Serie Tv, c'è anche il nome. Non abbiamo nemmeno idea di quanto tempo spenda il team di creativi dietro una serie tv per scegliere il nome di quest'ultima. Perchè il nome fa la differtenza anche nell'ottica dell'epicità percepita della Serie Tv stessa: riuscireste ad immaginare un nome meno epico di Game of Thrones, per Game of Thrones? Alcune delle serie tv che abbiamo imparato ad amare in questi anni, in realtà in principio avrebbero dovuto avere dei nomi diversi. Qua sotto ne riportiamo 15:
THE BIG BANG THEORY
Una delle serie più seguite degli ultimi anni è sicuramente The Big Bang Theory, che può vantare numeri letteralmente da record. Questa serie tv ci ha colpito subito sin dal principio anche per la particolarità del suo nome, che le restituisce un retrogusto un po' chic. E dire che però, in principio, The Big Bang Theory non doveva chiamarsi così. Il nome scelto per la serie era: Lenny, Kenny e Penny. Si voleva lavorare sull'assonanza dei 3 nomi: Penny è ovviamente rimasta Penny, Lenny è Leonard e Sheldon si sarebbe dovuto chiamare Kenny. Un titolo del genere avrebbe dato molto più la percezione di sit-com di bassa lega, secondo me, e per fortuna hanno cambiato idea.
GILMORE GIRLS – UNA MAMMA PER AMICA
Anche per Gilmore Girls, conosciuto e amato in Italia col nome di Una mamma per amica (una delle poche rese italiane di un buon livello, a differenza di cose tipo Alla fine arriva mamma per How I Met Your Mother), era stato pensato per avere un nome differente in principio. L'idea era quella di chiamarla The Gilmore Way, per evidenziare l'approccio alla vita delle Gilmore. Non male in fin dei conti questo, dai, però ci teniamo volentieri Gilmore Girls. 
DESPERATE HOUSEWIVES
Partiamo dal presupposto che il nome inizialmente scelto per questa serie, a differenza da quello inizialmente scelto per The Big Bang Theory, non era malaccio: Wisteria Lane: The secret life of housewives. Tuttavia, Desperate Housewives si è rivelata sicuramente una scelta più che azzeccata, dato che anche la dicitura casalinghe disperate è ormai entrata a pieno titolo nel gergo comune, e se è così è anche e soprattutto grazie a questa serie e al nome che alla fine è stato scelto per essa.
CHARMED – STREGHE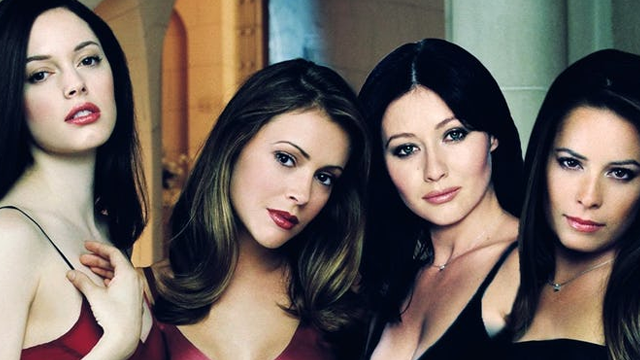 Di Charmed – Streghe si sta parlando tantissimo in ottica reboot ultimamente (a proposito, il primo episodio è stato ordinato ma una delle attrici principali della serie storica non pare entusiasta della situazione, ne abbiamo parlato in questo articolo) ma anche questa è una serie che in principio poteva avere un altro nome. Il primo pensato, infatti, era House of Sisters. Secondo voi sarebbe stato meglio o peggio di Charmed?
FRIENDS
E già. Pure una delle serie più iconiche della storia, con un nome oltremodo azzeccato che è diventato di fatto leggenda, avrebbe potuto chiamarsi in maniera diversa. I nomi in ballo in questa fattispecie erano addirittura 3: Six of one, Across the hall o Friends like us. Alla fine ha trionfato la semplicità: Friends, punto e basta. E vissero felici e contenti per ben 10 stagioni.
GREY'S ANATOMY
Il cambiamento, in questo caso, sarebbe stato relativo. Diciamo che la prima opzione avrebbe di fatto allungato il titolo, senza tuttavia stravolgerlo. Pare che infatti inizialmente Shonda Rhimes volesse chiamare la serie Grey's Anatomy Surgeons, optando infine per un più breve Grey's Anatomy. 
LOST
Altro giro, altro nome azzeccatissimo. Perchè al di là di tutto, è innegabile che uno dei motivi del grande successo di Lost sia stato anche il nome scelto. Perfetto. Un po' meno perfetto era Nowhere, quello pensato inizialmente: bellino, per carità, ma niente a che vedere col senso di mastodontico che ti dà LOST. 
SCANDAL
Scandal, invece, avrebbe dovuto chiamarsi Damage Control. E in questo caso è davvero una bella lotta, perchè anche il primo nome scelto, leggendolo, ha un certo effetto e compete bene col secondo.
BUFFY – THE VAMPIRE SLAYER
Preferite Buffy – The Vampire Slayer (Buffy – L'ammazzavampiri nella versione italiana) oppure preferite Rhonda – The Immortal Waitress? Quest'ultimo fu il primo nome pensato per la serie che tutti noi oggi conosciamo come Buffy. Scelta che in fin dei conti a mio parere si è rivelata più lineare, armonica ed accessibile rispetto alla prima opzione pensata, quindi bene così.
THE GOOD WIFE
The Good Wife è un'altra di quelle serie sul cui nome hanno riflettuto, e riflettuto tantissimo. Infatti i nomi iniziali a cui si era pensato per questa serie erano ben 3 diversi: The Whole Truth, In the spotlight e Leave the bastard. Qual è secondo voi il migliore dei 4?
HANNAH MONTANA
Hannah Montana, la serie che ha lanciato Miley Cyrus, avrebbe potuto invece chiamarsi Alexis Texas: fu questo il primo nome pensato dal team.
THAT'S SO RAVEN
Anche su That's so Raven ci furono svariati dubbi. Tra i nomi inizialmente pensati per questa serie c'erano infatti  The future is on me ed Absolutely Psychic. Difficile dire quale sia il migliore dei tre.
SUPERNATURAL
I fratelli Winchester, invece di vivere nell'universo immaginario di Supernatural, avrebbero potuto vivere nell'universo immaginario di Unnatural: questo il primo nome pensato per la serie. Sicuramente più musicale ed imperioso Supernatural: ottima scelta, i dettagli anche se apparentemente insignificanti fanno sempre la differenza.
THAT'70s SHOW
That'70 s Show: per arrivare a questo nome, ci è voluto un po'. Le opzioni iniziali infatti erano altre 3: The Kids Are Alright, Teenage Wasteland e Feelin all right. 
iCARLY 
Concludiamo la rassegna con iCarly: anche qua vari dubbi, ma tutti sulla stessa falsariga. La i caratteristica del titolo della serie è sempre stata nella testa dei creatori di iCarly, inizialmente però si era pensato ad altri nomi: iJosie ed iSam. 
A parte pochissime situazioni in cui ci può essere qualche dubbio, in fin dei conti ci sentiamo di dire che le scelte finali, per tutte le serie in questione, sono state le più appropriate. E voi cosa ne pensate?