Shonda Rhimes è la donna che in media regala al mondo intero 70 ore di Serie Tv a stagione. È la donna che ha creato uno dei medical drama più famosi, Grey's Anatomy. È colei che ha cambiato il mondo delle Serie Tv, portando la diversità sul piccolo schermo: due donne di colore protagoniste di show in onda in prima serata, amori omosessuali e storie per ogni minoranza sociale. Shonda Rhimes è la donna del sì.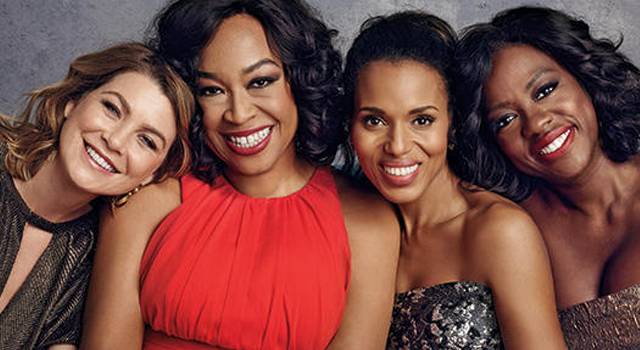 La Rhimes nasce a Chicago nel 1970, ha 3 sorelle e 2 fratelli maggiori. I suoi genitori sono entrambi impegnati in ambito accademico. Studia presso una scuola cattolica di Chicago e poi decide di iscriversi presso il Darmouth College dove si specializza in Letteratura Inglese e Cinema.
Dopo questa laurea, legge un articolo su come sia più difficile entrare nella scuola del Cinema e della Televisione dell'University of Southern California che in quella di legge di Harvard; senza esitazione decide di iscriversi presso la USC. Da qui in poi, il gene competitivo la porta ad andare al massimo, a superare le iniziali porte in faccia, a creare, assieme a Betsy Beers, "Shondaland" e a portare sul piccolo schermo migliaia di diverse storie.
Nel 2007 Shonda Rhimes viene riconosciuta dal TIME come una delle 100 personalità più influenti del mondo e vince il Golden Globe per Grey's Anatomy. Riceve numerosi riconoscimenti per lo show, alcuni anche molto significativi: il premio della Directors Guild of America per la rappresentazione della diversità in televisione nel 2014, due Emmys, svariati premi dal NAACP per la sua rappresentazione delle persone di colore in Tv.
La scorsa estate firma un accordo esclusivo con Netflix: sì, Shonda produrrà esclusivamente per Netflix nei prossimi anni. E no, Grey's Anatomy non è a rischio conflitto. Se finirà, finirà perché non ha più nulla di dirci.
Si definisce un titano, una stacanovista innamorata del suo lavoro, un lavoro da sogno. È madre single di 3 bambine, due delle quali adottate e l'ultima da madre surrogata. L'essere madre è probabilmente ciò che le ha salvato la carriera.
3 Serie Tv in produzione, a volte 4, centinaia di addetti ai lavori all'opera, attori, comparse, case di produzione, collaboratori, il mondo intero che adora i tuoi show: sembra il lavoro dei sogni e probabilmente lo è ma… C'è un ma. Qualcosa cambia, la scintilla si affievolisce. Il ronzio, come lo chiama lei, si zittisce.
La voce che l'ha guidata al successo si spegne e non le suggerisce più nulla, non la incoraggia, non la supporta. Cos'è cambiato? Nulla, apparentemente. A furia di lavorare, di produrre tre show, scrivere per 30 personaggi, creare 50 episodi annuali, il ronzio si è consumato, la passione si è spenta. Come si riparte da qui? È il 2014, la sua ultima figlia ha appena un anno, le altre due rispettivamente 12 e 3. Viene chiamata dal Dartmouth College a tenere il discorso di apertura della cerimonia di laurea di quell'anno.
È questo momento che le fa capire che ha bisogno di superare le sue paure e di uscire dalla sua campana di vetro, dalla cosiddetta comfort zone, per ritrovare la voce della sua anima, il suo ronzio. Decide che, per un anno, dirà di sì a tutto quello che ha rimandato, che la spaventa, che non ha mai avuto il tempo di fare, troppo assorbita nel suo lavoro. È l'anno del sì per Shonda Rhimes (scriverà anche un libro dall'omonimo titolo).
Si lascia andare e supera la sua paura di parlare davanti al pubblico delle grandi occasioni. Si rende conto che l'essere sovrappeso non è salutare e che, per quanto sia giusto urlare a gran voce che ognuno ha diritto di sentirsi a proprio agio con se stesso, non ci si può nascondere dietro questo motivo e trascurare la propria salute.
Pian piano, più si lascia andare, più attraversa le sue paure e turbe, più il lavoro diventa lavoro e non ragione di vita, più si sente leggera. Ascolta le sue figlie, gioca con loro, si libera degli immensi "no" in cui ha vissuto per tutta la vita. Shonda Rhimes attraversa una fase di redenzione, uno di quei momenti che ha fatto recitare tante volte ai suoi personaggi.
All'improvviso, il ronzio torna. Non il ronzio che l'ha accompagnata per tutta la vita, ma un ronzio nuovo, più leggero, più confortante. Non si fa più travolgere dal vecchio ronzio, ma lo tiene sotto controllo. Il ronzio non è più lavoro, lavoro, lavoro o scrivere, produrre, ingaggiare, correre a destra e manca. Il ronzio è la voce di sua figlia che le chiede di giocare con lei, il ronzio diventa un sussurro d'amore. Basta essere un titano iper-competitivo. La vita è anche altro, la vita è anche giocare, rilassarsi, cenare con gli amici o uccidere Derek Sheperd come niente fosse.
Non è solo una delle showrunner di maggior successo, non è solo la mente dietro Meredith, Cristina, Olivia, Annalise. Shonda Rhimes è una di quelle personalità travolgenti e coinvolgenti in grado di influenzare davvero la vita di una persona. Le sue battaglie, i suoi mantra, le sue produzioni contribuiscono a rendere chi la segue più cosciente del mondo circostante. Date un'occhiata a questi due video, leggete il suo libro se potete… Entrerete nella mente di una delle donne più importanti delle Serie Tv.