Sono passati più di 400 anni e Shakespeare rimane il miglior drammaturgo che sia mai esistito. Le sue opere sono ancora oggi fonte di ispirazione per tutto il mondo dell'arte. Le sue storie sono senza tempo, i suoi personaggi profondi, unici, e i temi da lui trattati sono universali. Nei suoi drammi troviamo l'amore, l'invidia, la gelosia, l'ambizione, le vittorie e le sconfitte, la violenza e un destino che può cambiare all'improvviso. Una celebrazione del grande scrittore inglese che oggi poteva avvenire solo nel mondo delle Serie Tv. Non ci stupisce che parte delle sceneggiature siano basate sui copioni di Shakespeare. Vediamo insieme alcuni esempi.
Partiamo dalla Serie Tv fantasy per eccellenza: Game of Thrones. Innanzitutto, su stessa ammissione di George R.R. Martin, molte delle vicende sono ispirate alla Guerra delle due Rose. Ad esempio, lo scontro tra Stark e Lannister richiama la battaglia realmente avvenuta tra le casate di York e Lancaster. Anche Shakespeare aveva basato molti drammi storici su quel conflitto. Inoltre, ogni personaggio presente in Game of Thrones è un omaggio ai grandi character creati dal drammaturgo inglese. Uno su tutti: Petyr Baelish è Iago. Grazie alle sue manipolazioni, quest'ultimo convince Otello che la moglie Desdemona lo tradisce, condizionando irreparabilmente la sua mente.
Come Iago, Petyr Baelish è il tessitore di trame della nota Serie Tv. Riesce a seminare i dubbi negli altri per poi coglierne i frutti.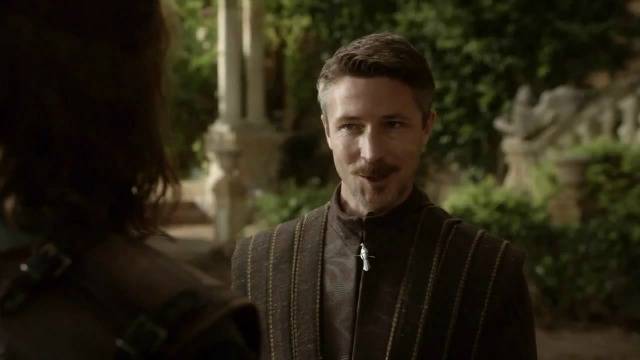 Iago è geloso di Otello, vuole il suo posto di comandante. Faith, la cacciatrice ribelle, vuole quello che ha Buffy. Ella seduce Angel perché è certa di ferire la bionda guerriera, proprio come Iago è convinto di ferire Otello colpendo Desdemona. Nonostante Angel stia fingendo, il dubbio inizia a insinuarsi in Buffy: il gioco non è andato troppo oltre? Cercherà invano di capirlo. Non finirà nel sangue come nella tragedia inglese, ma per i due sarà un duro colpo.
Faith è anche una novella Lady Macbeth. Complici di un omicidio – quello di Faith era involontario – le due donne rimarranno talmente scosse che perderanno la testa. Lady Macbeth impazzisce, continuando a lavarsi la mano anche se non c'è più sangue. Un gesto simile viene ripetuto da Faith che, nel tentativo di cancellare ciò che ha fatto, lava ossessivamente i suoi vestiti. Lei cederà completamente al suo lato oscuro e quando i sensi di colpa presenteranno il conto tenterà di uccidersi o quantomeno chiederà ad Angel di farlo.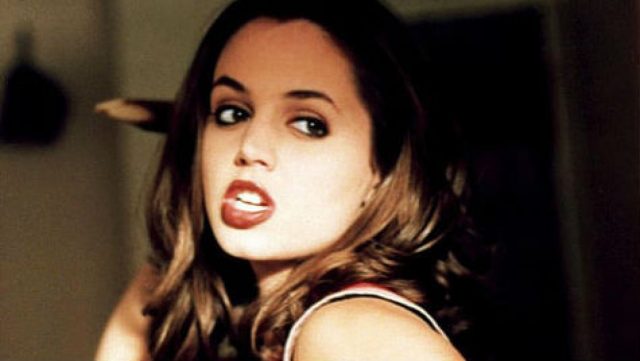 Lady Macbeth incarna la brama di potere a tutti i costi, spingendo il marito a uccidere il re di Scozia per ottenere il trono. Sminuisce sempre il nobile Macbeth, lo insulta, ma è sempre dalla sua parte. Un po' come fa Skyler White in Breaking Bad. O Claire Underwood in House of Cards. Quest'ultima è una consigliera senza scrupoli pronta a tutto pur di portare il marito al potere ma anche a fargli eseguire il lavoro sporco.
Di conseguenza Macbeth è incarnato da Walter White. Esistono diverse analogie tra i due personaggi. Una profezia si abbatte sulle loro vite: le streghe annunciano a Macbeth che diventerà re, il medico a Walter che morirà per un tumore. Entreranno in una spirale di malvagità e depravazione dove si sentiranno invincibili. Nessuno riesce a produrre una metanfetamina pura come Heisenberg e "nessun uomo nato da una donna" può ferire Macbeth. Entrambi hanno una "visione" sul futuro: il nobile scozzese vede un pugnale galleggiare davanti a lui mentre il protagonista di Breaking Bad, assemblando un piatto rotto, scopre che Krazy-8 vuole usarne un frammento come arma.
Ritornando alla Serie Tv House of Cards, Riccardo III è Frank Underwood. Nonostante affermi che il vero potere non è in chi siede sul trono, ma in coloro che stanno "dietro le quinte", fa qualsiasi cosa per conquistare la corona. Frank e Riccardo sono dei grandi manipolatori capaci di far sembrare altruistiche le loro azioni più egoiste. Non esistono circostanze sfavorevoli perché riescono sempre a girarle a proprio vantaggio. E coloro che li circondano non possono far altro che soccombere al loro fascino.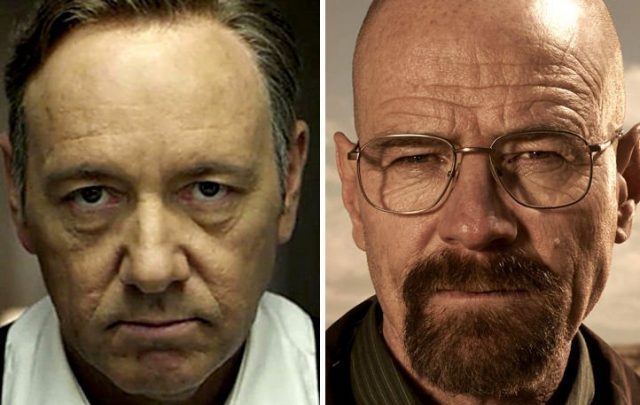 Invece Re Lear, dopo aver abdicato, deve dividere il regno tra le sue tre figlie. L'indecisione sarà così forte che lo farà cadere nella follia. Una tragedia brutale, dove tutto è mosso dalla conquista del potere. Empire si ispira proprio a quest'opera shakespeariana. Lucious, protagonista della Serie Tv, ha costruito un impero nel mondo della discografia. A causa della SLA è costretto a dividere il suo regno tra i suoi 3 figli per non perderlo. A complicare tutto arriva Cookie, ex moglie del magnate che pretende la sua parte.
Andre è un brillante uomo d'affari ma secondo Lucious è inadatto a gestire la Empire. Jamal è un prodigioso musicista, osteggiato dal padre per la sua omosessualità. Hakeem è talentuoso ma pensa solo alla fama. Da questa scelta dipenderà il futuro della casa discografica.
Liberamente ispirata all'Amleto è Sons of Anarchy. Entrambe le due opere si concentrano sulla lenta ma inevitabile vendetta dei protagonisti – Jax Teller e Amleto – verso l'assassinio dei rispettivi padri. Da quest'ultimi ricevono un'eredità pesante: Jax un club di motociclisti e Amleto il regno di Danimarca. Il primo comunica con il padre tramite il suo diario, il secondo direttamente con il fantasma del defunto. Opie Winston è Orazio, l'amico sincero e consigliere leale del protagonista. La madre del biondo motociclista, Gemma, e Clay – amico fraterno di John e futuro marito della donna – ricordano Gertrude e Claudio, la matriarca e il re usurpatore. Tara, il grande amore di Jax, è una moderna Ofelia: la tormentata fidanzata di Amleto.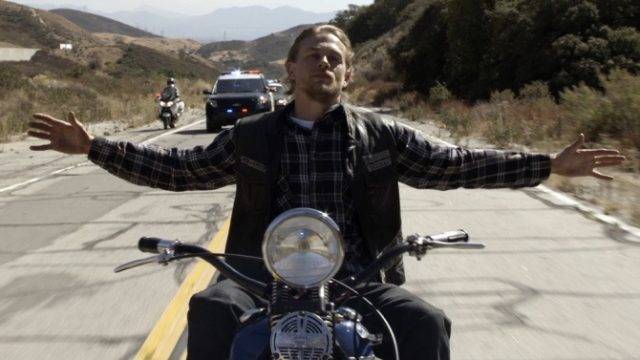 Abbandoniamo i reali e concentriamoci sulla tragedia più famosa di Shakespeare: Romeo e Giulietta. È difficile non trovare nelle Serie Tv un amore come quello. Basta pensare alla storia tormentata e tragica tra Jon Snow e Ygritte. Per questo mi concentrerò su qualcosa di diverso. La prima stagione di Westworld ha un motto:
Questi piaceri violenti finiscono in violenza.
Inizialmente sembrava una sorta di comando per innescare un lavaggio del cervello negli host. Quando Dolores ascolta queste parole dal padre, però, diviene autocosciente. Ugualmente accadrà a Maeve che inizierà a ricordare la sua storia passata. Nel finale di stagione, Bernard ripete questa frase prima che Dolores compia una carneficina. Un verso che non è solo una semplice citazione, ma parte integrante della trama: grazie a quello gli androidi prendono coscienza e si ribellano.
L'ultimo dramma di Shakespeare chiude anche questo pezzo. La Tempesta narra le vicende di Prospero, duca di Milano, che vuole riportare sua figlia Miranda al posto che le spetta.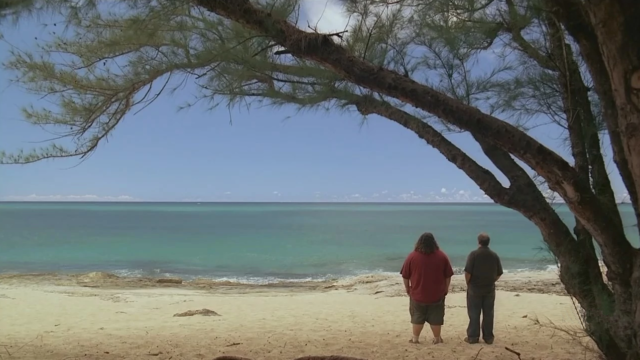 Lost si lascia ispirare da questo capolavoro. In entrambe le opere è presente l'isola che rappresenta un luogo di esilio per i personaggi della Serie Tv e della commedia teatrale. Un'isola piena di strane creature come il mostro di fumo nero che richiama lo spirito di Ariel oppure lo stesso Calibano, unico abitante di quel lembo di terra all'arrivo di Prospero. Dopo aver causato un naufragio, il duca conduce i naufraghi su un'isola non specificata verso la sua grotta. In Lost, Jacob induce gli altri personaggi a muoversi con lo scopo di condurli alla sua abitazione. Una delle stazioni DHARMA – l'organizzazione che conduce esperimenti scientifici – porta proprio il nome La Tempesta.