Sons of Anarchy è una delle serie più immense, struggenti, potenti ed indimenticabili di tutta la storia seriale e resterà per sempre tale. La serie è uno specchio fedele e crudo del reale mondo della criminalità, con le vite dei personaggi segnate e compromesse dall'illegalità e dalla violenza. Il tema dominante non è solo il conflitto eterno tra male e bene, ma è la quasi impossibile e logorante convivenza tra legge e anarchia, caos e giustizia. La chiave è invece rappresentata dal motivo della vendetta, sacra e letale allo stesso modo, sia come diritto o come volontà, e l'intreccio drammatico presente ha un'evidente e chiara matrice e ispirazione shakespeariana.
Jax Teller è l'incarnazione di un essere combattuto tra ciò che ritiene giusto e ciò che è costretto a fare, un ragazzo incatenato dalle logiche del club e dal bisogno di verità. Jax è la via del cambiamento in un club improntato e legato da regole arcaiche e pregiudizi. Sons of Anarchy è una serie che riesce a far esplodere ogni tipolgia di sentimento: la ricerca utopica della felicità, il desiderio di assecondare la propria coscienza, la voglia di amare e il valore e significato della vendetta. Vendicarsi è l'atto più debole e coraggioso che l'uomo possa commettere; colui che fugge dalla vendetta sceglie di non causare altro male e salvaguardare la propria anima, mentre invece chi sceglie di vendicarsi decide di commemorare con il brutale uso della violenza chi è stato vittima di ingiuste atrocità, innescando un meccanismo continuo di morte e autodistruzione.
Vendicarsi o non ,è una scelta, come l'egoismo e l'altruismo, un momento di disperazione che può per sempre far smarrire un' anima; l'atto che rende la condizione umana sospesa eternamente tra forza ferina e debolezza emotiva. Tantissimi microcosmi delle anime dei Sons nel corso della storia si intrecciano in questa dinamica.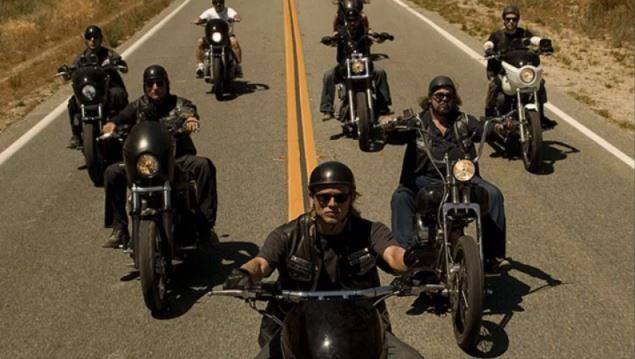 I Samcro, dopo un brusco arresto devono riaprire e riformulare una trattativa con gli indipendentisti della Real Ira, ovvero i loro primi rifornitori d'armi, con condizioni economiche completamente nuove. Dovranno poi misurarsi col seme della follia e della violenza portato in dote dalla fratellanza ariana, che darà numerose problematiche alla città di Charming. Un'ennesima difficoltà senza fine per i venditori d'armi, sarà risolvere la contesa tra i sudamericani Mayans e gli afroamericani 9(Nine)rs. Tra violenza, codici di clan, richieste, contese e follie di ogni banda, i SoA troveranno appoggio duraturo solo nei Grimm Bastards.
L'intreccio shakespeariano. L'ideatore Kurt Sutter (sposato con il golden globe Katey Sagal-Gemma Teller), ha riadattato lo sviluppo dell'Amleto nel contesto sociale di un club di centauri fuorilegge dediti al traffico d'armi. Il principe Amleto (come Jax) inizia a dubitare delle circostanze che hanno portato alla morte paterna ed il dubbio trova effimera solidità nell'evanescenza di una figura spettrale, il fantasma del defunto Re Amleto. Lo spettro dopo essere apparso ad Orazio, migliore amico di suo figlio, rivela al suo adorato figlio la verità. La moglie Gertrude e il fratello Claudio si amavano da molto tempo ed architettarono la sua morte, Claudio avvelenerà nel sonno suo fratello con un veleno letale, usurpandone il trono.
La tragedia shakespeariana è la solida base ed impalcatura di questa straordinaria, sublime e unica serie tv.
Jax Teller è l'Amleto in SoA ed il diario ritrovato (Vita e morte dei Samcro) di suo padre John è la riproposizione fisica del defunto padre del principe Amleto. Jax, a differenza di Amleto, non è il principe del Regno di Danimarca, ma ha un "diritto ereditario-feudale" alquanto ingombrante e difficile da gestire : un club di motociclisti che traffica armi e rifornisce i peggiori clan malavitosi della realtà californiana e non solo; Jax è il principe del Regno del Caos e della Violenza, un'eredità che non ha voluto nè chiesto. Opie Winston è l'Orazio, l'amico fraterno che aiuta e consiglia il protagonista, emblema delle amicizie sincere ed eterne, non legate dalla logica meschina della convenienza. La madre di Jax è Gemma Teller-Morrow, Gemma è la matriarca pianificatrice che si lega a Clay–il Re usurpatore, ora Presidente e despota dei Sons of Anarchy.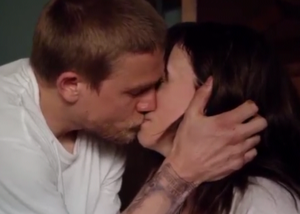 Jax e Tara, invece, si riavvicinano dopo un loro vecchio fidanzamento adolescenziale e la dott.ssa Tara Knowles e il principe dei Sons Jax Teller ritornano ad essere una coppia. Gli amori difficili e devastati sono una tematica ricorrente nella produzione del padre della drammaturgia moderna; dopo Romeo e Giulietta ci si ritrova ora nell'amore sofferto tra Amleto-Jax e Ofelia-Tara, passione che si riaccende proprio nel frangente in cui Jax è tormentato dalla lettura del manoscritto del padre John Teller , ricco di riflessioni e verità.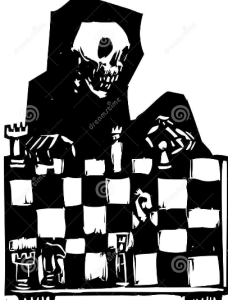 I personaggi di Sons sono metaforicamente pedine dello scacchiere della morte. Chi uccide il vecchio e legittimo Re è Clay l'usurpatore, coloro che proteggono la regina Gemma sono l'ex sceriffo Wayne Unser e Juice, e un disordine di tanti alfieri onesti come Chibs, Tig, Elvis, Opie che fanno di tutto per legarsi al giusto e all'ordine, in un disordine entropico senza fine. In questa partita di scacchi e nella sfida della vita, l'ultima parola spetta sempre all'oscura signora con la falce. Il logo dei Sons è proprio la spietata figura scheletrica con la falce, chiamata a dare equilibrio, la Morte che è vista come la sorellastra cattiva della seducente, dolce e appariscente Vita, ed invece a volte è spesso la più giusta e sincera delle due.
Le note forti e aggressive del rock sono le migliori possibili per accompagnare le immagini e i momenti decisivi della serie. La filosofia del rock intesa come desiderio di libertà, la purezza di una corsa in moto, la sensazione ed il momento per sprigionare il potenziale, la voglia di adrenalina e conoscenza della propria natura e dei propri limiti. La passione per la moto e la forza comunicativa della musica diventano desideri incastrati di libertà, adrenalina, gioia e brividi allo stesso tempo. I motociclisti vivono del tocco del vento sui loro volti, non percorrono semplicemente la strada, ma la vivono.
Sons of Anarchy è un inno rock dedicato alla pura vendetta. Un' opera dalla quale il distacco traumatico difficilmente può essere curato. Nessuno sarà più se stesso dopo aver visto SoA, una scommessa vinta già in partenza.

Si odia la morte, la si disprezza e il nostro spirito vitale si spinge addirittura a negarla, come se non dovessimo mai conoscerla. Ma a volte l'uomo desidera librarsi nell'aria, distendere il volto, liberarsi di tutto, spalancando le braccia per poterla stringerla forte, come si fa con una madre amorevole e generosa che non tutti hanno avuto. La morte è per molti vista come una consolazione…
Termina un'opera unica, irripetibile e straordinaria come Sons of Anarchy, fatta di esplosioni reali e di metaforiche esplosioni di sentimenti, e  non resta altro che raccogliere i frantumi disordinati della nostra anima.
Tutto torna, e tutto con Lei, è ormai compiuto
Davide Settembrini
Un saluto agli amici della pagina Sons of Anarchy – Italia e To be a Samcro