I vip sono persone proprio come noi e condividono spesso le nostre stesse passioni, anche quella delle Serie Tv. Quando hanno finito di lavorare e non devono partecipare a nessuna serata di gala, anche loro amano rannicchiarsi sul divano e guardare un nuovo episodio della loro Serie preferita. Aaron Paul, l'indimenticabile attore di Breaking Bad, è per esempio un grande fan di Stranger Things.
Capita spesso che alcuni attori del mondo seriale si innamorino alla follia di show in cui non hanno recitato. Nessuno sa resistere al fascino di Serie Tv come Game of Thrones o Friends. E probabilmente agli Emmy fanno il tifo più per la propria Serie del cuore che per quella a cui hanno preso parte.
Ecco quindi 6 attori delle Serie Tv che sono diventati grandi fan di show in cui non hanno recitato!
1) Kristen Bell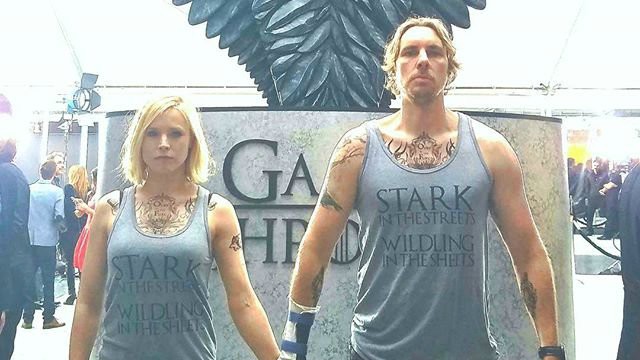 La Game of Thrones Fever ha contagiato tante celebrità tra cui la stupenda Kristen Bell e suo marito Dax Shepard (scopri qui gli altri vip che amano il Trono di Spade). Se seguite anche voi l'attrice resa celebre dalla Serie Tv Veronica Mars saprete quanto sia ossessionata dall'adattamento televisivo dei romanzi di George R.R. Martin. Kristen e Dax si sono presentati infatti alla première della sesta stagione indossando delle stupende T-shirt a tema.
Hanno confessato di aver trascorso tante serate a guardare e riguardare gli episodi di questa incredibile Serie Tv piangendo a ogni morte inaspettata e saltando dal divano di fronte a ogni colpo di scena. Hanno voluto inoltre omaggiare il loro show preferito anche con un buffo video in cui, vestiti come i protagonisti di Game of Thrones, suonano la sigla (potete vederlo qui). Non c'è che dire: i due attori si sono proprio innamorati pazzi della serie.