# #
Le fiabe e i miti sono i sogni dell'infanzia dell'umanità
Freud
Per Jorge Luis Borges "Quattro sono le storie. Per tutto il tempo che ci rimane, continueremo a narrarle, trasformarle". Di questi archetipi narrativi il secondo sarebbe un ritorno [Odissea]. Ma cosa si intende con "ritorno"? Le grandi narrazioni hanno da sempre accompagnato l'uomo. Ne hanno tracciato la rotta, hanno messo in luce le sue debolezze e forze e nella loro potenza immaginifica hanno costituito finestre sulla società.
Ogni epoca è stata accompagnata da un racconto principale, una storia che ne ha segnato lo sviluppo, perfino condizionandolo. Per il filosofo francese J.-F. Lyotard le grand récits della modernità sarebbero state le ideologie novecentesche. Dopo di loro l'emergere delle correnti post-strutturaliste avrebbero prodotto il vuoto e relativismo conoscitivo (e culturale) del presente.
Pur venendo meno un'arte aulica e "alta" in senso proprio, però, l'ineludibile bisogno di modelli e riferimenti espressivi ha generato forme di cultura popolare che trovano grande espressione contemporanea nelle Serie Tv. In un recente articolo ci siamo soffermati ad analizzare come ogni protagonista seriale diventi espressione di un bisogno o di una debolezza dell'uomo contemporaneo facendosi sua manifestazione archetipica. In questa analisi si indagherà invece quanto in comune tali "eroi" hanno nel loro percorso di crescita/perdizione.
# #
Il tema del "ritorno", il "nostos" degli eroi greci, è un modello ricorrente.
Prima di passare in rassegna qualche esempio seriale varrà la pena soffermarsi brevemente sul significato che nelle grandi narrazioni ha questa "traccia". Il viaggio si lega inevitabilmente a un percorso. Un percorso molto spesso interiore compiuto dal protagonista che si esplica in un cammino esteriore. Così è per Giona, oggetto dell'ira del Signore dell'Antico Testamento, che rischia il naufragio e viene poi inghiottito da un "grande pesce". Il suo viaggio lo porterà poi a Ninive convinto a intraprendere la predicazione.
Modello archetipico è poi naturalmente Odisseo nel suo viaggio di ritorno a Itaca.
Le sue peripezie saranno il percorso dell'uomo in lotta con le forze della natura (esemplificate dal dio primordiale Poseidone). Il suo ritorno segnerà la vittoria della "tecnica" sullo stato di natura. O almeno così sarà letto a posteriori. Odisseo dovrà affrontare ogni avversità e si imporrà grazie alla sua adattabilità, alla capacità di mutare atteggiamento a seconda della situazione.
# #
I grandi viaggi saranno pure quelli degli altri eroi greci di ritorno da Troia; da questi trarranno ispirazione le tragedie classiche e il romanzo d'avventura di età ellenistica. In ogni circostanza il viaggio diventa occasione di riconquista e riscoperta di sé. Così è per lo storico delle religioni J. Campbell e per l'antropologo J. Frazer secondo i quali il modello del viaggio dell'eroe è universale. Rappresenta un bisogno primordiale, una storia che risale alla notte dei tempi.
C. Vogler, sceneggiatore e consulente per la Disney, in un illuminante volume dal titolo "L'eroe dai mille volti" viene a tracciare le tappe del viaggio sottolineando come si passi da una situazione di normalità (chiamata pre-liminare dallo studioso V. Turner) a un'alterazione dell'ordine (liminare) fino al ritorno allo stato di normalità (post-liminare). In mezzo, l'iniziazione e le soglie da superare per accedere alle fasi successive del percorso. Turner come Campbell riprende un concetto già elaborato dall'antropologo van Gennep in riferimento ai riti di passaggio. Il viaggio dell'eroe rappresenta appunto un "rito di passaggio" che segna l'arricchimento e la riabilitazione sociale del protagonista (il suo reintegro) grazie ai suoi meriti.
Un ritorno, quindi.
Questa ritualità molto forte nell'antichità (riti di iniziazione, di passaggio all'età adulta, al matrimonio, …) è andata scemando nell'età moderna. Il modello però è rimasto invariato e il percorso dell'eroe ha assunto nuove valenze, molto più intimistiche.
Non è perciò un caso che nelle Serie Tv tale percorso si ritrovi sempre legato ai grandi personaggi del racconto. Così è per Jack in Lost, modello per eccellenza dell'uomo che nel suo "perdersi" ritrova progressivamente se stesso finendo per subire una vera e propria iniziazione. La sintesi finale a cui la Serie giunge segna il compimento di un viaggio di crescita spirituale del protagonista. Il suo desiderio di tornare a casa come un novello Odisseo diventa sprone all'azione. Il passaggio dalla situazione pre-liminare a quella liminare è segnato dall'incidente aereo che mette in moto gli eventi.
Così pure da una situazione di apparente normalità pre-liminare procede Walter White.
In questo caso la malattia del protagonista dà il là al passaggio alla situazione liminare (la sua carriera criminale, quindi al di fuori della società). In Breaking Bad però non vi sarà un ritorno alla normalità post-liminare, una riabilitazione del protagonista. Quello di Heisenberg è infatti un viaggio verso la perdizione, una discesa agli inferi (famoso topos letterario) che non avrà la fortunata conclusione di Odisseo, Enea o Dante.
Pure la discesa di Rust a Carcosa calca sullo stesso simbolismo. Il protagonista di True Detective si cala nella tana oscura del Re Giallo confrontandosi con se stesso e le sue certezze. O meglio i dubbi. Il suo percorso è quello dell'uomo sfiduciato e ai margini della società che trova una nuova dimensione nella lotta contro il male. "C'è solo una storia. La più antica. La luce contro l'oscurità", proferirà Cohle al termine del suo percorso iniziatico, del suo lungo viaggio verso la nuova speranza nel bene.
Anche in Stranger Things si passa da una situazione di pre-liminarietà a una liminare.
Il Sottosopra rappresenta il ribaltamento dell'ordine sociale, della normalità. È l'anormale, l'irrazionale e il pauroso che si fanno largo. Lucas, Mike, Dustin e Eleven compiono un percorso di crescita personale che li porterà a riscoprire se stessi, la loro forza e l'importanza dell'amicizia come valore sociale.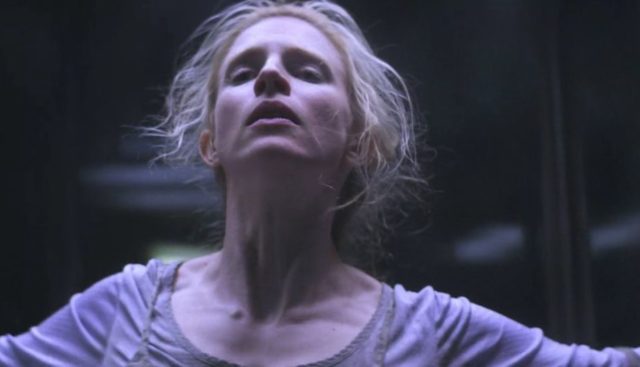 Nella Serie Tv The OA è proprio un racconto, quello narrato da Prairie, a essere protagonista. Attraverso la narrazione la ragazza rivive il trauma della sua esperienza pregressa ricomponendo in un filo unitario – seppur incredibile – un altrimenti insensato orrore. Come afferma Benedetta Tobagi: "Dove c'è stata devastazione, il racconto ricostruisce una forma, ritesse i fili, ristabilisce i collegamenti spezzati. Il racconto è zattera in mezzo al naufragio, arca di Noè dopo il diluvio, tenerezza al posto dell'orrore, voce anziché silenzio, giustizia contro la violenza, ordine nel caos, argine all'oblio. La vita continua nel tempo del racconto".
L'avventura di Prairie nell'oralità del racconto si fa viaggio collettivo grazie all'immedesimazione. Così i cinque ascoltatori maturano esperienze simulate e grazie a questa formazione nel momento del pericolo non fuggono. Ognuno riesce a superare le proprie paure e scoprirsi forte nella coesione di gruppo.
Anche in Twin Peaks abbiamo una discesa e un viaggio.
Dale Cooper attraversa la sua fase liminare nella discesa nella loggia. Si confronta con se stesso, col suo Io irrazionale e bestiale. Ma ne risulta sconfitto e così rimane inevitabilmente intrappolato in questa condizione di liminarietà. In The Return il suo percorso riprenderà e lo porterà a calarsi in una nuova realtà. Tuttora però il viaggio dell'eroe per lui non è ancora compiuto e chissà se mai vedrà conclusione.
Pure in Dark la prima stagione non ha visto il completamento di un viaggio comunque già intrapreso. La discesa nella grotta e le circostanze che si legano a questo passaggio rappresentano ancora il nucleo centrale del percorso di riscoperta di Michael. Il suo allontanamento dalla situazione di pre-liminarietà lo ha condotto in realtà molto diverse dalla sua. Vedremo nelle prossime stagioni della fortunata Serie Tv se il ragazzo riuscirà a completare il suo cammino.
In questa breve disamina si è provato a rapportare il modello di Campbell e Vogler ai personaggi delle Serie Tv. Ognuno di loro ha in comune con l'altro l'inesausta ricerca. Un cammino personale che diventa però "sogno collettivo", modello archetipale di tutti noi. Il suo viaggio diventa il nostro viaggio, il cammino dell'uomo alla riscoperta di se stesso e della propria umanità più autentica.