Lo scorso 3 settembre andava in onda la puntata finale di Twin Peaks – The Return. Anche se definirla 'puntata' è un termine riduttivo. L'intera nuova 'stagione' di Twin Peaks può essere considerata a tutti gli effetti come un'opera unitaria e a sé stante capace di svincolarsi da ogni altro riferimento e nello stesso tempo renderlo imprescindibile per la decodificazione razionale del groviglio mentale e onirico di questo The Return. Un episodio scorre dietro l'altro, atti distinti di un'unica pièce.
Gli inframezzi musicali diventano espressione moderna del coro delle tragedie greche, segni di passaggio da un atto all'altro.
Come il coro allenta la pressione accumulata nelle scene precedenti così gli splendidi, conclusivi stacchi canori rilasciano la tensione di un racconto che pesa sul nostro inconscio. Ma il coro aveva anche un'altra funzione: serviva da commento e fungeva da vox populi, megafono del pubblico, fornendo sostegno e riparo dall'irrazionalità dell'atto tragico. Costituiva il perno razionale al quale aggrapparsi e trovare conforto. Lynch nella tragedia della modernità si serve del sostegno di questi momenti che diventano imprescindibili metronomi a scandire un tempo che ora si dilata ora si riaccorpa.
Il geniale regista si serve della potenza delle immagini per deformare a piacimento la percezione del reale. Ci restituisce un tempo manipolato e alterato in ogni momento. Passato, presente e futuro palpitano in un costante divenire e un inevitabile ritorno. Tutto è già compiuto anche se ancora da compiere e il passato diventa espressione di un futuro già scritto. Anche lo spazio viene a sfasarsi su più livelli e realtà distinte ma in qualche modo sempre, inevitabilmente collegate. The Return è tutto in questo irrazionale e lisergico percorso contorto e spontaneo. C'è una naturalezza disarmante nelle immagini che si accavallano senza una regolare sequela. C'è soprattutto l'opera svuotata del suo guscio, del suo corpo narrativo.
Un enorme stacco separa la nuova stagione dalla Serie classica.
Là Lynch non aveva goduto della completa libertà espressiva. La sua opera si era inevitabilmente legata a una trama più o meno lineare che ruotava attorno al whodunit "Chi ha ucciso Laura Palmer?". La ABC aveva forzato la mano più di una volta imbrigliando l'eccesso ideologico di Lynch in una narrazione precisa. Lo stesso Lynch si era sentito costretto, limitato, canalizzato in un prodotto più che in un'opera. Un prodotto d'intrattenimento e di fruizione piuttosto che un'opera d'arte. Eppure, allora come ora, Twin Peaks aveva mantenuto un'essenzialità espressiva che non poteva venire meno di fronte a nessuna coercizione.
Se si potesse tornare indietro, nel lontano 1990 siamo sicuri che Lynch sceglierebbe di rivedere il suo lavoro? Forse ci penserebbe bene. Perché in quel guscio espositivo trovarono espressione alcune delle tematiche che favorirono l'ascesa a cult dell'intera opera. Costituirono, insomma, il giusto viatico per esportare al vasto pubblico il messaggio irrazionale e inconscio di Lynch. Se allora non ci fosse stata questa base costruttiva, ora, forse, non sarebbe stata possibile la totale libertà espressiva di Twin Peaks – The Return. E soprattutto non avrebbe potuto essere accolta pienamente.
Nella Serie del 2017 c'è l'essenza, la platonica Idea, liberata di ogni imbellettamento, di ogni presupposto logico e costruttivo.
C'è l'irrazionale nella sua essenza, l'angoscia orrorifica di una paura archetipale. Il perturbante che trova espressione immaginifica. Dietro (e davanti) l'opera di Lynch c'è la monade e il mondo delle Idee, la sensazione più viscerale e primigenia. Questa idea, questo atomo indivisibile dell'universo e dell'uomo, chiave di volta del tutto si fa carne materializzandosi nelle immagini, in quelle visioni pure, incontaminate che scorrono sullo schermo. Nel farlo, nel semplice atto di esporle esse si macchiano del peso della materialità e del pensiero. Si macchiano dello spettatore che applica la propria vista e il proprio raziocinio a quell'essenza.
Inevitabilmente si genera un impoverimento. Nello stesso tempo però Lynch si muove nell'assurda e concretissima convinzione che da quella parvenza esteriore possa veicolarsi il più profondo principio costitutivo della sua arte. Non in maniera razionale quanto inconscia. Sarà nella rielaborazione sub-razionale che lo spettatore accoglierà quella verità e assimilerà l'opera. Troverà riflesso della sua individualità nell'estraneità fatta propria. Si riconoscerà.
Twin Peaks – The Return si libera dei legacci della trama e si confronta senza timore con l'Idea.
Nello stesso tempo però lascia un residuo. Non potrebbe essere diversamente. Per quanto essenziale e primigenia pure ci appaia l'idea che muove e scuote e terrorizza, la nuova stagione non può condensare la varietà. Quell'essenza ha bisogno di dilatarsi e espandersi nello spazio e nel tempo. Di trovare concretezza nell'appiglio della mortalità, di macchiarsi dell'uomo e delle sue vicende.
Così Dale Cooper diventa il nuovo Odisseo in preda alle tempeste dell'inconscio, in balia della sua debolezza e di una divinità archetipale che lo scuote e lo domina. The Return è il ritorno di Dale Cooper, il "nostos" di Odisseo in quel ventre uterino che è Twin Peaks. Dal mondo al micro-cosmo di Twin Peaks. Il Ritorno è il cerchio del tempo che si riavvolge e si espande in un nuovo universo dopo una giravolta su se stesso.
E come tale necessita di una nuova storia, di una nuova narrazione.
C'è il bisogno di un rapsodo che ricucia ("raptein") insieme le maglie del tempo e dello spazio, che restituisca concretezza all'Idea, che ricali nuovamente nella materialità la menade dell'universo lynchano. Questo rapsodo non può che essere naturalmente lo stesso David Lynch; lo strumento di espressione, la regia; e l'accompagnamento, la "voce" di Badalamenti.
Ma bisogna aspettare, bisogna che si stratifichi questo nuovo racconto. Che il Return si cristallizzi nella storia della nostra vita. Un nuovo racconto necessita sempre del pieno compimento del precedente perché per andare avanti necessita di radicarsi nel passato.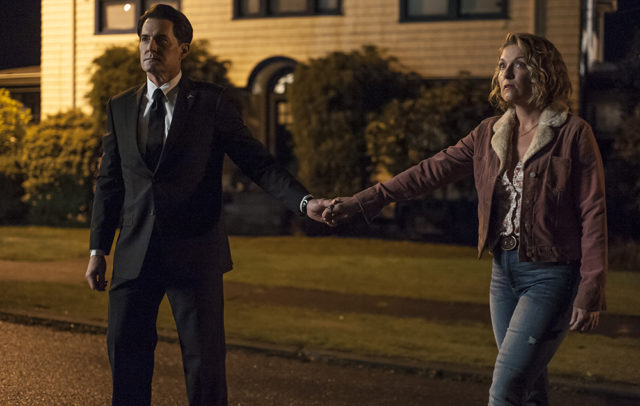 Non sarà oggi, non sarà domani ma c'è urgenza che Lynch dia nuova voce alla sua arte. Che quell'idea tanto cullata e meditata in venticinque anni trovi nuova espressione. Perché c'è un residuo. Un'insoluta domanda, una ricerca finale che deve essere intrapresa. Come Odisseo secondo una tradizione non avrebbe poi placato il suo senso proustiano di recherche così Dale Cooper non può fermare il suo cammino. Perché ogni ritorno alla casa paterna, all'essenza cioè che ci ha generato, prepara un nuovo inizio.
C'è un ultimo capitolo che deve essere scritto in questa tragica ricerca.
Un ultimo atto che deve essere compiuto. Un finale rinnovo della domanda d'arte di Lynch. Non sarà "conclusivo", non sarà totalizzante. Non potrebbe esserlo. Ma sarà la pennellata del quadro che il suo autore ha iniziato a dipingere ventisette anni fa. La pennellata fuori dai limiti di una cornice che non c'è. Perché la storia di Twin Peaks un limite non ce l'ha e non può averlo. Non può condensare lo scibile e non può racchiudere l'essenza di ogni realtà. È uno sprazzo dell'Idea, una sua espressione, un barlume della luce cosmogonica, del Fiat Lux.
Verranno altri dopo Lynch e dopo Twin Peaks. Ritesseranno una nuova storia, sfioreranno la luce e coglieranno quell'essenza. O almeno un briciolo di essa. Verranno e con la loro Arte parleranno al nostro Io più profondo. Ma non è ancora il tempo dei saluti e dei nuovi profeti. C'è ancora un non-detto che va espresso, un residuo che va consumato. C'è (come c'era) e ci deve essere ancora un'ultima, finale volta Twin Peaks.