Il 2017 è ormai giunto al termine e ha, come da molti anni a questa parte ormai, sfornato Serie Tv di grandissimo livello in ogni genere; nel genere drama, in particolare, fior di registi, sceneggiatori e attori hanno impiegato le proprie capacità per storie impegnate di ogni tipo, con risultati tendenzialmente positivi. Questo inevitabilmente, in un elenco (sottolineo, non una classifica) di 5 prodotti, porta a fare delle esclusioni di lusso, in riferimento a Serie Tv di gran livello ma che pagano alcuni problemi sistematici e di funzionalità.
Penso, infatti, a come anche quest'anno Game of Thrones con la settima stagione si sia rivelata un'ottima serie, ma al tempo stesso non si può non notare la tendenza fan-service e il sacrificio della coerenza di alcuni personaggi a vantaggio della celerità della trama; oppure si pensi a Mindhunter, una Serie Tv tecnicamente perfetta ma che a tratti manca di quel ritmo che invece acquista nel finale. E si possono citare ancora grandi serie andate in onda quest'anno, come Fargo e The Young Pope nel campo delle cosiddette miniserie. Ma veniamo, dunque, a parlare di quelle che hanno dato qualcosa in più delle altre nel genere drammatico.
1) Mr. Robot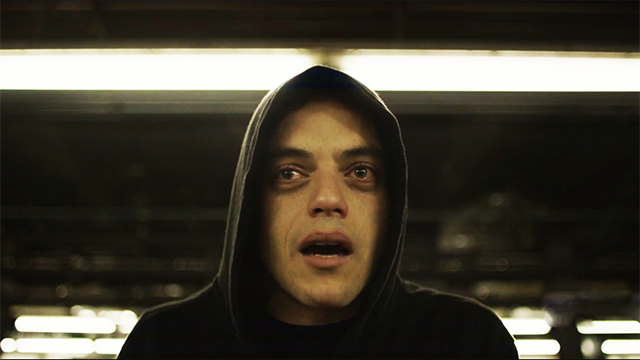 La terza stagione di questa incredibile Serie Tv è riuscita nell'ardua impresa di superare se stessa. Rami Malek nel ruolo di protagonista, infatti, continua a risultare una scelta di cast praticamente perfetta e, soprattutto, la scrittura della storia prende delle svolte inaspettate che spingono in molti a elaborare teorie impensabili anche solo alla fine della stagione precedente. Ma la menzione più importante la merita il creatore nonchè regista di Mr. Robot: Sam Esmail. Dalla sua mente, infatti, proviene la scrittura della sceneggiatura e a livello di direzione dietro la telecamera quest'anno si è superato, dirigendo un intero episodio quasi totalmente in piano sequenza.