L'interesse dominante che ormai da anni investe il mondo seriale è sotto gli occhi di tutti. Di fronte a un mercato cinematografico in lento ma costante declino, le Serie Tv rappresentano una nuova frontiera dell'intrattenimento e dell'arte popolare. La loro enorme fruibilità oltre che la continuità narrativa garantiscono la fidelizzazione del pubblico e prodotti disponibili per un arco temporale molto vasto. L'introduzione da parte di Netflix di Serie Tv a rilascio globale da questo punto di vista rappresenta una novità carica di interesse.
Si offre infatti allo spettatore un prodotto di durata prolungata ma non così pesante da risultare eccessivamente impegnativo da seguire.
La vera fortuna di questo nuovo formato seriale va per l'appunto ricercata nella possibilità di coniugare la forza della rappresentazione scenografica di un film alla capacità di coinvolgimento data dal maggiore lasso temporale. Ma siamo proprio sicuri di poter parlare ancora di Serie Tv? O è forse preferibile definire queste opere come un prodotto ibrido?
Per comprendere la distanza che ci separa dai primordi delle Serie Tv e dunque dal modello tradizionale occorre fare un passo indietro. Non sarà necessario risalire alle comedy anni '50 che hanno lanciato la serialità sul piccolo schermo. Basterà prendere a modello i principali prodotti di intrattenimento di inizio secolo. Al debutto del nuovo millennio brufolosi e insicuri ragazzini si confrontavano con i problemi adolescenziali e i primi amori avendo come filtro televisivo The O.C. e Dawson's Creek. Si scoprivano forti e combattivi con Buffy e si commuovevano alternandosi tra Scrubs e Una mamma per amica. Nel mentre, i più grandi si distraevano a suon di Soprano e continuavano, nostalgici, la visione dell'ottava stagione di X-Files.
È trascorso quasi un ventennio e da quei modelli ci si è discostati sempre di più.
Non solo a contenuti quanto soprattutto a struttura. Nei primi 2000 le Serie erano l'intermezzo quotidiano alla giornata scolastica/lavorativa. Seduti a tavola ci si scopriva riuniti per l'ennesimo episodio della comedy di turno o per l'intrigante poliziesco a tinte fosche. Nella maggior parte dei casi la continuità narrativa si mescolava al genere antologico così che l'involontario salto di un appuntamento non precludesse il senso generale.
Distante anni luce era ancora la possibilità di programmare e registrare con un semplice click come pure di scegliere quando gustarsi la puntata del proprio show preferito. I blockbuster riuscivano ancora a risultare utili alleati di serate cinefile e i prodotti televisivi erano spesso e volentieri considerati il fratello meno dotato del cinema. L'introduzione della banda larga e il lancio di Serie Tv sempre più in grado di coinvolgere settimanalmente lo spettatore cambiarono le cose. Lost tenne incollati agli schermi per anni e fece da apripista al nuovo modo di intendere le Serie Tv. Personaggi sempre meno stereotipati, grande attenzione per le psicologie e una trama in grado di appassionare nel tempo.
Il gusto del pubblico da allora si è evoluto ulteriormente e delle più recenti esigenze si è fatto compiuto interprete Netflix. La piattaforma online ha saputo più di ogni network catalizzare l'interesse degli utenti attorno a nuovi generi. Addio a produzioni mastodontiche e prolungate nel tempo e benvenute Serie Tv a rilascio globale. L'insaziabile voracità del pubblico, sempre più bisognoso di un prodotto a immediato uso e consumo, ha tracciato la via. Così facendo lo schema a rilascio settimanale sembra lentamente lasciare il posto a Serie concepite come film dalla durata prolungata.
Lo schema è ripetuto e ormai consolidato: release immediato, stagioni di un massimo di dieci episodi, trama unitaria e fluida.
Il passaggio da un episodio all'altro diventa in molti casi un semplice stacco per lo più superfluo ai fini del racconto. Diminuiscono contestualmente i cliffhanger da fine puntata e più diretta appare la continuità narrativa. A questo modello si rifanno le Serie Netflix di maggior successo come Stranger Things, Tredici e le recentissime Dark e The End of the F***ing World. Il divario dagli schemi tradizionali è abissale. Come già esposto in un recente articolo la necessità di condensare l'azione in un numero limitato di episodi riduce al massimo l'evoluzione psicologica dei personaggi, spesso granitici nei loro tratti salienti. Figure come Hannah Baker, Undici, James e Alyssa, per quanto estremamente intriganti, appaiono anche piuttosto rigidamente strutturate.
La stessa evoluzione di James, ragazzo problematico e sociopatico, nel suo cambiamento verso un comportamento più equilibrato non passa che da pochi, essenziali gesti. Non potrebbe essere altrimenti, soprattutto tenendo conto che in The End of the F***ing World ogni episodio dura appena una ventina di minuti. La prima stagione conta così meno di tre ore totali. Poco più di un comune film.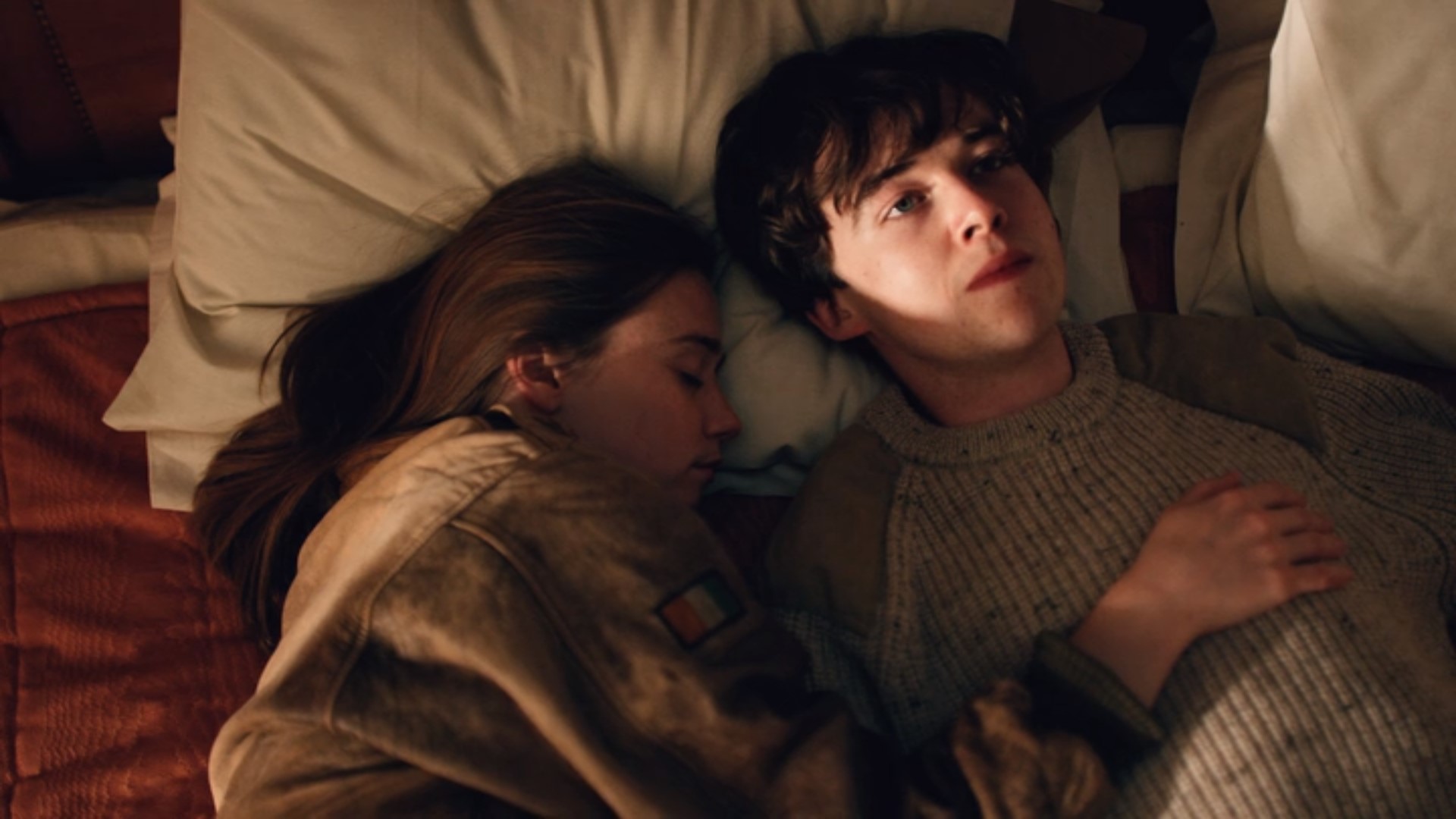 Insomma, sembrerebbe proprio che di fronte a noi sia qualcosa di nuovo. Qualcosa capace di sfruttare la continuità episodica delle Serie Tv senza perdere l'unitarietà di un film. È anche così che lo spazio che nei nostri salotti viene riservato al mondo della serialità è divenuto meno settoriale. L'avvicinamento strutturale al grande schermo con la produzione di veri e propri film di dieci ore ha aperto infatti alla fruizione di un pubblico sempre più eterogeneo e ampio. Netflix pur non rappresentando l'ideatore del modello se ne è fatto il principale promotore. L'obiettivo di estendere il target a cui rivolgersi ha così trovato un felice risultato.
A questo punto però non possiamo non tornare all'interrogativo iniziale: ha ancora senso parlare di Serie Tv?
La durata, la fluidità narrativa, la struttura condensata parrebbero far propendere per il no. Rispetto ai precedenti, infatti, queste opere sembrano avere molto più in comune con i film. Dal cinema viene ripresa l'esigenza di protagonisti immediatamente caratterizzati, l'essenzialità della trama e l'esito conclusivo (anche se "stagionale"). Come detto, l'articolazione in episodi è niente più che un aspetto formale spesso scollegato rispetto all'evoluzione della trama.
Cosa rimane allora delle Serie Tv? Senz'altro l'aspetto stagionale. La possibilità cioè che il racconto si prolunghi e rinnovi in ulteriori blocchi. Anche in questo però un referente cinematografico sarebbe facilmente rintracciabile. Basterebbe difatti pensare alle trilogie o ai sequel, molto prossimi come schemi a quelli adottati da queste Serie.
La diffusione e il successo di queste "mini-Serie" va di pari passo, poi, e incentiva la crisi del rilascio settimanale. In opere come Lost infatti la pausa infra-episodica dava la possibilità di riflettere sul senso della puntata ed elaborare teorie al riguardo. Ora, invece, è nel senso generale del racconto, nella sua unitarietà strutturale e contenutistica, che si può maturare una propria riflessione. A patirne le conseguenze sono soprattutto i grandi network ormai messi di fronte alla consapevolezza di non poter più mungere per stagioni e stagioni i loro prodotti.
Netflix monopolizza così il mercato sostituendosi alla tv generalista.
Che vogliamo definirle "mini-Serie" o "mega-film" questi nuovi prodotti hanno la capacità di coinvolgere e sfruttare i vantaggi tanto di un genere quanto dell'altro. Dalle Serie deducono la capacità di legare il pubblico ai personaggi stabilendo una continuità narrativa stagionale. Dai film l'unitarietà di una trama che trova senso pieno in un numero limitato di ore.
Le lungaggini indisponenti e controproducenti delle ultime stagioni di Lost sembrano lontane anni luce, soppiantate da freschezza, immediatezza espressiva ed essenzialità psicologica. Il rischio che tutto ciò si trasformi poi in eccessivo appiattimento, banalizzazione e frenesia è sempre dietro l'angolo, è vero. Ed è indubbio che questi prodotti non facciano altro che mettere in secondo piano la psicologia del protagonista e la sua evoluzione di fronte alla forza del racconto. In questo, forse, le Serie a rilascio globale si mostrano svantaggiate rispetto alle tradizionali, nell'impossibilità di sviluppare su archi temporali ampi le sfaccettature morali dei suoi interpreti.
Questo non significa però che non siano possibili prodotti di alta qualità anche in questo "formato". Un secolo di capolavori filmici della durata ciascuno di poche ore offre evidente testimonianza che non sono indispensabili interminabili stagioni. Sarà, come sempre, nell'abilità degli interpreti, nella qualità della trama e nelle scelte registiche il segreto del successo. E non potrebbe essere diversamente.