binge watching loc. s.le. m. inv.: Visione ininterrotta di una grande quantità di episodi appartenenti a una serie televisiva, che è interamente disponibile in rete o in cofanetti di dvd.
Treccani, neologismi (2015)
Nel 2015 il Collins English Dictionary della HarperCollins sceglieva il termine "binge watching" come parola dell'anno a sottolineare il rilievo che l'espressione aveva assunto nell'immaginario collettivo. Pur essendo già attestato fin dagli anni '90 il binge watching divenne pratica diffusa a partire dal 2010 in connessione con l'emergere di servizi di video on demand che ne favorivano l'attuazione. La vera svolta è quasi esclusivamente legata però alla piattaforma Netflix capace di rivoluzionare la percezione del seriale e dare avvio a una nuova era per le Serie Tv.
La possibilità di avere a disposizione tutti gli episodi diveniva così attrattiva irresistibile per divorare intere stagioni nell'arco di svariate ore. Anche questo è da riconoscere come uno dei motivi del successo di Netflix, brand capace di condensare in una piattaforma on demand un numero incredibile di Serie Tv sempre disponibili al pubblico. Il fallimento dei servizi di noleggio dvd (Blockbuster su tutti) traccia irrimediabilmente la via e apre al successo della piattaforma online.
In questo breve approfondimento non ci si concentrerà tanto però sul fenomeno del binge watching in sé quanto sulle conseguenze che questo fenomeno ha prodotto. Il rilascio globale cioè di nuove Serie Tv (o stagioni complete). Sempre più assistiamo infatti a nuove distribuzioni seriali disponibili immediatamente nella loro interezza.
Legato a questo aspetto è anche un nuovo modo di intendere la Serie Tv. Spesso costituita da un numero limitato di episodi (una decina) per stagione l'opera viene a svilupparsi quasi come un film della durata di otto-dieci ore. La fortuna di questo modello è indiscussa e Stranger Things rappresenta forse l'esempio più fulgido. Eppure siamo proprio sicuri che questa scelta costituisca il futuro del mondo delle Serie Tv e possa sostituire il vecchio modello a rilascio settimanale?
La risposta, a ben vedere, è no. Proviamo ad analizzarne le ragioni. Per farlo prenderemo a modello due Serie molto diverse tra loro che possano chiarire l'adattabilità o meno del modello Netflix: True Detective e Lost.
Partiamo pure dalla Serie Tv di Nic Pizzolatto e proviamo ad applicare lo schema a rilascio globale. True Detective nella sua prima stagione si era sviluppata in appena otto episodi distribuiti nell'arco di tre mesi. L'andamento dei singoli episodi e il numero di spettatori si è mantenuto piuttosto costante. Non emergono nel corso della Serie Tv particolari cliffhanger da fine episodio; né si è in grado di delineare in maniera sensata una teoria, basata sugli indizi forniti di episodio in episodio, funzionale all'individuazione del "Re Giallo", il misterioso killer che sta dietro le morti nell'area palustre della Lousiana.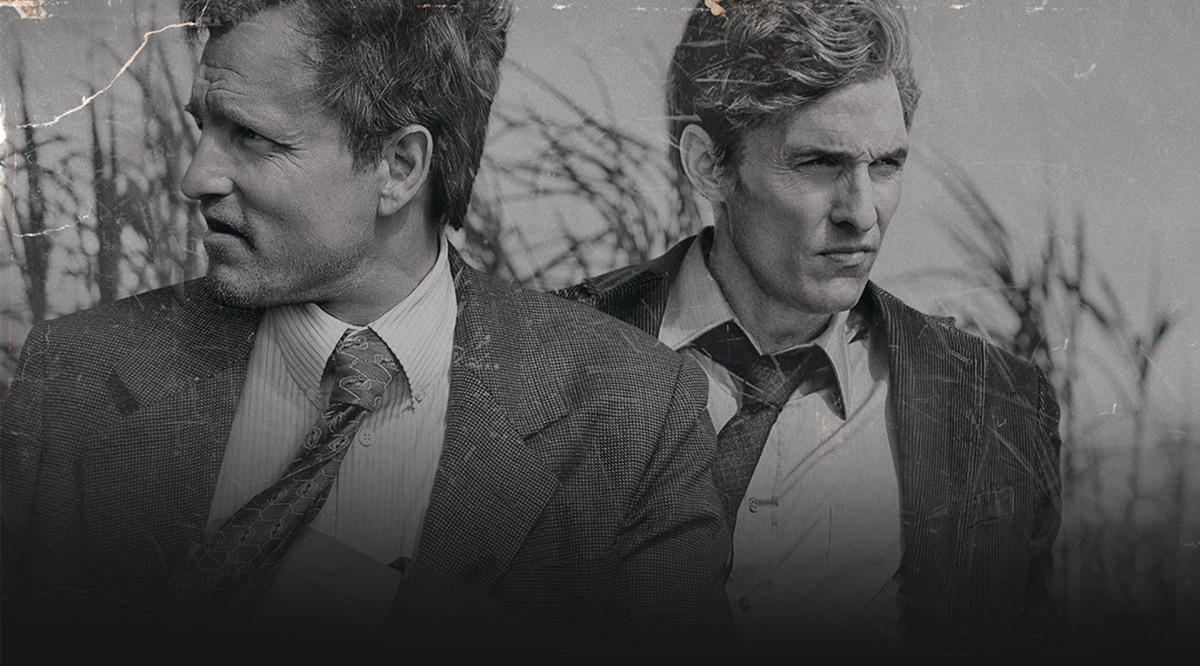 L'intera prima stagione, assolutamente a sé stante rispetto alle successive per la natura antologica della Serie Tv, può essere tranquillamente affrontata con una visione ininterrotta inferiore alle otto ore. Sarebbe anzi per certi versi consigliabile una scelta di questo tipo che andrebbe in maniera indiscutibile a favorire la visione unitaria che Nic Pizzolato ha voluto dare alla stagione.
Il messaggio di fondo così come la costruzione delle psicologie dei personaggi possono essere colti senza scarti facendo ricorso al binge-watching. Il numero limitato di episodi infatti non permette un'evoluzione dettagliata e costante nella caratterizzazione dei personaggi. Rust e Marty, i protagonisti, sono delineati in maniera netta e granitica. La loro personalità emerge così in maniera incontrovertibile per tratti essenziali fin dal primo episodio. Seppur a fine stagione Rust registrerà uno scarto fondamentale nella sua visione del mondo, questo cambiamento non sarà lento e graduale ma in fondo già in germe nel suo carattere e conseguente a una "conversione sulla via di Damasco".
Le motivazioni sottese a certi suoi atteggiamenti e idee sono approfondite di episodio in episodio così che a fine stagione ci troveremo di fronte a un disvelamento della sua personalità piuttosto che a un reale percorso di lenta maturazione e trasformazione.
Queste scelte in True Detective sono ovviamente determinate dal numero limitato di episodi e dalla necessità quindi di condensare l'azione e l'analisi psicologica dei caratteri in poche ore. Per questo motivo non troviamo ampi scorci sulla storia pregressa di Rust e Marty ma soltanto prolungate discussioni e racconti tra i due (e di entrambi con la polizia) che ci aiutano a ricostruire le vicende.
In una Serie Tv di questo tipo, insomma, il binge watching non toglierebbe nulla rispetto alla visione complessiva. Anzi, favorirebbe la ricezione dell'opera nel suo carattere unitario di film di otto ore. Passiamo ora invece ad analizzare il modello Lost.
La Serie di J.J. Abrams, Damon Lindelof e Carlton Cuse ha avuto la capacità di trasporre in tv quello che Star Wars aveva fatto al cinema. Per la prima volta una Serie televisiva diventava un cult capace di coinvolgere a trecentosessanta gradi lo spettatore. La fortuna di Lost diede infatti il là alla creazione di un vero e proprio brand a cui associare merchandising e giochi di vario tipo. Un "universo espanso".
Ma cosa si nasconde dietro il successo di questa Serie?
Senza ombra di dubbio una prima spiegazione va individuata nel carattere misterioso che ammanta l'intero Show. Il whodunit che si accompagna a ogni stagione può essere riassunto nella frase: "Cosa è realmente successo ai Losties (naufraghi)?". Una risposta che trova compimento nell'episodio, assai discusso e altrettanto amato, che ha chiuso il cerchio. Per comprendere Lost bisogna tenere bene a mente proprio quel finale che più o meno sorprendentemente risultò profondamente intimista. A ben vedere le tematiche filosofico-esistenziali hanno accompagnato da sempre la Serie Tv con i dualismi fede-ragione e destino-libero arbitrio a farla da padrone.
Il racconto viene così a incentrarsi non tanto sui misteri che riguardano l'isola (che pure ampio spazio rivestono) quanto sul percorso dei singoli personaggi. Sulle loro vicende pregresse, sugli avvenimenti che ne hanno plasmato la personalità e sulla possibilità di redenzione e cambiamento. Lentamente, passo passo, siamo in grado sempre più di entrare in confidenza con ciascuno stabilendo con loro quasi un rapporto affettivo. Su tutti con Jack, espressione finzionale di noi stessi. Il percorso del protagonista di Lost è il percorso che gradualmente compiamo anche noi; fino alla sintesi finale dell'uomo che riscopre il connubio tra fede e ragione e l'amore sopra ogni cosa.
Questo progressivo disvelamento del messaggio filosofico di Lost, così come pure la progressiva costruzione delle psicologie dei personaggi si sarebbero venuti a perdere se ogni stagione fosse stata rilasciata globalmente.
Un binge-watching di questo tipo non può che produrre un appiattimento senza ritorno delle tematiche affrontate e delle sfumature filosofico-morali che emergono in ogni episodio. Senza contare il coinvolgimento su scala globale che Lost era stato in grado di produrre grazie agli indizi e agli inaspettati sviluppi di trama segnati da fondamentali cliffhanger di stagione in stagione. La partecipazione emotiva e intellettiva che ha intasato per sei anni forum e gruppi dedicati non si sarebbe mai verificata in caso di rilascio globale. Non ci sarebbe stato neppure quel trasporto emotivo (e quel profondo vuoto esistenziale) che è seguito al toccante finale di Serie. Lost era divenuto parte delle nostre vite; argomento di discussione di intere serate; e i Losties nostri compagni di viaggio per sei anni, settimana dopo settimana, episodio dopo episodio.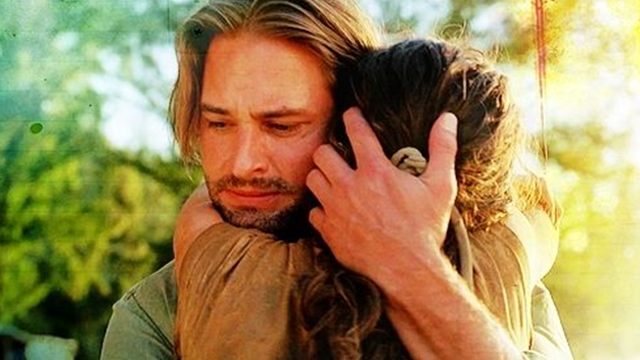 Alla luce di questo breve approfondimento si sarà compreso come da un lato sia possibile legare al binge watching Serie Tv (American Gods, The OA, Dirk Gently's Holistic Detective Agency, Dark) concepite come "film di dieci ore" (così lo showrunner Noah Hawley definì la seconda stagione di Fargo); anche antologiche (Philip K. Dick's Electric Dreams, Fargo, Black Mirror, e via dicendo); dall'altro non sia possibile fare altrettanto per lavori che si sviluppano nel tempo e che fanno della progressiva crescita psicologica, di temi esistenziali (che necessitano riflessione) e di ribaltamenti di trama i loro punti di forza (Game of Thrones, Breaking Bad, Better Call Saul, Mr. Robot, Sons of Anarchy, Twin Peaks, …).
Insomma a ognuno il suo perché non sempre il binge-watching è la scelta preferibile. Anzi, a volte rischierebbe di rovinarvi la bellezza di una Serie Tv che acquista valore nel tempo.