# #
Sentirete alcuni dire che le serie tv sono un passatempo per persone vuote oppure sciocche, superficiali. Ma noi sappiamo che non è così, giusto? Sappiamo che un telefilm può fare compagnia nei momenti difficili, che addirittura è in grado di modificare la nostra visione della realtà… E la nostra idea di vita sociale.
# #
Perché una serie non è soltanto una storia; è un insieme di linguaggi e sottotesti che con il tempo diventa parte di chi lo assimila (come lo sono divenuti Internet, Facebook, il successo di molti ragazzi che semplicemente parlano davanti a una webcam e conquistano milioni di seguaci su Youtube).
Pensate che stia esagerando? Può darsi.
# #
Però scommetto che da quando siete serial addicted il vostro comportamento in certe situazioni di comune vita sociale è cambiato, grazie all'influenza più o meno marcata degli show televisivi che amate. E adesso ve lo dimostrerò.
Situazione 1: Una cena tra amici
Seguire almeno un episodio al giorno (uno solo… Fingiamo di crederci!) vuol dire essere in costante contatto con il linguaggio registico, un idioma muto ma ricco di significati che, se interiorizzato a dovere, può acuire di molto la capacità di "leggere" gli altri: nei telefilm le inquadrature, il montaggio e gli atteggiamenti degli attori sono presentati in un determinato modo di proposito, per trasmetterci il messaggio dell'autore. Nella realtà non è così, non c'è nessuna divinità onnisciente dietro una cinepresa, eppure il corpo e gli sguardi della gente sono comunque indizi di sfumature importanti.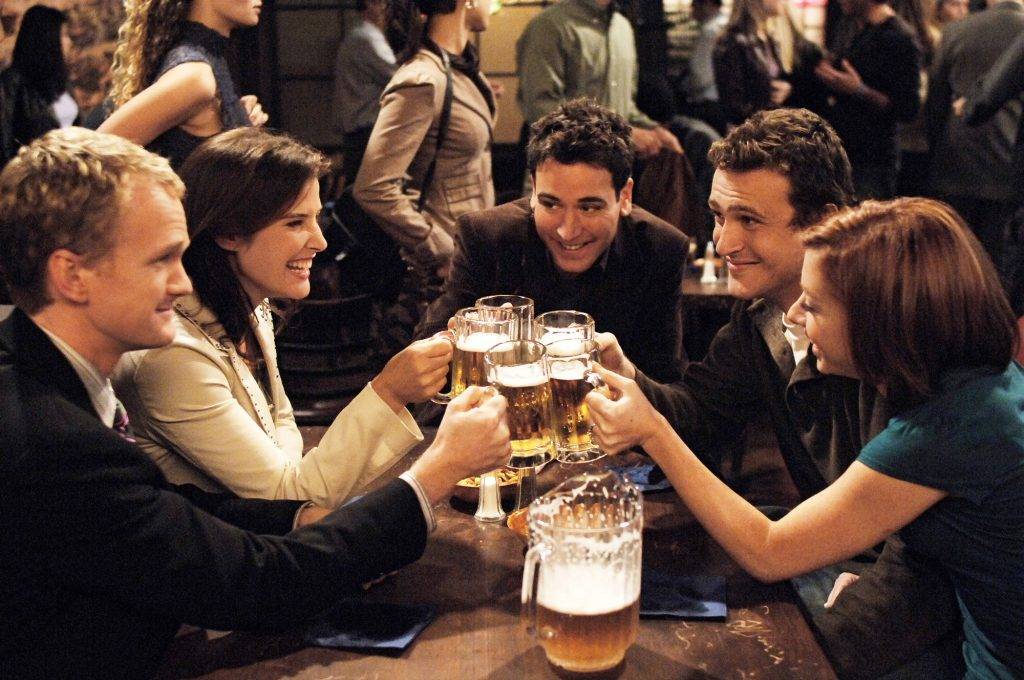 Se siete fan di How I Met Your Mother, avete di sicuro in mente le numerose scene che ritraggono i protagonisti seduti insieme attorno a un tavolo del loro pub abituale. Bene, la prossima volta che uscite a cena con gli amici e vi trovate tutti in cerchio a guardarvi in faccia, fate caso alla facilità con cui riuscite a capire se uno di voi si annoia, se si sta divertendo, se prova antipatia verso una persona in particolare o se un argomento delicato lo mette a disagio: a forza di osservare le espressioni sui volti degli interpreti di HIMYM e delle altre serie, avete imparato a decifrare le reazioni umane.
Un tempo le serate in compagnia erano divertimento e ignara vita sociale, adesso sono un'occasione per osservare, studiare, scoprire.
Situazione 2: Feeling e chimica
E' vero che spesso il nostro desiderio di vedere storie d'amore ovunque ci conduce in errore (e poi si finisce a scrivere fanfiction di pessimo gusto), ma a parte le esagerazioni dettate dal lato perverso che alberga in ognuno di noi, in genere nelle serie tv è piuttosto facile distinguere i personaggi che provano attrazione l'uno per l'altro, quelli che rischiano di cadere in tentazione e quelli che invece non si filerebbero nemmeno se fossero gli ultimi esseri viventi sulla Terra.
Qualche esempio? Consideriamo lo sguardo con cui Magnus osserva Alec in Shadowhunters, per cominciare: la sequenza del loro primo incontro è ambientata in un momento di tensione, quindi lo stregone potrebbe fissare Alec per mille motivi, magari solo perché lo reputa un bravo lottatore e gli è grato per il suo tempestivo intervento contro gli uomini di Valentine; inoltre, dato che non si tratta dei protagonisti, non è scontato che lui e il giovane Lightwood debbano stare in qualche modo insieme. Eppure soltanto un cieco o un imbecille non vedrebbe quanto il mezzo angelo abbia già stuzzicato l'attenzione di Magnus, anche se non si sono ancora presentati.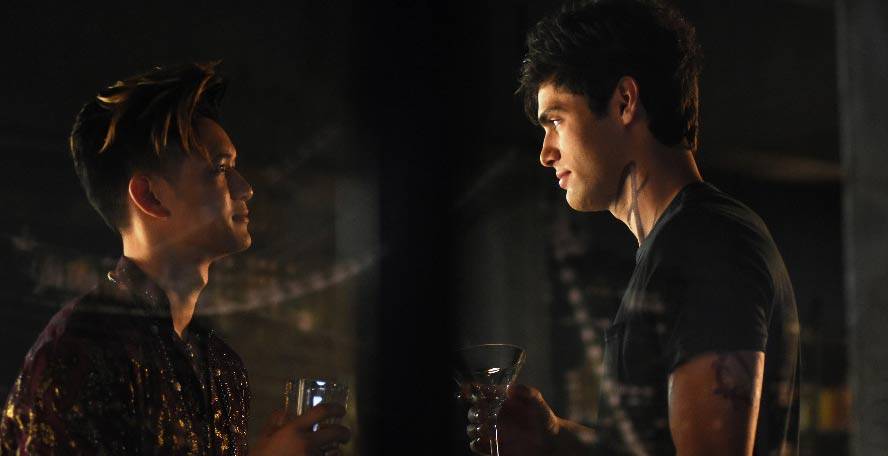 Oppure pensate all'incontro tra Robb Stark e la bella Talisa in Game of Thrones! Bastano quattro parole, un paio di complimenti e qualche battuta di velata insolenza, e dal tono con cui lui la saluta prima di allontanarsi si è già capito che è cotto (e che di conseguenza farà arrabbiare il vecchio Frey, però questo è un altro discorso).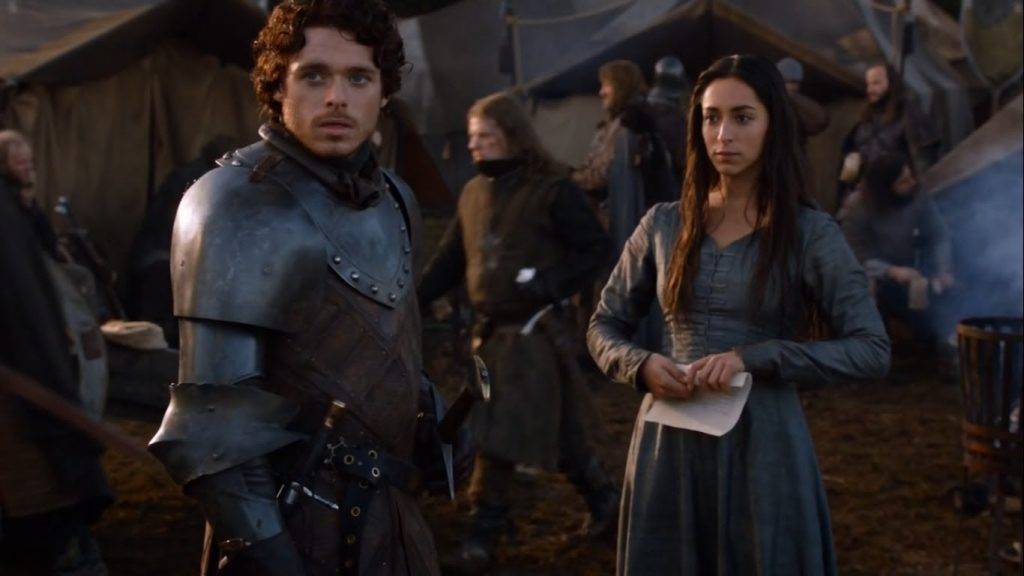 Insomma, nei telefilm il profumo dell'amore si sente fin dall'inizio. Per noi purtroppo non è così, perché se lo fosse non avremmo l'immenso piacere di illuderci e rischiare figure meschine con gli aspiranti partner… Ma è comunque certo che le serie ci hanno insegnato la sottile arte del feeling, della chimica tra esseri umani: quanto può durare uno sguardo prima di diventare un chiaro segno di interesse, qual è la sfumatura da dare a una frase a seconda dell'effetto che si desidera ottenere.
E che a volte basta la semplice presenza fisica dell'altro per suscitare una simpatia speciale.
Perciò quando si trovano in un contesto sociale che invita al corteggiamento, i serial-addicted partono leggermente avvantaggiati, riuscendo spesso a indovinare a prima vista se il loro sex-appeal funziona oppure no. Capacità che qualsiasi adulto dovrebbe in teoria possedere, ma si fa quel che si può.
Situazione 3: le nuove frontiere della vita sociale dell'addicted
Concludiamo con l'esempio che illustra al meglio quanto la nostra idea di vita sociale sia cambiata grazie alla passione per le serie tv. Quando non eravamo maniaci dei telefilm (c'è stato davvero un tempo in cui non lo eravamo?) il sabato notte non era tale se non veniva santificato da una bella uscita in discoteca o in un pub. Il premio per un esame andato bene era un vestito nuovo oppure un cd, un weekend al mare… E se sentivamo parlare di maratona, pensavamo a persone volenterose che scendevano per strada la domenica mattina con addosso tutine dai colori sgargianti.
Oggi non è che ci siamo estraniati dal mondo e viviamo da eremiti, ma le nostre maratone si corrono sul divano, con i popcorn e un cofanetto di dvd per ogni stagione di una serie; non vediamo l'ora di liberarci dagli impegni per recuperare gli episodi lasciati indietro a causa dello studio e del lavoro, e se qualche sera abbiamo occasione di invitare gli amici a casa per una pizza e un telefilm anziché uscire, non ne facciamo un dramma.
Non siamo "vecchi dentro", non siamo degli sfigati e di certo non abbiamo dimenticato cosa significhi divertirsi; abbiamo solo priorità diverse, e la consapevolezza che guardare una puntata insieme e poi discuterne è un modo come un altro per stare con le persone cui vogliamo bene.
Forse siamo diventati un po' più nerd, può darsi: come i protagonisti di The Big Bang Theory, ecco. Osereste mai dire che sono ragazzi noiosi e antipatici, o che non conoscono la vera amicizia…?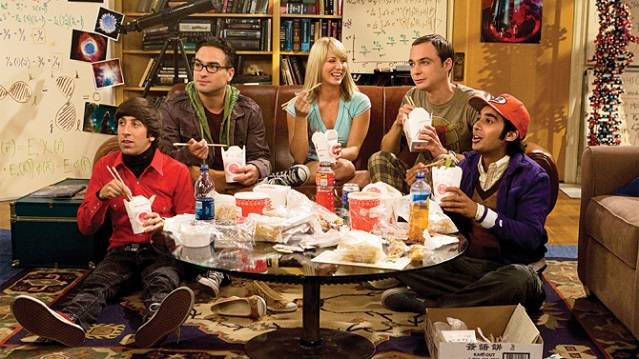 Ogni cosa ha il suo tempo. E questa, signori, è l'era delle serie tv.