Il mondo delle serie tv ha rivoluzionato il nostro modo di vivere l'intrattenimento. Se un tempo si pensava a guardare un film come momento di svago e tranquillità, con l'arrivo delle serie tv e di piattaforme come Netflix la ricerca di cosa guardare a volte ci richiede più tempo della visione stessa. Ad approcciarsi alle serie tv, inoltre, ci sono diversi tipi di spettatori. Una gran parte appartiene ai binge-watcher, ovvero tutti coloro che una volta iniziata una serie non possono smettere di guardarla finché non è finita. Per un'altra e consistente parte, però, questo modo di guardare le serie non è funzionale.
Meglio serie tv brevi, da guardare in poco tempo, ma in cui tutto abbia una disposizione accurata.
Ovviamente non possono essere trascurati gli elementi fondamentali di un buon prodotto televisivo, perché breve sì, ma superficiale no grazie. Quindi si fa attenzione non solo alla trama, ma alla costruzione narrativa, alla profondità dei personaggi e anche alla sua semplicità. Per molti è preferibile una serie da una stagione invece che una da 8, anche per non dover stare dietro agli intrecci e alle complessità che inevitabilmente si porta dietro una serie tv che dura da anni. La cosa più importante è, in ogni caso, che sia in grado di appassionarci. Che ci sappia catturare e catapultare in quel contesto, permettendoci di seguirla in modo fluido e costante.
Vediamo allora le 5 migliori serie tv brevi che puoi vedere in meno di 7 ore
1) Alias Grace
Questa miniserie televisiva è basata su un romanzo di Margaret Atwood, scrittrice famosa per il libro The Handmaid's Tale da cui è stata tratta l'omonima serie tv di successo. Ispirata a una storia vera, questa serie racconta la storia di Grace Mark, immigrata irlandese che lavorò in Canada come domestica per una ricca famiglia del posto. La ragazza viene accusata dell'omicidio del suo datore di lavoro e a far scalpore è senza dubbio l'età di Grace. La povera malcapitata infatti aveva appena 16 anni quando fu arrestata.
Questa miniserie drammatica gioca molto bene sugli elementi chiave di un processo. Il movente, i segreti della famiglia e soprattutto il forte dubbio sull'identità di Grace. Intrigante e coinvolgente, L'altra Grace è un raffinato prodotto televisivo da gustarsi in soli 6 episodi da 44 minuti ciascuno.
2) Alice in Borderland
Alice in Borderland è invece una serie tv fantasy proposta da Netlifx nel 2020 come adattamento live action del manga giapponese che porta lo stesso nome. Il protagonista Arisu, insieme ai suoi due migliori amici, forma un terzetto di ragazzi freak. Infatti Arisu è disoccupato e passa le sue giornate con i videogiochi, Karube ha una relazione con la moglie del suo capo e Chota è un ragazzo timido che vive con la madre e non ha mai conosciuto l'amore. Vengono tutti quanti catapultati in una Tokyo parallela in cui non sembra esserci nessun altro a parte loro.
La realtà distopica che i tre amici dovranno affrontare è più macabra di quanto sembri. Per poter sopravvivere in quel mondo sono obbligati da entità superiori a svolgere dei giochi mortali da cui non usciranno illesi. Alice in Borderland ha un'unica stagione da 8 episodi di circa 40 minuti, all'interno dei quali il richiamo alla cultura dei videogame è molto forte. Per quanto riguarda la colonna sonora, in aggiunta, tutti i brani sono stati incisi da Yutaka Yamada, musicista giapponese che ha collaborato anche con Eminem, e riprodotti anche dalla FILMharmonic Orchestra di Praga.
3) Hollywood
Hollywood è una miniserie televisiva del 2020 composta da un totale di 7 episodi da 45 minuti. È una serie tv dallo stampo drammatico con diversi accenni a fatti storici. La trama infatti vede un gruppo di ragazzi che cerca di farsi strada nella Hollywood del dopoguerra. Ognuno di loro coltiva sogni e passioni cinematografiche come quella di lavorare nei panni di regista, attore o sceneggiatore e cercano un modo per entrare a far parte del mondo dello spettacolo. Hollywood è stata lanciata su Netflix nel maggio 2020 ed ha da subito ricevuto diversi giudizi positivi.
L'impronta storica di questa serie è dichiarata fin dall'inizio. Lo possiamo infatti notare nella rappresentazione di fatti e persone realmente esistiti. A metà degli anni 40, Hollywood era un trampolino di lancio per moltissimi giovani ed era molto più semplice di ora bussare alla sua porta. Bastava fare la fila davanti ai cancelli per ore e se riuscivi a farti notare, potevi essere assunto alla giornata come comparsa. Ed è esattamente ciò che fa uno dei protagonisti, Jack Castello, prima di diventare un attore a tutti gli effetti. Hollywood è stata quindi capace di mettere in scena eventi reali rimaneggiati sotto forma di fiction. Il risultato ottenuto è quello di una serie tv coinvolgente in grado di catapultarci in quel periodo storico e di farci assaporare l'aria frizzante di quegli anni.
4) Chernobyl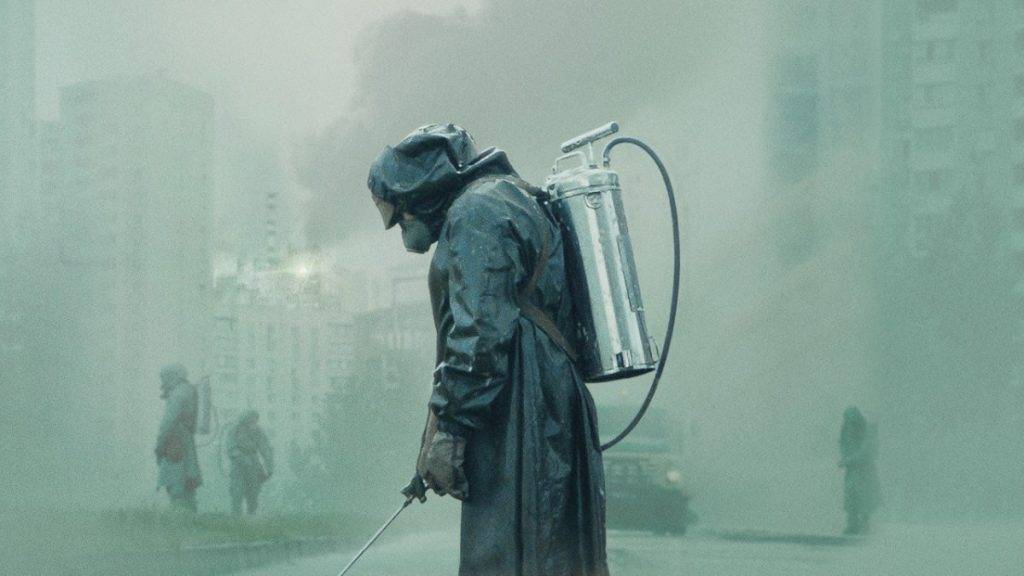 Altra miniserie storico drammatica, Chernobyl ha ottenuto 42 premi ed è stata giudicata da The Guardian la terza miglior serie tv del 2019. Chernobyl racconta la storia dell'incidente nucleare nella centrale di Černobyl', nell'Ucraina sovietica, verso la fine degli anni 80. I 5 episodi della miniserie ripercorrono i momenti precedenti alla tragedia e tutte le azioni messe in atto per tentare di contrastarla. Nel tentativo di arginare i danni provocati dall'esplosione infatti diversi volontari e lavoratori si impegnarono senza sosta e senza mezzi adeguati anche a costo della loro vita.
Storicamente questo è stato il primo incidente nucleare al mondo a raggiungere il livello massimo nella scala di catastroficità. Chernobyl ha attinto alla perfezione a eventi storici tra i più drammatici al mondo, rendendoli disponibili in un prodotto televisivo di altissima qualità. Insomma, guardare Chernobyl un po' fa male al cuore, ma è un male necessario, che fa parte anche della nostra storia, ed è doveroso per chiunque ritenga di essere un cittadino del mondo.
5) Self-Made: la vita di Madam C.J. Walker
Self-Made è un'altra miniserie Netflix. Racconta la vita, dall'inizio alla fine, di Madam C. J. Walker, una donna afroamericana realmente esistita che ha costruito la propria fortuna con le sue mani. Questa serie è ispirata da una biografia (On Her Own Ground: The Life and Times of Madam C. J. Walker), pubblicata da A'Lelia Bundles, lontana parente della reale Madam Walker.
Madam fu la prima milionaria nera d'America e costruì un impero nell'ambito della cura dei capelli afro, partendo da contesti davvero umili. Il ritmo di questa serie è incalzante e, una volta terminata, un po' ci dispiace che gli episodi siano solo quattro. Eppure, anche in così poco tempo, ci appare un chiaro ritratto di questa donna caparbia dal cuore gentile che abbiamo sentito nominare ancora troppo poco. Uno speciale grazie va in particolare a Octavia Spencer che è stata in grado di ritrarre e interpretare questa donna mostrandone il lato più umano e permettendoci di stare dalla parte di Madam C. J. Walker fin dai primi minuti.