La caratterizzazione dei personaggi è diventata negli ultimi anni un elemento fondamentale delle serie tv. Quanto più è ben studiata, tanto più empatizziamo con loro. Amore, odio, ammirazione, paura, ansia. L'ansia – per esempio – è un sentimento particolare, poiché caratterizzato da un ampio spettro di emozioni. Versatili sono i personaggi che ce ne ispirano e altrettanto le ragioni alla base. C'è chi ne crea perché fa paura. Chi ispira un'ansia legata all'imprevedibilità delle sue azioni. Chi è nevrotico e trasmette quindi l'ansia che caratterizza il suo modo di fare. Molti di questi personaggi nascono con lo specifico intento di esercitare un forte impatto sullo spettatore. Tuttavia, l'ansia scatta quanto più l'interpretazione di un attore si rivela impeccabile. O in certi casi, quanto più intenso è il naturale dono di uno sguardo agghiacciante.
Oggi vi proporremo una lista di personaggi delle serie tv che ci hanno fatto sfasare davanti allo schermo con le loro nevrosi o disturbato il sonno con un solo sguardo.
10) Taylor Townsend (The O.C.)

Apriamo la lista con un personaggio della nostra adolescenza. Ve la ricordate l'odiosa antagonista di Marissa Cooper nella terza stagione di The O.C.? Egocentrica, perfettina, manipolatrice. La sua mania del controllo è insopportabile quanto i suoi tentativi di rovesciare le protagoniste. Il suo atteggiamento nevrotico da "tutto dev'essere perfetto" suscita il desiderio ardente di entrare nella serie tv e dirle: "Tesoro, stai un po' calma però". Ancor più l'oppressiva pesantezza con cui va in fissa per un ragazzo: se chiudo gli occhi posso ancora sentire la sensazione di soffocamento.
Livello d'ansia: tisana a base di Valeriana mattina e sera.
9) Tuco Salamanca (Breaking Bad)

Ammettiamolo, ogni personaggio di Breaking Bad ci trasmette una certa ansia legata all'imprevedibilità delle sue azioni. Ma Tuco Salamanca è un maestro di teatralità in ciò. Psicopatico narcotrafficante messicano con una notevole inclinazione per la violenza. Una parola fuori posto e sono calci sulle costole. Sbagli momento, una settimana di prognosi. Dimentichi il tuo posto nella gerarchia, muori a suon di nocche in testa. Insomma, un po' come la "Blue Sky" di Heisenberg, è lui il primo a essere davvero "Tight! Tight! Tight!"
Livello d'ansia: meglio sniffare cristalli di Valium.
8) Obergruppenführer John Smith (The Man in the High Castle)
Certamente ogni nazista che si sia visto in tv risulta essere abbastanza angosciante. Ma se parliamo di ansia che sale a un solo sguardo, l'antagonista nazista della serie tv tratta dall'omonimo libro di P. Dick The Man in the High Castle, potrebbe vincere su tutti. Merito di un grandissimo Rufus Sewell, attore in grado di far tremare lo spettatore anche se interpretasse la parte di un prete. Con una divisa delle SS addosso il livello d'ansia è: "Hitler spostati".
7) La Contessa – aka Elizabeth Johnson (American Horror Story Hotel)
La Contessa della quinta stagione di American Horror Story – Hotel è una "Afflicted" (o vampira), misteriosa quanto inquietante fin dall'inizio. Di poche parole, appariscente nel vestire come la sua sua stessa interprete – Lady Gaga – sa essere, ispira una certa inquietudine col suo sguardo nascosto dietro grossi occhiali scuri e una pelle bianchissima. Quando poi si scopre la composizione del suo elisir di lunga vita, la dose d'ansia raddoppia.
Livello: un Bloody Mary tradizionale come aperitivo non sarebbe male.
6) Zia Lydia (The Handmaid's Tale)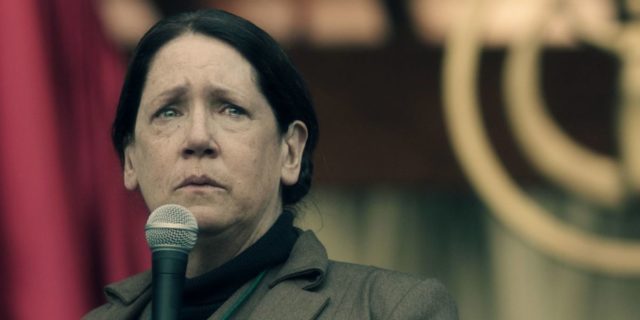 Fermo restando che un fanatico religioso provoca sempre una certa ansia, nella realtà di Gilead questo sentimento è facilmente triplicato. Nei nuovi Stati Uniti immaginati da Margaret Atwood nell'omonimo libro da cui la serie tv è tratta, spicca la figura di Zia Lydia, trainer di future ancelle. Zia Lydia insegna loro i valori della nuova società in cui vivono, i doveri delle ancelle, il rispetto verso la fertilità, la maternità e il loro ruolo di "incubatrici della patria". E lo fa con "un'amorevole" severità. Pungolatore alla mano, preghiera e punizioni corporali in caso di disobbedienza e dai che si va a insegnare a queste scostumate quanto è bello farsi stuprare e ingravidare dagli onorevoli comandanti per partorire i figli della patria.
Livello d'ansia: ci vorrebbe proprio una sana notte di sesso per Zia Lydia.
5) Ivar il "Senz'ossa" (Vikings)
Il figlio minore di Ragnar Lothbrok è un altro caso di perfetta combinazione tra un personaggio potente di suo e un attore eccezionale nel rendere al meglio questa natura. Ivar è uno storpio, potrebbe far pena se ci si soffermasse su tutto ciò che ha dovuto affrontare per farsi strada nel difficile mondo dei vichinghi, in cui è la forza a prevalere. Ma sono proprio queste difficoltà ad aver reso il Senz'ossa ciò che è diventato: un carismatico leader carico di violenza e sadismo. Imprevedibile e arrabbiato con la vita, non si sa mai come potrebbe reagire a un'offesa (chiedetelo alla buon'anima di suo fratello Sigurd). Motivo per cui ci sale sempre un po' d'ansia nei momenti di tensione in cui vediamo Ivar non tanto soddisfatto. A dirla tutta, ci sale già solo a guardarlo aggrottare le sopracciglia.
Livello d'ansia: ci vorrebbe una bella passeggia…ah no.
4) Eugene Victor Tooms (X-Files)
Al quarto posto della lista un personaggio che pochissimi ricorderanno, presente in appena due episodi della prima stagione di X-Files (n. 3 "Omicidi del terzo tipo" e n. 21 "Creatura Diabolica"). Doveroso da parte mia aggiungerlo alla lista in quanto personaggio fonte di ansia e terrore da anni con i suoi occhi gialli che scrutano il bersaglio attraverso le fessure dei tombini. A causa di una mutazione genetica Eugene è in grado di rigenerarsi nutrendosi di fegati umani. La cosa inquietante è la sua estrema flessibilità: riesce ad allungarsi e assottigliarsi fino a penetrare gli spazi più stretti e angusti. In tal modo è in grado di raggiungere qualsiasi preda in qualunque posto chiuso si trovi.
Livello d'ansia: non guarderete mai più le serrature delle porte allo stesso modo.
3) Il Nano (I segreti di Twin Peaks)
Siamo sul podio dell'ansia gente. Al terzo posto: il Nano della Loggia Nera de I segreti di Twin Peaks, anche noto come "The Man from Another Place" (l'uomo proveniente da una altro luogo). Perché nel mondo immaginario del maestro Lynch non bastavano le tende rosse e i pavimenti zigzagati per infondere inquietudine. No, ci voleva anche un nano dal viso allungato che balla musica jazz e comunica informazioni criptiche parlando AL CONTRARIO. La sola vista del nano nel contesto della Loggia Nera mette un'ansia terribile. La sua voce la raddoppia. I suoi movimenti dietro le tende poi…la triplica.
Livello d'ansia: le canzoni dei Led Zeppelin ascoltate al contrario ci fanno una pippa.
2) Ramsey Bolton (Game of Thrones)
Vice campione di una classifica di personaggi ansiogeni delle serie tv non poteva che essere lui: Ramsey Snow, poi Bolton, lord di Forte Terrore e Grande Inverno. Protettore del Nord. Protettore dei nostri peggiori incubi. Quando pensiamo a Ramsey non possiamo non ricordare lo sguardo da psicopatico mantenuto durante tutta la prigionia di Theon. Anche in questo caso dobbiamo molto a un personaggio potente di suo reso ancor più intenso da un incredibile Iwan Rheon capace di farci tremare per intere stagioni con un solo sguardo. Non so voi, ma io ero piena d'ansia ogni volta che il bastardo di Rose Bolton accennava un sorriso.
Livello d'ansia: ho rimandato la visione della sesta stagione di Game of Thrones perché terrorizzata da Ramsey.
1) BOB (I segreti di Twin Peaks)

Siamo in vetta, rullo di tamburi: il vincitore del premio "personaggio più ansiogeno della storia delle serie tv" va a…BOB. Chi ha visto I segreti di Twin Peaks non può non considerare BOB come il personaggio televisivo più ansiogeno mai partorito da una mente umana. E infatti solo un visionario come David Lynch avrebbe potuto crearlo. In Twin Peaks non vediamo spesso BOB, non sentiamo molte parole uscire dalla sua bocca. Assistiamo più che altro a una serie di sporadiche espressioni, movenze, smorfie sufficienti a farci dormire con la luce accesa per almeno un paio di settimane. Quando poi lo vediamo in azione, allora quell'abat-jour tocca tenerla accesa per due mesi.
Livello d'ansia: dopo aver conosciuto BOB guarderete sempre ai piedi del letto prima di addormentarvi.