Esigenze di copione, velleità degli sceneggiatori, vezzi improbabili… alcuni attori delle nostre Serie Tv preferite (o detestate) sono stati obbligati ad indossare una parrucca.
E i risultati non sono sempre positivi…
1) Danai Gurira – The Walking Dead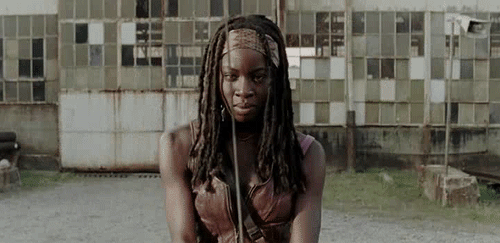 La minacciosa e tostissima Michonne è famosa, fin dai benedetti fumetti, per la sua selvaggia chioma rasta. In realtà, fuori dal set, Danai Gurira è completamente rasata a zero ed è una di quelle donne che si possono permettere di avere un look del genere senza sfigurare.
Anzi, è bellissima.
La parrucca rasta non le rende giustizia, basta vederla in tutta la sua fiera bellezza nel film da poco uscito nelle sale, Black Panther, dove dà veramente il meglio di sé.
2) Emilia Clarke – Game of Thrones
Se si pensa ALLA parrucca per eccellenza, non può non venirci subito in mente quella di Daenerys Targaryen, capace di stravolgere completamente i tratti somatici di Emilia Clarke, rendendola da solare e "carnale" a impassibile madre dei draghi.
È bella bionda ed è bella anche mora, ma, di sicuro, con i capelli del suo castano naturale Emilia è meno algida e fredda.
3) Millie Bobby Brown – Stranger Things
Improbabile parrucca bionda anche per Eleven di Stranger Things, che ritrova la vera identità del suo personaggio solo nel momento in cui si libera, appunto, della parrucca finta da brava ragazza. Perché Eleven è diversa, lo è in tutto, anche da un semplice dettaglio come il taglio di capelli.
Anche nella vita vera, Millie si è rasata a zero, definendo il momento, il più forte di tutta la sua vita.
Comprensibile.
4) Viola Davis – How to Get Away with Murder
Viola Davis non deve prendere lezioni di stile da nessuno, quindi Enzo e Carla scansatevi proprio, ma occorre ammettere che le parrucche che le hanno fatto indossare, soprattutto all'inizio di How to Get Away with Murder, erano a dir poco tremende.
Poi, col passare delle stagioni, le cose sono un po' migliorate.
5) Tatiana Maslany – Orphan Black
Qui le parrucche sono funzionali soprattutto per sottolineare i diversi personaggi interpretati dalla bravissima Tatiana Maslany che, di volta in volta, dà vita ad una donna diversa.
Anche grazie alle parrucche, diversissime tra di loro come i personaggi che l'attrice interpreta nella stessa Serie.
6) Alyson Hannigan – How I Met Your Mother
Vediamo Lily senza i capelli rossi nei vari flashback di una tra le mie Serie Tv preferite, How I met your mother.
Lily al liceo con parrucca nera o Lily nella versione alter-ego spogliarellista selvaggia: è sempre Lily, ma con un aspetto diverso che rende difficile identificarla immediatamente, proprio perché i capelli rossi sono un suo tratto distintivo.
7) Woody Harrelson – True Detective
Woody Harrelson è famoso per essere, da decenni, completamente rasato a zero. Bene, nella Serie Tv True Detective, per farlo sembrare più giovane nel salto temporale, ha in testa un bel ciuffo folto di capelli gialli.
Quasi irriconoscibile, a dir la verità.
8) Keri Russell – The Americans
In una Serie Tv che parla di spie, le parrucche la fanno da protagonista e Keri Russell, anche agevolata dal fatto di essere molto graziosa, è stata in grado di portarle tutte con grande classe, apparendo decisamente credibile. Come lei, naturalmente, anche il compagno nella finzione e nella realtà, Matthew Rhys, diviene un mago dei travestimenti sortendo il medesimo effetto.
Che, come abbiamo visto, non è una cosa così scontata…
9) Alexander Skarsgard – True Blood
Sempre sia lodata la famiglia Skårsgard in tutte le sue varie forme e manifestazioni.
Per quanto la mia preferenza vada sempre a Bill, non è che scaccerei Alexander con sdegno. Per carità. Certo che con l'orrida parrucca che gli hanno fatto indossare in True Blood, hanno fatto di tutto per attaccare gli ormoni femminili. Ma il fascino made in Skårsgard riesce a sconfiggere anche il potere di una parrucca veramente tanto brutta.
10) Serinda Swan – Inhumans
Se n'è parlato tanto e non poteva non rientrare in questa lista.
Seppur computerizzata, anche il personaggio di Medusa indossa una parrucca. E che parrucca.
Tra le più brutte ed improbabili di tutte le Serie Tv prese in considerazione fino ad ora!