Quello di Suits, legal drama andato in onda in America su USA Network dal 2011 al 2019 e trasmesso in Italia prima sul canale a pagamento Joi e poi in chiaro sui canali Mediaset, è stato un viaggio. Un viaggio che per quasi dieci anni ha fatto appassionare milioni di fan in tutto il mondo che ora, a circa due anni dalla messa in onda del gran finale, si sentono orfani di uno show che sia a livello qualitativo che emotivo ha lasciato davvero molto. Anche dopo l'abbandono di due membri storici del cast come Patrick J. Adams e la oggi tanto chiacchierata Meghan Markle nel corso della settima stagione, lo show ha saputo continuare a intrattenere a dovere regalandoci un'ottima conclusione. Ma non vi preoccupate, ci pensiamo noi a consigliarvi 5 serie simili a Suits con cui ingannare l'attesa del prossimo rewatch del legal drama, disponibile attualmente (maggio 2021) in streaming su Netflix.
Prima di passare alla vera e propria rassegna dei titoli da noi selezionati è bene ricapitolare gli spunti di trama e lo stile che hanno da sempre caratterizzato Suits, per poter in questo modo sottolineare similarità e parallelismi negli altri show presi in esame.
Harvey Specter (qui trovate un'approfondita spiegazione dell'evoluzione del suo personaggio) è un leone, uno degli avvocati di maggior successo di tutta New York e lavora presso lo studio Pearson Hardman. Il fascinoso legale ama lavorare in solitaria, ma viene costretto dal suo capo, l'algida Jessica Pearson, ad assumere un assistente. Politica dello studio è quella di mettere sotto contratto unicamente i neolaureati di Harvard che hanno passato l'esame per esercitare l'avvocatura, gente che notoriamente il personaggio interpretato da Gabriel Macht ha in antipatia. Per una fortuita coincidenza, però, Harvey arriva a conoscere il brillante Mike Ross, giovane dalla prodigiosa memoria eidetica ma non laureato e con un passato criminale, e decide di scommettere su di lui, assumendolo nonostante tutto.
Grazie al prezioso aiuto di Donna, la fantastica segretaria di Specter, e dell'ambiziosa paralegale Rachel (Meghan Markle), Mike comincia a esercitare a fianco del mentore, dal quale impara tutti i segreti del mestiere, mentre rivalità interne allo studio (soprattutto con Louis Litt), drammi e vicende personali scuotono la vita dei protagonisti.
Dopo questa doverosa introduzione, passiamo quindi ora a spiegarvi quelle che secondo noi sono le 5 migliori serie tv simili a Suits.
1) The Grinder
Per cominciare la nostra rassegna delle serie simili a Suits vi vogliamo presentare The Grinder, una peculiare comedy andata in onda nel 2016 su Fox. Composta da una sola stagione, lo show è recuperabile in davvero poco tempo. La "versione comica di Suits" è ben presto spiegata: Rob Lowe interpreta Dean Sanderson, a sua volta attore, noto nel microcosmo della serie per essere stato per otto stagioni protagonista di un amato show legal chiamato proprio The Grinder, giunto però ora alla conclusione.
Terminato il ruolo della vita, l'uomo torna nella città dove è nato e cresciuto e si unisce allo studio legale della propria famiglia, in cui lavora anche il brillante ma poco carismatico fratello Stewart (Fred Savage). Pur senza nessuna reale esperienza, l'uomo, in virtù della parte da lui recitata, si improvvisa quindi legale e irrompe prepotentemente nelle vite della famiglia composta da Debbie, moglie di Stewart e precedentemente impegnata con lo stesso Dean, dai nipoti Ethan e Lizzie e da Dean Sr., suo padre e a capo dello studio. Al di là dei drammi personali e delle divergenze professionali, i due fratelli Sanderson si rendono ben presto conto di formare un duo imbattibile in tribunale e decidono così di continuare la loro collaborazione.
Una squisita seppur breve commedia metatelevisiva che intrattiene a dovere e richiama a suo modo la dinamica di Mike Ross in Suits, che pur senza alcun tipo di studio in materia e solo grazie alla sua formidabile memoria eidetica esercita in maniera impeccabile nello studio Pearson Hardman.
2) White Collar – Fascino criminale
Vi sganciamo ora un altro consiglio seriale che potrebbe riempire il vuoto lasciato da una serie come Suits: parliamo della fantastica White Collar – Fascino criminale, uno show di cui avete già probabilmente sentito parlare, data la sua messa in onda su Italia 1 per molti anni, ma a cui pochi hanno dato una possibilità.
White Collar infatti da un lato ricorda particolarmente l'atmosfera e il peculiare humor respirati nello studio di Harvey Specter e degli altri nostri amati avvocati e dall'altro insiste particolarmente sulla tematica del rapporto mentore-allievo tanto caro ai fan di Suits.
Creata da Jeff Eastin, tale serie tv vede l'attore Tim DeKay interpretare l'agente speciale dell'FBI Peter Burke a fianco del bello e carismatico Matt Bomer nei panni Neal Caffrey, "ex" falsario e truffatore esperto che diventa informatore e consulente nelle indagini di Burke così da aiutarlo a catturare criminali. Una relazione lavorativa che a suo modo non può che farci pensare allo stretto rapporto instauratosi tra i nostri fantastici Harvey Specter e Mike Ross. Pensateci bene: due giovani affascinanti che a causa di una gioventù turbolenta si trovano coinvolti in truffe/crimini, ma che ottengono una seconda possibilità grazie a due uomini rispettabili che intravedono in loro un grande potenziale. Un duplice team che collabora per risolvere casi in completa sinergia.
Da non perdere!
3) The Good Wife
Se ciò che in Suits vi ha colpito maggiormente sono gli aspetti più tecnici legati alla professione di avvocato e l'ottimo approfondimento dei personaggi, allora The Good Wife è quello che fa per voi. Il legal drama della CBS andato in onda dal 2009 al 2016 e creato da Robert e Michelle King propone infatti come proprio punto di forza il fatto di saper ben miscelare la componente procedurale ai drammi personali della protagonista e degli altri personaggi della serie. Un prodotto che ha avuto talmente tanto successo da spingere alla creazione e al rilascio nel 20017 di uno spin-off : The Good Fight, che vede per protagonista Christine Baranski (la mamma di Leonard in The Big Bang Theory).
Lo show si incentra sulla caotica vita di Alicia Florrick (Julianna Margulies), moglie di un marito finito in carcere a seguito di un'accusa di corruzione e madre di due figli, che sceglie dopo più di un decennio di ritornare a esercitare il mestiere di avvocato. Spunto di partenza forse non troppo originale, ma che ha saputo generare una serie tv molto apprezzata sia dal pubblico che dalla critica. La compresenza di trame orizzontali e verticali, l'approfondito studio dei personaggi e delle loro vicende e una scrittura sapiente sono in grado di intrigare gli spettatori che potranno quindi ritrovare in The Good Wife una serie simile a Suits, sia per contenuto che per stile di narrazione.
4) Ally McBeal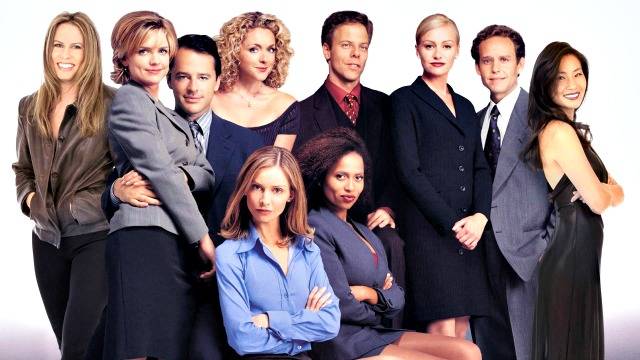 Torniamo un po' indietro nel tempo e ripeschiamo un cult che tanti sembrano aver dimenticato: parliamo di Ally McBeal la serie tv che ha lanciato la carriera di Calista Flockhart (e anche quella di Robert Downey Jr.) e che tra la fine degli anni '90 e gli inizi del 2000 è divenuta una delle serie simbolo di quella generazione. Trasmesso in America su Fox dal 1997 al 2002, il procedural è stato messo in onda in Italia prima da canali Mediaset e poi da Sky, mentre ora è recuperabile su Tim Vision.
La serie segue le vicende dell'omonima protagonista Ally McBeal, una neolaureata in giurisprudenza che nel corso dell'episodio pilota viene assunta presso lo studio legale di Richard Fish, un ex collega universitario. Da lì gli amori, le rivalità e le ansie di una donna in carriera che vorrebbe poter conciliare vita lavorativa e privata destreggiandosi fra vittorie, fallimenti e delusioni in entrambi i campi. Nonostante un finale non all'altezza dovuto alla fretta di voler chiudere a seguito di un calo di ascolti, Ally McBeal si conferma un buonissimo prodotto per gli amanti del genere.
Un ottimo mix di storie amorose, rivalità e importanti casi da portare in tribunale sono gli ingredienti perfetti che ci portano a considerare Ally McBeal una tra le più interessanti serie simili a Suits.
5) Scandal
Dulcis in fundo arriviamo al nostro quinto e ultimo consiglio seriale: trattasi di Scandal, la serie tv creata da Shonda Rhimes, la geniale mente dietro a Grey's Anatomy e How to Get Away with Murder, che vede come protagonista assoluta l'Olivia Pope di Kerry Washington insieme al suo team. Ma di che parla questo show ABC attualmente (2021) pronto per lo streaming su Disney +?
Olivia Pope è una macchina: sempre con un piano a sua disposizione per gestire le complicate situazioni e i più profondi segreti dei suoi clienti, personalità pubbliche di estremo prestigio, perché è questo il suo lavoro. Dopo anni passati a capo delle comunicazioni della Casa Bianca al servizio del presidente Fitz Grant, la donna ha infatti aperto la sua personale agenzia, la Olivia Pope e Associati, che si occupa di gestire situazioni di crisi e risolvere problemi per l'élite del Paese. Il suo variegato team, in cui troviamo gli affascinanti avvocati Stephen Finch e Harrison Wright, l'investigatrice Abby Whelan, l'hacker Huck, e la giovane e misteriosa Quinn Perkins, riesce sempre a trovare la giusta soluzione anche ai casi più complicati: dei veri e propri Gladiatori in doppio petto.
La serie di Kerry Washington è perfetta per chi ha amato Suits e vuole provare qualcosa che si discosti in parte dalla componente legal da tribunale, ma non troppo, e che si concentri comunque su aspetti particolarmente simili alla serie di USA Network. Il fulcro dello show infatti si focalizza da un lato su una squadra di menti brillanti che lavorano in sinergia per risolvere problemi, dall'altro sui drammi personali dei protagonisti e sui loro passionali e spesso proibiti amori, ma anche su suspense, colpi di scena e soprattutto scandali.
E voi? Siete d'accordo? Quali sono a parer vostro le migliori serie simili a Suits?