Ci sono serie che dopo averci entusiasmato per anni finiscono per deluderci immensamente con finali piatti e anticlimatici, ma ci sono anche serie tv i cui finali rasentano la perfezione. Non è semplice racchiudere in un solo episodio il senso e la filosofia di uno show, ma quelli di cui andiamo a parlarvi ne risultano pienamente in grado. Da Mad Men fino a Scrubs, infatti oggi vi racconteremo di quelli che sono i finali di serie generalmente più apprezzati dal pubblico, di quelli che rimangono più nel nostro cuore e che più si fissano nelle nostre menti.
Sono quei finali che portano lo spettatore, alla fine della visione, a fermarsi ammutolito, svuotato ma allo stesso tempo arricchito da immagini ed emozioni. Quegli atti conclusivi che non vedi l'ora di poter rivedere, commentare con gli amici e studiare alla perfezione.
Ecco dunque a voi la nostra classifica dei 10 finali più amati nella storia delle Serie Tv: Sons of Anarchy, Scrubs e molti altri.
Attenzione, siete avvisati: nell'articolo troverete pesanti spoiler di Mad Men, Sons of Anarchy, Six Feet Under, The Shield, Friends, Scrubs, Mr. Robot, Breaking Bad, Buffy e True Detective (stagione 1).
10) Mad Men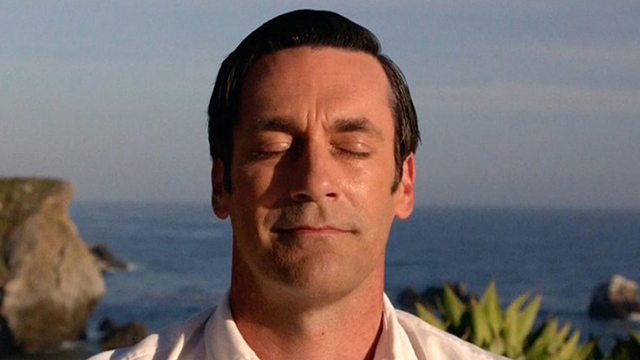 Nel finale di serie di Mad Men, Don Draper ha una vera e propria crisi esistenziale e si sente perso e insoddisfatto. Così, mentre assistiamo all'happy ending di Sterling, Pete e Peggy, osserviamo lo smarrimento interiore del nostro protagonista, uno tra i personaggi più psicologicamente sfaccettati e approfonditi della storia delle serie tv. Perché il protagonista di Mad Men non si sente più se stesso e inizia a riflettere sulle proprie scelte semplicemente sale sulla propria auto e fugge via dalla sua vita, dai suoi errori e dalla sua solita visione delle cose, alla ricerca di una pace che sente di non aver mai avuto. Ma la pace non arriva con un nuovo equilibrio e con la serenità interiore propinata durante la sessione di yoga.
Su uno sfondo mozzafiato, un Don Draper vestito di bianco fa un leggero, ma iconico sorriso: tutto ora va bene, perché ha avuto un'idea, un'idea davvero geniale. Salutiamo per l'ultima volta il volto rilassato di Jon Hamm e al suo posto troviamo una vecchia réclame del 1971 della Coca Cola, con l'inconfondibile musica di I'd Like to Teach the World to Sing trasformata per l'occasione in I'd Like to Buy the World a Coke.
Addio pace dei sensi, bentornato capitalismo. Ed è perfetto così.
9) Mr. Robot
L'episodio 4×13 di Mr. Robot è un vero gioiello e costituisce una perfetta fine a uno show che nel corso di quattro anni ha saputo appassionarci e farci teorizzare come non mai. In un continuo crescendo di colpi scena, infatti finalmente tutti i tasselli trovano il loro posto. Tasselli che non vanno a introdurre scenari fantascientifici come ipotizzato da molti spettatori, ma che indagano ancora più a fondo la frammentaria complessità della psiche del protagonista. Tante parti di un Io composito, scisse per adempiere un compito.
"Anche quando non ci saremo più, è come diceva Mr. Robot: noi saremo sempre una parte di Elliot Alderson, e saremo la parte migliore. Perché noi siamo la parte che è sempre stata presente; siamo la parte che è rimasta, siamo la parte che lo ha cambiato… e chi non ne sarebbe orgoglioso?".
Così, dopo la sua lunga prigionia atta a tutelarlo durante la Rivoluzione, il vero Elliot ritorna, un Elliot pronto a riprendere il comando.
8) The Shield
The Shield, ossia quando i buoni tecnicamente vincono eppure tu stai male per coloro che dovrebbero essere i cattivi. Quello del finale della settima stagione di The Shield è un vero e proprio pugno allo stomaco, amaro forse, ma comunque tanto ben fatto da essere amatissimo.
L'accordo che Vic stringe coi federali segna la fine di tutto: in questo modo la sua famiglia sarà salva ma lui non potrà più rivederla. Il prezzo di questa vittoria agrodolce è davvero caro: a farne le spese sarà Ronnie, che subirà un ergastolo. La squadra d'assalto trova così la propria fine, con due membri uccisi, uno recluso in prigione e un altro che dovrà vivere in quella che per lui è una vera e propria reclusione, ossia dietro una scrivania e soprattutto completamente solo.
La perfezione nel dolore.
7) Friends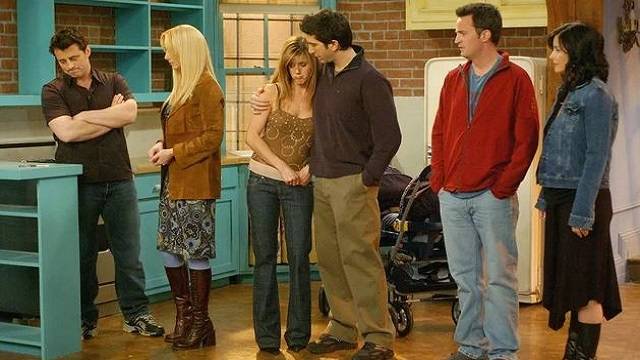 Moltissime comedy hanno dei finali davvero molto belli: pensiamo per esempio all'emozionate chiusura di The Office, alla poetica conclusione di The Good Place, a quella di New Girl, Scrubs e di molte altre.
Eppure l'antesignano di molti di questi va ricercato indietro nel tempo, perché il finale di Friends ha senza ombra di dubbio creato uno standard, un ovvio metro di paragone.
Dopo 10 anni di avventure, risate ed emozioni, dopo 10 anni di perfetta simbiosi, il gruppo è pronto a prendere strade diverse e, almeno per ora separarsi. Chandler e Monica, da sempre i collanti del gruppo, sono pronti a partire con la loro nuova famiglia. Il trasloco giunge quindi al termine lasciando una casa vuota, spoglia fisicamente, ma comunque brulicante di ricordi felici. Chiavi vengono posate, abbracci vengono dati e lacrime vengono versate, ma c'è sempre spazio per un caffè da bere insieme al Central Perk.
La telecamera dà un ultimo sguardo all'appartamento e la scena si chiude su una cornice dorata apposta su una porta viola. Dissolvenza.
6) Buffy l'ammazzavampiri
Un finale del genere non poteva non rientrare tra quelli più amati di sempre. Anche l'ultima difficile prova viene vinta e per Buffy e i suoi amici la vita può riprendere. Ma il finale non è tutto rose e fiori: le perdite di Anya e di Spike sono davvero dolorose, ma mostrano come chiunque possa cambiare e portano a compimento un percorso di redenzione davvero ben fatto.
Le scene della battaglia finale, con la distruzione dell'iconica cittadina di Sunnydale e dell'esercito nemico, sono assolutamente indimenticabili: come dimenticare per esempio il tormentato ultimo addio tra la protagonista e Spike? Nell'iconica scena che conclude la serie i nostri eroi osservano le ceneri della loro città, ma Buffy sorride, perché ora sa di non essere più sola nella sua lotta. Semplicemente perfetta!
5) True Detective, stagione 1
Un finale dolceamaro quello della prima stagione dell'antologica True Detective, storia ricca di colpi di scena, personaggi incredibile e con una trama davvero avvincente. L'ottavo episodio della stagione risulta essere davvero perfetto perché non si trasforma né in un perfetto ed eroico lieto fine, ma anche perché non porta nemmeno ad una tragica catastrofe.
Hart e Cohle dopo un duro scontro riescono ad avere la meglio su Errol Childress e si assicurano che sua sorella venga incarcerata, ma purtroppo non riescono in nessun modo a collegare la terribile setta alla facoltosa famiglia Tuttle. I due detective dunque accettano il fatto che non potranno mai concludere il caso e, dopo un ennesimo stupendo dialogo, si allontanano insieme dall'ospedale dove Rust era ancora ricoverato.
Un finale emozionante come pochi altri.
4) Breaking Bad
2013, la fine è arrivata e Breaking Bad con "Felina" non delude di certo le aspettative. Il viaggio di Walter White si conclude nella maniera più coerente, poetica e definitiva possibile. Walter White ha fallito, Heisenberg ha fallito: ora è giunto il momento di risolvere le questioni rimaste in sospeso e di chiudere il cerchio. Le minacce ai coniugi Schwartz, l'ultimo incontro con Skyler, il salvataggio di Jessie e la sete di vendetta saziata, fino al suo accasciarsi a terra sfinito nel laboratorio: questa è davvero la fine, la fine di un uomo che con le proprie scelte ha cambiato tutto.
"Tutto questo l'ho fatto per me. Mi piaceva farlo. Ero molto bravo. Mi sono sentito vivo".
Nessuna fine eroica, nessuna celebrazione, solamente un uomo solo, al termine dei suoi giorni, che prende su di sé il peso delle proprie azioni, e che se ne va senza clamore, solo. Nessuno avrebbe saputo fare di meglio, questo è certo.
3) Six Feet Under
I brividi. Quello di Six Feet Under è uno dei finali più commoventi e poetici di sempre. La serie che da sempre ci ha spinto a interrogarci sul senso della vita e della morte non poteva infatti concludersi che con gli ultimi grandi saluti. Sulle note della bellissima Breath Me di Sia assistiamo infatti a un lungo flash-forward che ci mostra la vita futura dei nostri amati personaggi, in un susseguirsi di eventi felici e tristi. Vita e morte, morte e vita: eventi alternati a scene che vedono Claire partire con la sua auto.
La fine di tutto è data proprio dalla morte di quest'ultima, ormai centenaria: una morte dolce che più che crearci dolore ci dà un'idea di catarsi e di speranza. Un finale semplice ma pregno di significato, capace tutte le volte di commuovere lo spettatore. Impossibile da non amare.
2) Sons of Anarchy
Quello di Sons of Anarchy è di certo uno dei più amati finali di sempre. Tutti ne parlano, tutti non vedono l'ora di discuterne, tutti lo apprezzano.
Perché Il testamento di un padre è davvero un episodio emozionante e capace di lasciare tanto allo spettatore. Dopo aver chiuso i conti una volta per tutte con Gemma e i propri nemici, Jax cerca di assicurare un futuro roseo per i propri figli: un'ultima corsa, una fuga che sa di libertà. Inseguito da un corteo di auto della polizia, Jackson Teller spalanca le sue braccia formando una croce e chiude gli occhi, sa bene che tra poco la sua vita finirà, ma spera che con con questo gesto riuscirà a salvare altri e sceglie di sacrificarsi, accogliendo su di sé la colpa del proprio mondo.
Qualcuno definisce Sons of Anarchy come Shakespeare con le motociclette, e ha proprio ragione.
1) Scrubs
Lo sappiamo, tecnicamente "Il mio finale", non è il vero finale di serie delle nove stagioni di Scrubs, ma di fatto è il finale per eccellenza.
Per J.D. è infatti giunto il momento di abbandonare il Sacro Cuore per poter passare più tempo in compagnia del figlio Sam. Una fine, certo, ma non una fine triste. I saluti con Turk e Carla, il confronto finale con l'inserviente Glen Matthews, l'ammissione di affetto e di stima da parte del Dr. Cox. E poi eccoli, i saluti di tutte le persone che hanno fatto parte del viaggio del nostro protagonista, tutti a formare questo meraviglioso e immaginario corridoio di volti e di esperienze. Vite che lo hanno toccato, plasmato e reso il dottore competente e generoso che è ora.
Tutto è compiuto e prima di dare l'ultimo saluto all'ospedale che l'ha cresciuto, il protagonista di Scrubs ha la sua ultima e straordinaria fantasia: proiezioni della sua futura vita, all'insegna dell'amore più profondo. Il matrimonio con Elliott, la nascita della secondogenita, le vacanze natalizie passate con le persone più importanti della sua vita… Immagini che si rifrangono sul suo volto sulle note dolci e profonde di The Book of Love, destinate a concretizzarsi e farsi reali, questa volta sul serio.
Non smetteremo mai di ripeterlo: il finale di Scrubs è davvero qualcosa di meraviglioso.