Peaky Blinders, una delle serie più apprezzate degli ultimi anni. Prodotto di Steven Knight per la rete televisiva BBC che unisce gangster, noir e period drama. Un'incredibile e realistica riproduzione della Birmingham e dell'Inghilterra del primo dopoguerra vista attraverso gli occhi distaccati e disillusi di chi ha fatto la guerra e continua a pagarne le conseguenze nella vita di ogni giorno. Thomas Shelby (il pluripremiato Cillian Murphy) continua ad affogare nei propri incubi e nelle proprie fobie, usando l'alcool e l'oppio come unico sollievo. Così anche suo fratello Arthur (Paul Anderson), tanto desideroso di essere amato quanto impossibilitato a donare quel tipo di affetto senza essere sopraffatto da una forte ondata di violenza e possessività.
Ma la vera forza di Peaky Blinders, oltre che nella fotografia e nella ricostruzione storica dell'ascesa al potere della gang criminale di Birmingham, sta proprio nei personaggi come Thomas e Arthur, ma anche in quello di Polly Gray (interpretata dalla meravigliosa Helen McCrory), logorata e fatta a pezzi dalla perdita più grande che una donna possa sopportare, quella dei propri figli. Una famiglia numerosa quella degli Shelby, non sempre unanime nelle decisioni che riguardano il futuro economico della propria impresa, ma sempre e comunque disposta a fare di tutto pur di proteggersi.
Peaky Blinders una serie introspettiva e carica di emotività, che nonostante la sua trama e l'argomento principale delle sue stagioni non rinuncia alle storie d'amore.
Altrettanto tormentate e piene di lati oscuri sono le storie d'amore che questo prodotto della regia di Steven Knight ci offre. Relazioni complicate, disfunzionali, di necessità. C'è tutto nell'opera della BBC dalle tinte grigie come il fumo delle fabbriche inglesi e come l'anima di chi ha imparato a macchiarsi col sangue per sopravvivere e farsi strada.
Una serie inimitabile, senza ombra di dubbio, ma per cui nell'attesa della sesta stagione si può trovare un degno sostituto attraverso una (o più di una) delle 5 serie di cui vi parliamo.
1) Sons of Anarchy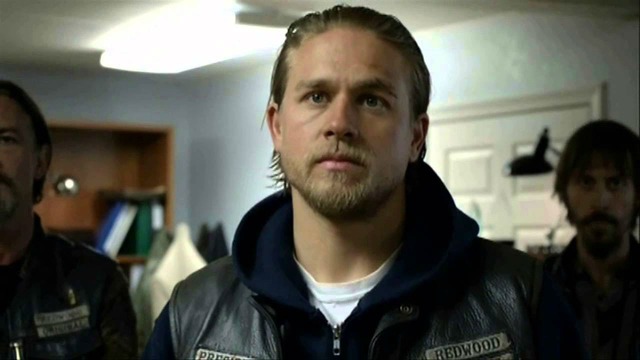 Sette stagioni che hanno appassionato i fan di tutto il mondo dal 2008 al 2014, tenendoli sempre incollati allo schermo con la loro bellezza e la loro profondità che le rende molto simili (per quanto con le dovute differenze) a quelle di Peaky Blinders. In Sons of Anarchy, per chi non avesse ancora avuto il piacere di vederla, tutto ruota intorno alla banda di motociclisti organizzata nell'omonimo club che terrorizza le strade dell'immaginaria città di Charming, in California. Una banda creata negli anni Sessanta da John Teller, Piney Winston e altri motociclisti, amici e veterani del Vietnam.
Protagonista della serie, però, è Jax Teller (un bellissimo Charlie Hunnam), figlio di uno dei fondatori e di Gemma, in seguito adottato da Clay Morrow (il famoso Ron Perlman) alla morte del padre e divenuto uno dei SAMCRO fin da piccolo. Un ragazzo tormentato, timoroso del futuro del club di cui fa parte dalla nascita, che non esita a voler ripristinare le regole dei primi SAMCRO, per uscire dalla strada di violenza e traffico illegale di armi intrapresa dal suo patrigno alla morte di John Teller. Un giovane la cui figura può essere accostata a quella di Thomas Shelby, e all'intensità che Cillian Murphy ha saputo regalargli.
Per quanto ambientata in una città fittizia, Sons of Anarchy riesce perfettamente in ogni puntata a rendere reali e terribilmente coinvolgenti le atmosfere pregne di pericoli e rischi, senza rinunciare a tragiche storie d'amore e profondità psicologica dei personaggi. Riflessioni, dubbi, insicurezze e ironia. Non manca niente in questa serie creata da Kurt Sutterper la rete televisiva FX. Personaggi complessi e sfaccettati, pieni di sfumature e mai banali, reali in tutto e per tutto, così come i personaggi che sono il vero punto forte di Peaky Blinders. Sparisce la semplice dualità bene-male in favore di una più affascinante realizzazione dell'uomo in tutte le sue fragilità, distrutto dai suoi errori e costretto a scegliere come agire per sopravvivere e salvare chi ama.
2) Boardwalk Empire – L'impero del crimine
In Peaky Blinders il genere gangster è predominante, così come in Boardwalk Empire – L'impero del crimine, period drama statunitense creato da Terence Winter per la HBO e andato in onda dal 2010 al 2014. Anche qui, come nella serie sulla gang di Birmingham, la vita criminale di Enoch L. Johnson, personaggio politico e malavitoso realmente esistito, e la sua ascesa sociale negli anni del proibizionismo ad Atlantic City sono al centro degli episodi. Infatti, il prodotto della HBO mescola alla perfezione elementi di finzione e fatti storici, in un mix che ricorda molto Peaky Blinders e la tormentosa ascesa al potere di Tommy Shelby.
L'episodio pilota di Boardwalk Empire è stato girato da un colosso del cinema e della televisione come Martin Scorsese, che insieme a Winter e Mark Wahlberg ha prodotto le puntate, ma il cast da cui la serie è composta non è di certo da meno. Nei panni del politico corrotto Enoch "Nucky" Thompson è Steve Buscemi, volto più che noto per gli appassionati di cinema, affiancato ad altri nomi conosciuti come quelli di Kelly Macdonald e Michael Stuhlbarg. È anche grazie al talento degli attori presenti se Boardwalk Empire ha vinto ben 20 Premi Emmy su 57 nomination totali acquisite.
Insomma, una serie da non perdere per gli amanti del genere gangster, realizzata solo grazie a un budget altissimo.
E per i fan di Peaky Blinders può essere un'ottima alternativa in attesa della sesta stagione che ci riporterà nelle tormentate vite della gang criminale di Birmingham. Se amate anche l'atmosfera degli anni '20, Boardwalk Empire è la serie che fa per voi e che saprà rendere meno pesante l'assenza dell'amata serie di Steven Night.
3) Animal Kingdom
In comune con Peaky Blinders, Animal Kingdom non ha solo Finn Cole, che nella serie di Steven Knight interpreta Michael Gray e qui invece Joshua Cody, ma anche l'argomento centrale degli episodi, ovvero lo stile di vita di una famiglia ormai dedita quasi solo ad attività criminali. Resa disponibile nel 2016 per lo streaming online sul servizio on demand Infinity TV, Animal Kingdom è in attesa della sua quinta stagione.
L'inizio di questa serie, basata sull'omonimo film australiano del 2010 diretto da David Michôd, ci inserisce all'improvviso nella turbinosa vita del giovane J., Joshua, la cui perdita della madre per un'overdose di eroina lo costringe a trasferirsi dagli unici parenti che gli rimangono. Mentre il film da cui Animal Kingdom è stato tratto era ambientato nell'Australia degli anni '80, la serie di Jonathan Lisco si trasferisce in California, senza perdere per questo le atmosfere gangster dell'originale che anche qui si uniscono a sottotrame psicologiche molto presenti e ben sviluppate.
Come in Peaky Blinders, anche in Animal Kingdom il giovane Finn Cole interpreta un ragazzo dalla tragica storia personale.
Dopo aver perso il padre e la madre, non gli resta che fare i conti con i propri fantasmi, portandoseli dietro anche quando si trasferisce dai Cody, dove la figura autoritaria di sua nonna Janine, soprannominata Smurf, gli insegnerà quanto difficile ancora può essere la vita. Una famiglia ritrovata ma non priva di lati oscuri si prenderà cura del giovane Joshua, che verrà catapultato, come il suo interprete in Peaky Blinders, in un mondo a lui completamente estraneo, finendo per abituarsi a quella vita e arrivando a non poterne più fare a meno.
4) The Making of the Mob
The Making of the Mob nasce come miniserie televisiva statunitense, composta da 8 episodi incentrati sul gangster Lucky Luciano (Rich Graff) e sulla sua ascesa nella mafia newyorkese. Infatti, il titolo completo di questa miniserie è The Making of the Mob: New York, per distinguerla dalla seconda stagione che AMC ha in seguito deciso di produrre e mandare in onda nel 2016, The Making of the Mob: Chicago, che offre invece uno sguardo nel midwest americano, con un quadro della vita del tanto famoso boss Al Capone.
Anche qui, come in Peaky Blinders, al centro delle puntate sono figure di criminali realmente esistiti, che hanno dato vita alla moderna mafia americana a partire dagli inizi del '900. Nel 1905 è infatti ambientata la prima stagione di The Making of the Mob e fin dal primo episodio possiamo vedere un giovane Lucky Luciano che, insieme ai suoi amici di sempre Meyer Lansky e Benjamin "Bugsy" Siegel, è a capo di una ancora piccola banda di delinquenti. Per quanto di solito i telefilm e le serie gangster tendano a circondare i criminali protagonisti di un'inspiegabile fascino, questo prodotto della AMC invece tenta di dare uno sguardo più concreto e meno romanzato della figura del boss mafioso, servendosi anche di molte interviste a figure storiche, celebrità e autori, nello stile di un docudrama.
Si cerca di ricostruire la genesi di un'organizzazione criminale che affonda le sue radici nei primi anni del '900 e va ancora oltre, facendosi strada sulla pelle e sui soldi di altri uomini, approfittando delle situazioni di crisi per emergere e conquistare il proprio posto nella società. Storia e finzione uniti in un mix che attrae lo spettatore e lo rende anche consapevole della crudeltà e, purtroppo, della veridicità di alcune delle scene che si trova a guardare sul piccolo schermo.
5) Gentleman Jack
L'ultima serie di cui vi parliamo è Gentleman Jack, un dramma storico creato da Sally Wainwright e ambientato nel 1832 nello Yorkshire. Qui la protagonista è Anne Lister (interpretata da Suranne Jones), una donna incredibilmente moderna, proprietaria terriera e industriale, determinata e forte. Come Peaky Blinders, Gentleman Jack trae ispirazione da una storia vera, quella di Anne Lister e dei suoi diari, per la maggior parte scritti in un linguaggio in codice. Queste memorie sono la testimonianza di un'insolita e pericolosa storia d'amore tra due donne poco prima dell'inizio dell'epoca vittoriana.
Prodotto che incarna la collaborazione tra due grandi società televisive come BBC e HBO, Gentleman Jack ha in comune con Peaky Blinders non solo l'ambientazione, capace di mostrare il marcio che si nasconde nei paesaggi inglesi in qualsiasi epoca, ma anche l'oscurità che si cela dentro ogni uomo. Una serie introspettiva e innovativa andata in onda per la prima volta nell'aprile 2019 negli Stati Uniti e a maggio nel Regno Unito, e poi subito rinnovata per una seconda stagione lo stesso maggio.
La fortuna di Anne Lister, ereditata da suo zio, sarà solo l'inizio di un percorso che la donna dovrà affrontare incontrando mille difficoltà legate al suo sesso e ai pregiudizi che, purtroppo, in qualsiasi epoca si fanno largo fra la popolazione. Una donna intraprendente e pronta a tutto pur di salvare la donna che ama e la loro relazione, scrivendo in codice i diari, dove racconta la sua vicenda, come negli originali da cui la serie prende spunto. Purtroppo, Gentleman Jack non è ancora stata resa disponibile in italiano e non resta che aspettare un po' per potersi godere questo gioiellino.
Se avete amato l'introspettività di Peaky Blinders, apprezzerete anche Gentleman Jack.