Attenzione: evitate la lettura se non volete imbattervi in spoiler su Sons of Anarchy
In un attimo la vita è diventata morte. Un camionista inconsapevole l'ha vista saltar fuori all'improvviso da una curva, dando una forma alla falce del triste mietitore. Il martire, sorridente, ha abbracciato il suo destino con le braccia al cielo. Ha salutato un padre col quale ricongiungersi in un unico corpo, ha salvato col suo Verbo gli apostoli che l'hanno seguito fino alla fine. Ha dato una speranza ai figli perduti, accompagnato sul patibolo dai nemici di sempre. Manco fosse una processione religiosa, da vivere in religioso silenzio sulle note di Come Join the Murder. Jax Teller è morto, e il suo destino non può non esser definito "cristiano".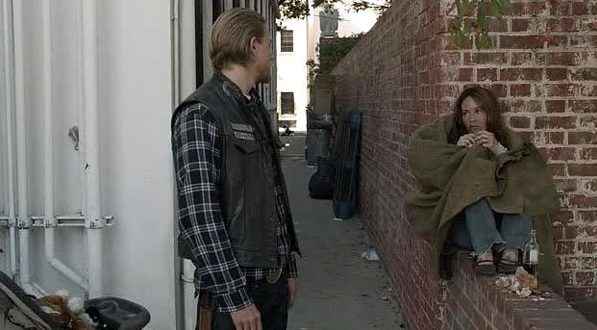 Il paragone è molto meno ardito di quanto possa si possa pensare. Associare il leader sanguinario di un club di motociclisti anarchici al profeta riconosciuto di una delle più grandi religioni della storia dell'uomo non è un'eresia, almeno in questo caso specifico. Ed è lo stesso Kurt Sutter, deus ex machina di Sons of Anarchy, ad averlo suggerito col suo capolavoro, specie grazie all'indimenticabile series finale di tre anni fa. Lo showrunner, interpellato più volte sulla questione, ha lasciato spazio alla libera interpretazione degli appassionati, ma è evidente l'intenzione concretizzata di tracciare (provocatoriamente) i contorni del Messia cristiano sul corpo statuario di Charlie Hunnam. Pensateci un attimo: a prescindere dall'esclamazione del camionista al momento dell'incrocio fatale ("Oh Jesus!"), il palese richiamo estetico e le magliette bianche spesso indossate da Jax quasi fossero delle tuniche, gli elementi in gioco sono tanti.
Non è un caso che l'ultimo frame di Sons of Anarchy abbia mostrato i corvi mortiferi mentre beccano un pezzo di pane intinto di vino prima di volare via. I due elementi, tipici della simbologia cristiana, incarnano il corpo e il sangue degli uomini, stavolta sbranati dalla morte poco prima che il sangue, quello di Jax, la faccia fuggire e, succube di fronte all'eternità del sacrificio e della redenzione, ci restituisca le anime di un padre e un figlio che volano via insieme, chiudendo un cerchio lungo sette stagioni. E non è un caso nemmeno che, qualche minuto prima, avessimo visto pane e vino in mano alla homeless evocatrice, rivelatrice e, di conseguenza, evangelica. Secondo molti è la rappresentazione della morte al pari dei corvi, secondo altri della pietas cristiana. Ma in un universo nel quale è il triste mietitore l'unico vero Dio, è la sua associazione al volere divino che la porta a farle dare la coperta grazie alla quale viene fatto fuori Marks, ucciso a sangue freddo al pari di Barosky.
Il male che Jax ha provocato più o meno volutamente viene estirpato e la catarsi, resa necessaria dai peccati di un intero mondo, si compie con le braccia alzate verso il cielo. Se si prende per buona un'interpretazione del genere, ad una croce si sostituisce la vecchia moto (metafora del fardello del cognome) che condusse il padre verso il medesimo destino e il giovane Teller, dopo esser stato condannato a morte dal suo stesso popolo e spogliato delle sue vesti (la patch), saluta per l'ultima volta una personalissima Maria Maddalena (Wendy), il suo Chibs (Pietro) e gli apostoli che l'hanno sostenuto fino alla fine. Tutti, ad eccezione di Juice, il traditore pentito (Giuda). Jax, grazie al suo martirio, ha ridato una speranza alla Fede dei Sons of Anarchy, usciti a pezzi dal regno dispotico di Clay e dalla deriva finale del giovane leader (ne abbiamo parlato di recente a proposito dell'evoluzione della sua capigliatura, lo trovate qui).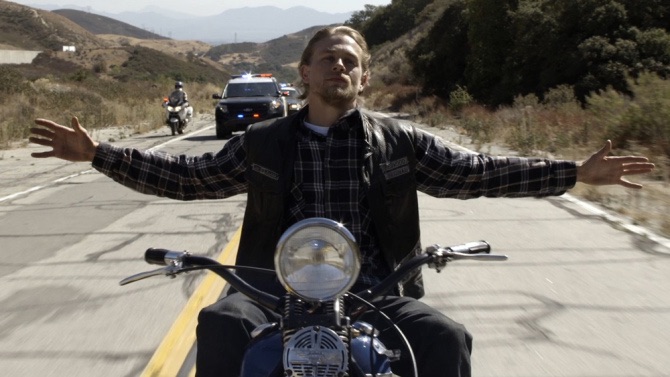 Lui, come Cristo, ha pagato con la morte il peso di quel che ha rappresentato, a prescindere da chi fosse. E, in conseguenza di ciò, solo la loro fine ha ristabilito un equilibrio, un nuovo status quo fondato su una rivoluzione (possibile?) della quale gli artefici non possono vedere la realizzazione. Ma una differenza c'è, ed è sostanziale: quel che nel Cristianesimo e nel Credo dei Sons of Anarchy vive nella memoria tramandata ai posteri, sparirà nei figli biologici di Jax con la rimozione del ricordo, a patto che un anello maledetto non spinga anche il piccolo Abel tra le braccia del triste mietitore. Perché in un attimo la morte è diventata vita, ma la morte, in certi casi, non muore mai. Soprattutto quando è tatuata sulla pelle, al punto da entrare nel DNA. A questo, purtroppo, nessuno può porre rimedio. Neanche un profeta.
Antonio Casu