Dalle casalinghe disperate alle carcerate di Orange Is the New Black, ammettiamolo: le serie tv senza protagoniste femminili forti, ormai, non ci prendono più di tanto. Fortunatamente viviamo in una società in cui le donne faticano sempre meno a prendersi il posto che gli spetta, e ciò si nota anche nelle serie tv. Vediamo 5 esempi di serie tv in cui le donne sono protagoniste assolute.
Non spalle dell'uomo, non "fidanzate di", non comprimarie: nel cast principale di queste serie tv figurano solamente donne. Noi le abbiamo ordinate in una classifica, che tenga conto sia della qualità della serie che del significato emotivo. Perciò non prendetevela se la vostra serie preferita non raggiunge la prima posizione: non facciamo favoritismi alle signore!
5. Big Little Lies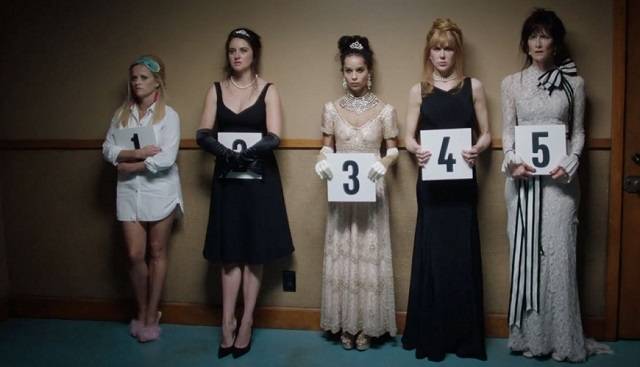 Questa serie, oltre a rispecchiare perfettamente il requisito di cast femminile al completo, è una delle serie a vantare il maggior numero di stelle del cinema e della televisione. Meryl Streep, Nicole Kidman, Reese Whiterspoon sono solo i nomi più importanti che compongono il cast, in cui figurano grandi nomi anche in parti meno di primo piano. La serie parte da un efferato omicidio commesso durante una festa di beneficenza per smascherare le ipocrisie della vita apparentemente perfetta che le tre protagoniste vivono.
Un dramma borghese tratto dal romanzo bestseller della scrittrice Liane Moriarty, che ha ottenuto un successo tale da parte del pubblico da avere una seconda stagione, che è stata girata da qualche mese in California. Proprio dove le vite di Celeste, Jane e Madeline cambieranno per sempre.
4. Desperate Housewives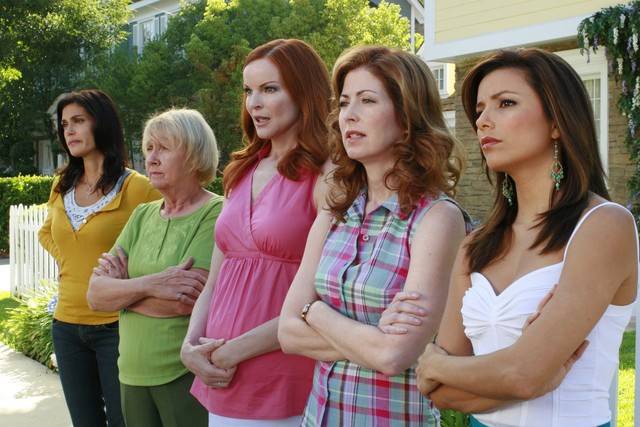 Una lontana parente di Big Little Lies potrebbe essere Desperate Housewives, serie tv ormai dal sapore vintage ma ancora attualissima per le tematiche affrontate e per la forza dei suoi personaggi, tutti femminili. Anche qui la morte di un personaggio, di una di quelle "casalinghe disperate" che popolano l'immaginario quartiere di Wisteria Lane, è il punto di partenza della narrazione, che combina efficacemente dramma, comedy, sitcom e giallo.
C'è persino un tocco sovrannaturale, come andava di moda nelle serie tv in quel periodo: il "fantasma" di Mary Alice Young, che continua a perseguitare benignamente le sue amiche, sconvolte dal suo misterioso suicidio. La sua presenza e la sua voce diventeranno colonna portante della serie, a dimostrazione del fatto che le donne non dimenticano mai chi ha fatto parte del loro gruppo.
3. Orange Is the New Black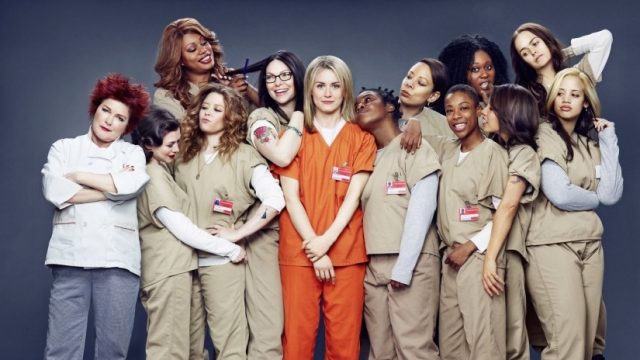 Dolce, dura, appassionata, crudele, romantica: tutto questo è Orange Is the New Black, serie tv recentemente conclusa ambientata in un carcere femminile. I suoi protagonisti sono una più forte e insieme fragile dell'altra e non si può, assolutamente non si può, non empatizzare con loro. Forse risulta un po' più difficile farsi stare simpatica la protagonista Piper, ma alla fine tutte le donne di Orange Is the New Black ci rubano il cuore.
La serie affronta diversi temi: oltre a quello delle condizioni nelle carceri femminili (è ispirata all'esperienza della vera Piper in galera), troviamo anche l'omosessualità femminile in tutte le sue declinazioni, da storia d'amore a semplice appetito sessuale. L'ultima stagione ci mostra la vita di alcune delle protagoniste uscite dal carcere, e colpisce nello stomaco proprio per come racconta la difficoltà nel reinserimento, la solitudine, le ingiustizie subite dentro e fuori le sbarre. Imperdibile.
2. The Handmaid's Tale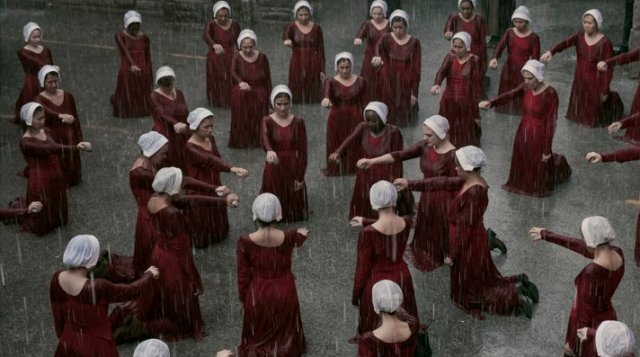 Non poteva mancare una serie totalmente drammatica in questa classifica: non poteva mancare il capolavoro assoluto che è The Handmaid's Tale. La storia terribile di una donna a cui viene tolto tutto per essere ridotta in schiavitù sessuale da un regime fondamentalista cattolico, che lotta per la libertà sua e delle sue compagne. Una storia ricca di dolore e rabbia, ma anche di personaggi femminili indimenticabili. E non tutti positivi come June o le altre Ancelle: anche negativi, perfidi e machiavellici.
The Handmaid's Tale ci mostra tutte le sfumature dell'essere donna, senza fare sconti. Mostra che le donne possono fare squadra, così come possono essere le peggiori nemiche di loro stesse. Che la maternità può essere una benedizione ma anche la peggiore schiavitù possibile. Insomma, non poteva mancare questa serie in una classifica sulle migliori serie tv con protagoniste femminili.
E se non è al primo posto è solo perché la serie che lo occupa è ormai un cult generazionale da anni…
1. Sex and the City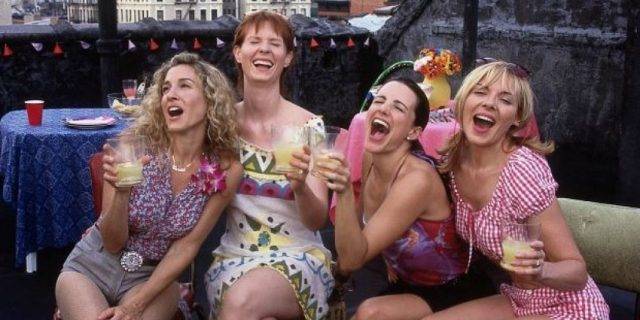 Sulla cima più alta del podio non poteva che esserci lei, la regina assoluta delle serie tv al femminile.
Sex and the City sfata con allegria e la giusta aggressività molti stereotipi: che solo le donne giovani abbiano una vita interessante (le protagoniste hanno tutte più di 35 anni), che le donne abbiano solo amicizie superficiali, che il matrimonio sia l'aspirazione più grande che una ragazza possa avere. Per Carrie le sue amiche sono tutto e per loro lei è la migliore amica che si possa avere: solo questo conta. Gli uomini verranno sempre al secondo posto, quando non sono meri giocattoli sessuali (soprattutto per Samantha).
Le cose importanti sono la realizzazione personale, il divertimento e l'amicizia. E ovviamente, il sesso: la centralità di Sex and the City nel panorama delle serie tv è dovuto anche al fatto che ha sdoganato un argomento decisamente tabù, ovvero le donne che parlano e fanno sesso come gli uomini.
Per questo non possiamo che ringraziarla, e imparare la lezione!