Il tema dell'omosessualità non è stato sempre presente nel mondo della televisione. Ricordiamoci che, fino al 1990, per l'Organizzazione Mondiale della Sanità, essere gay significava essere affetti da una malattia mentale. Prima di questo momento, infatti, quando si parlava di personaggi LGBT in televisione, lo si faceva con disprezzo o con ignoranza. Se era difficile parlarne in una serie tv, figuriamoci se era possibile farne dell'ironia.
L'America si è dimostrata subito pronta, con una grande quantità di serie tv con protagonisti omosessuali. Grazie a comedy come Will & Grace e Modern Family, anche la comunità LGBT ha finalmente raggiunto la visibilità che meritava già da molto tempo. Invece, la situazione in Italia non è delle migliori. Non solo la produzione di serie tv con protagonisti omosessuali è quasi inesistente, ma vengono anche censurate scene delle serie straniere ritenute troppo esplicite (ad esempio How to Get Away with Murder).
Se si vuole affrontare una tematica delicata e difficilmente compresa, è meglio farlo con simpatia e leggerezza. Le critiche e le censure, però, non mancano lo stesso. Vediamo quali sono le 5 serie tv che hanno deciso di parlare dell'omosessualità con ironia, ma in maniera intelligente.
1) The New Normal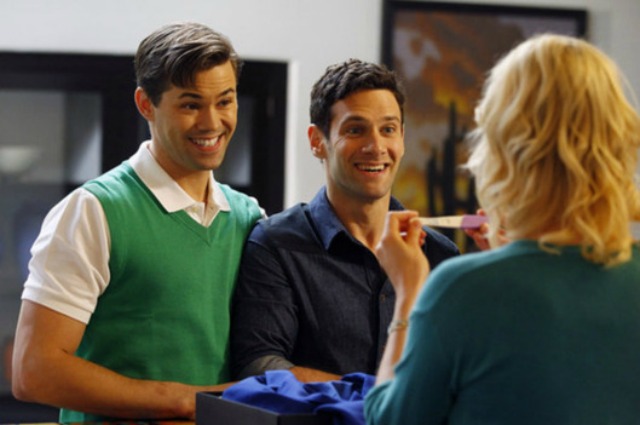 Iniziamo con la comedy che, sfortunatamente, è durata meno delle altre (solo una stagione). Ryan Murphy, dopo Glee, ha deciso di lavorare insieme ad Allison Adler per dar vita a una serie tv con protagonisti gay. I due uomini somigliano a una versione matura di Kurt e Blaine della precedente serie musical. Si tratta di una coppia che conduce una vita abbastanza tranquilla, ma che sente la mancanza di qualcosa, cioè un figlio. Le vicende che si susseguono durante gli episodi riguardano quasi esclusivamente la paternità e la ricerca di un surrogato. Nel complesso, è una comedy che riesce a far riflettere sulle difficoltà di una coppia omosessuale, anche se a volte si perde in luoghi comuni e risvolti troppo prevedibili.
Considerando che polemiche sono arrivate ancor prima della messa in onda del pilot, si può dire che la cancellazione era già nell'aria. Peccato.