Ogni serie tv che funzioni necessita di un protagonista e di un villain all'altezza, di bravi ragazzi per cui fare il tifo e di nemici da odiare, di un Clark Kent e di un Lex Luthor. Molte volte però accade che il villain di turno, attraverso una bellissima evoluzione, si redima, cosa che ce lo fa amare ancora di più. Perché dobbiamo ammettere che i cattivi solitamente sono più interessanti dei buoni. Ma cosa succede quando è invece l'eroe a cedere al male? Un celebre frase del film "Il Cavaliere Oscuro" dice:
"O muori da eroe o vivi tanto a lungo da diventare il cattivo".
Alcuni personaggi delle serie tv hanno messo in pratica questo mantra, passando al lato oscuro e non ne sono più usciti, come Lex Luthor. E così si sono fatti odiare. O amare ancora di più.
Ecco in questo pezzo 10 esempi. E sì, Lex Luthor non può mancare.
1) Daenerys Targaryen (Game of Thrones)
All'inizio di Game of Thrones Daenerys era un'eroina. Le sue azioni avevano le intenzioni più pure: combattere la misoginia dei Dothraki e porre fine alla schiavitù a Essos. Riuscendoci anche. Di conseguenza anche i suoi atti più moralmente discutibili erano giustificati in nome di quei valori che portava avanti fieramente. E solitamente colpivano schiavisti e assassini.
Le cose cambiano quando arriva a Westeros. Sacrifica tutto per combattere gli Estranei, perde i suoi alleati uno dopo l'altro, scopre che l'uomo che ama è un pretendente al suo trono. E le persone avrebbero scelto lui perché non si fidano di Daenerys.
Le rimaneva solo un'opzione: la paura.
Così scatena Drogon sugli abitanti di Approdo del Re. Promette di costruire un mondo migliore, a sua immagine. Come solo un dittatore vuole fare. Ecco il punto di arrivo della storia di Daenerys. È diventata non solo un cattivo, ma un eroe caduto, senza possibilità di tornare indietro e non lasciando a Jon altra scelta che ucciderla.
2) Walter White (Breaking Bad)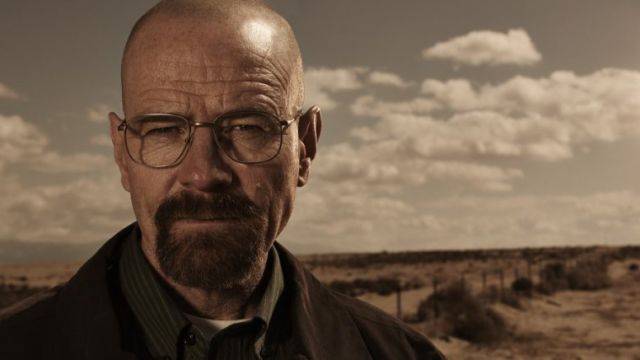 Se si parla di personaggi televisivi passati al lato oscuro, è d'obbligo soffermarci su Walter White.
All'inizio Walter non è altro che un simpatico insegnante di chimica del liceo e un amorevole padre di famiglia. Un uomo intelligente ma terribilmente sfortunato. Ultima delle sue sventure è la diagnosi di un cancro ai polmoni. Ha bisogno di pagare le cure e così inizia a produrre droga. Lo fa per la sua famiglia, in principio. Il suo ingresso nel mondo degli stupefacenti lo porta a cercare compromessi con la sua moralità, arrivando a rompersi completamente. Quando? Probabilmente nel momento in cui lascia morire Jane. Da quel momento le sue azioni non sono più scusabili, A lui piace essere Heisenberg.
Non lo fa più per le spese mediche o per la sua famiglia. Lo sta facendo per sé, per prendersi una rivincita in un mondo che lo ha sempre preso a calci.
3) Morgana Pendragon (Merlin)
Morgana era un personaggio positivo (qui 10 motivi per amarla). Nonostante le sue nobili origini, mostrava empatia e amicizia verso le persone appartenenti a una classe più bassa, come la sua serva Gwen. Le accoglieva nel suo mondo grazie alla sua umiltà. Nel caso di Merlino è risultata essere spesso un'ottima spalla.
Piano piano però, anche prendendo consapevolezza dei suoi poteri magici, avviene la sua svolta. Deve scegliere come usare le sue capacità: bene o male? Il bene non l'attrae o la soddisfa. E sceglie così il male. Ma questo non è l'unico motivo. I suoi amici la ignorano, le nascondono cose che avrebbero davvero dovuto dirle. E la tradiscono; in primis Merlino che, per salvare il reame, l'avvelena. Ma prima di tutto è nata in un luogo in cui non può essere sé stessa. A Camelot, infatti, la magia è bandita.
Il risentimento cresce finché non abbraccia totalmente il suo lato oscuro, diventando il vero cattivo di Merlin e rivoluzionando l'idea di villain femminile.
4) Shane Walsh (The Walking Dead)
Pochi personaggi in The Walking Dead sono eroi o villain puri: hanno molte sfumature di grigio al loro interno. Persino il protagonista è così. E anche Shane Walsh.
Shane è un collega di Rick Grimes. Si sente afflitto perché il suo migliore amico è in coma e cerca di appianare questo rimorso prendendosi cura della famiglia di Rick. Il tutto si complica per i sentimenti che prova verso Lori Grimes. Quando Rick torna, Shane deve cercare di conciliare l'amore per Lori con la lealtà per l'amico. E deve cedere il posto di leader proprio all'ex collega.
In Shane cresce una grande invidia e una profonda rabbia. Un'aggressività che raggiunge il culmine quando uccide Otis per salvare Carl e sé stesso. Da premuroso e compassionevole, Shane si indurisce. Diviene instabile, spietato, crudele. Un assassino senza rimorsi che si ribella a Rick, tenta di ucciderlo, pagando questo affronto con la sua vita (qui 6 ragioni per cui non doveva morire).
5) Lex Luthor (Smallville)
Lex Luthor non ha avuto una vita facile: il padre lo ha educato con metodi spietati e severi, la madre era mentalmente instabile tanto da uccidere il suo secondogenito, di amici ne aveva solo uno ed era bullizzato. Questo background ci fa capire che tipo di personaggio è Lex Luthor: affascinante, intelligente, brillante, freddo, ambiguo. In perenne conflitto tra la sua parte buona e quella oscura.
L'arrivo di Clark gli dà una seconda possibilità. Lui, cresciuto nella menzogna e nel dramma, vede nel figlio dei Kent tutto quello che non potrà mai essere. Anche se all'inizio è grande amico di Clark e cerca di aiutarlo sempre, Lex nei suoi confronti prova una profonda gelosia e un grande senso di inferiorità.
Clark però non si fida mai completamente di Lex, nascondendogli troppi segreti. Senza contare che la donna che ama e suo padre preferiscono l'eroe a lui. Lex diventa sempre più narcisista e crudele, ossessionato da Clark e dalla voglia di distruggerlo.
E così nasce Lex Luthor, il peggior nemico di Superman.
6) William (Westworld)
William non sarebbe voluto andare a Westworld. Era un luogo che non faceva per lui. Fu Logan, suo cognato e socio in affari, a portarcelo. Ma poteva trarre qualcosa di positivo da questo viaggio. Infatti era alla ricerca del senso della sua vita. Sembra trovarlo in Dolores, una host di cui si innamora.
William nasce come eroe ma viene spinto verso la brutalità. Infatti Logan distrugge la sua moralità pezzo dopo pezzo, lo costringe a fare cose eticamente dubbie e lo rimprovera per il suo eroismo. Del resto, a Westworld si viene solo per divertirsi e lasciarsi andare ad azioni sregolate. Dopo un discorso di Logan che distrugge la visione del mondo di William , quest'ultimo massacra spietatamente un intero campo di residenti e minaccia di uccidere Logan se non segue i suoi ordini.
La sua svolta verso il male viene cementata quando scopre che a Dolores è stata cancellata la memoria.
Trent'anni dopo lo ritroviamo come un sociopatico violento, che ha distrutto il suo matrimonio, ossessionato dalla ricerca del vero significato del parco.
7) Lester Nygaard (Fargo)
Martin Freeman interpreta sempre lo stesso tipo di personaggio: un ragazzo tranquillo, senza pretese, di buon carattere. Anche Lester di Fargo si adatta a questo modello: è un venditore di assicurazioni, vittima di bullismo. Una persona normale, piuttosto noiosa, che non farebbe male a una mosca, sopraffatto dalla sua stessa storia.
Lo compatiamo, come non potremmo? È con l'incontro con un killer professionista di nome Malvo che inizia la sua svolta oscura, sorprendentemente fin dal primo episodio. Lester, schernito di nuovo dalla moglie e spinto dall'incontro avuto con Malvo, perde le staffe e la uccide.
Fargo gioca su questo: Lester compie atti spregevoli che però sfuggono al suo controllo o fanno leva sulla sua stessa paura. È solo nel finale che diviene un cattivo in tutti i sensi. Manda la sua seconda moglie in ufficio per recuperare i passaporti, dicendole di entrarci con il cappuccio sulla testa, sapendo bene che Malvo lo sta aspettando.
E la trasformazione alla Walter White di Lester è finalmente compiuta.
8) Daniel Shaw (Chuck)
Daniel Shaw è il tipico eroe americano, disposto a tutto pur di salvare il suo paese. Agente della CIA, viene incaricato di supervisionare il team di Chuck e aiutare quest'ultimo a diventare una spia. Allo stesso tempo intreccia una relazione sentimentale con Sarah Walker. Il suo obiettivo primario è combattere l'Anello, organizzazione segreta che ha ucciso la moglie Eve. Proprio il Direttore dell'Anello però gli rivela una scioccante verità: fu Sarah a uccidere Eve nel suo primo incarico.
Ecco che la donna di cui è innamorato ora diviene la sua principale nemica.
La vendetta è tutto quello che vuole. Se prima era verso l'Anello, ora rivolge tutte le sue forze su Sarah e il suo team. Si unisce all'organizzazione che un tempo combatteva, cerca prima di uccidere Sarah e poi di incastrare lei e la sua squadra per tradimento di fronte alle agenzie americane di intelligence.
Serviranno coraggio e forza a Chuck per fermare un uomo potente e una volta suo amico.
9) Grant Ward (Agents of S.H.I.E.L.D.)
Grant Ward è l'esempio da manuale di come un agente dello S.H.I.E.L.D. deve essere: intelligente, dedito alla causa, abile nel combattimento, brillante, giusto. Tutte qualità che convincono Phil Coulson ad aggregarlo al suo team. Ward è così perfetto che sembra essere creato in laboratorio. Ma la perfezione non esiste.
Infatti, sta solo seguendo un copione: è una spia sotto copertura, infiltrato dell'HYDRA che tradisce i suoi amici e per poco non uccide Gemma e Fitz. Uno dei plot twist più sconvolgenti di sempre.
Tenta inizialmente di redimersi per amore di Daisy ma il rifiuto della ragazza è il preludio alla sua trasformazione in una dei villain più agguerriti dello show. È la morte della sua nuova amata, l'Agente 33, avvenuta per mano sua ma di cui Ward incolpa lo S.H.I.E.L.D., a portarlo a ricostruire l'HYDRA e a recarsi in un pianeta alieno per recuperare un inumano potentissimo. Solo per vendetta.
10) Jeremiah Valeska (Gotham)
Ritroviamo tanti villain di Batman in Gotham. Ne vediamo la nascita, l'ascesa, il cambiamento, e, di pochi, la fine. Il più iconico, il Joker, non è presente se non in due figure che ritraggono alcune delle sue caratteristiche.
Se Jerome Valeska è presentato fin dall'inizio come un cattivo, Jeremiah – suo fratello gemello – invece è un ragazzo come tanti altri.
Jeremiah venne portato da uno zio lontano dalla sua famiglia, per proteggerlo. Diventa un prodigio della meccanica e costruisce un labirinto con un nascondiglio al centro. Perché è ancora traumatizzato da Jerome. Grazie all'aiuto di Jim Gordon e Bruce Wayne, riesce a scampare a due tentativi di omicidio da parte del fratello. Jerome tenta di cambiarlo, di fargli capire che sono uguali. E ci riesce, dopo la sua morte, quando Jeremiah può finalmente vivere una vita tranquilla. Perché come dice Jerome e impara Jeremiah:
"Puoi impazzire semplicemente con una brutta giornata"