Ci sono attori che riscuotono grande successo, la cui presenza nelle serie tv è fortemente voluta dai produttori. Eppure, la loro resa recitativa non ha mai dei picchi. Vuoi per la fama, vuoi per il nome che si portano dietro, fatto sta che sono un po' sopravvalutati. Che non significa scadenti ma semplicemente un po' troppo presi in considerazione. E non mancano anche attori presi da serie planetarie come Game of Thrones e Grey's Anatomy.
Charlie Sheen – Due uomini e mezzo
Monumentale a tratti nel capolavoro cinematografico Platoon, Charlie Sheen ha iniziato molto presto ad adagiarsi sugli allori. Una vita di eccessi (qui una rassegna di attori che sono finiti ai margini della società) e tanto narcisismo non hanno certo aiutato. Il ritrovato successo in Due uomini e mezzo, in un ruolo da comedy, ha spesso dato adito a un'immagine di grande attore puntualmente tradita.
Sostituito da Ashton Kutcher nella serie tv, il suo rimpiazzo non ha decisamente sfigurato dimostrando come Sheen fosse tutt'altro che insostituibile. Eppure la pecora nera di Hollywood continua a macinare ingaggi…
Megan Fox – New Girl
Amata, venerata, imitata e richiestissima. Megan Fox non è decisamente solo una bella, va detto. Ha una buona conoscenza dei fondamenti recitativi pur adattandosi poco a ruoli che sfuggono dal seminato. Per questo motivo la troviamo spesso in personaggi modellati sulla stessa falsariga, come nella parte di Reagan in New Girl.
Nella serie non ha sfigurato e ha perfino creato una buona alchimia con gli altri protagonisti ma la sua fama come attrice è decisamente spropositata rispetto al valore recitativo. In una parola: sopravvalutata.
Jason Momoa – Game of Thrones
Consacrato sul piccolo schermo grazie al ruolo di Khal Drogo in Game of Thrones, Jason Momoa, sull'onda della fama, ha ricevuto tantissime proposte per ruoli da protagonista. In realtà il suo fisico imponente e lo sguardo glaciale non lasciano molte possibilità recitative. Sottratto dal consueto genere di personaggio guerriero, le sue abilità attoriali si sciolgono come neve al sole. Ma quando si tratta di lotta e sangue Jason Momoa è il "nostro uomo". E il successo di Game of Thrones lo conferma.
Sarah Jessica Parker – Sex and the City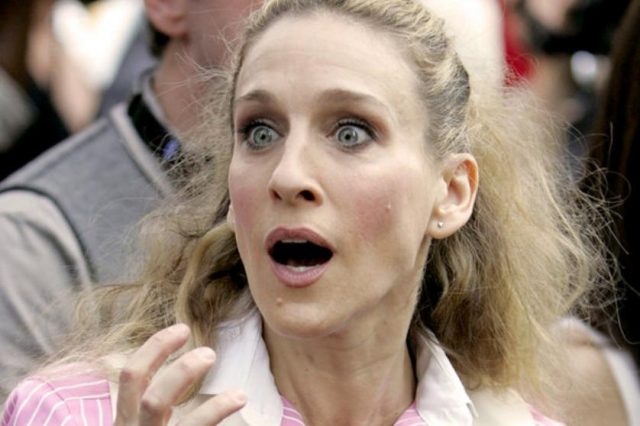 Il grande limite della Parker assomiglia molto a quello di Momoa. Tanto perfetta ci è apparsa in Sex and the City quanto pesce fuor d'acqua in ruoli che si discostano dal seminato. Eppure i riconoscimenti ottenuti e il successo della serie hanno indotto spesso a ritenerla attrice di un livello molto alto. Così non è, o almeno ancora non lo ha dimostrato. L'aspettiamo al varco in un ruolo che si discosti dalla sua zona di comfort.
Patrick Dempsey – Grey's Anatomy
Il belloccio dallo sguardo magnetico, l'uomo maturo e fascinoso: ma è solo questo Patrick Dempsey? Probabilmente no. Ha una capacità recitativa che ben si adatta a show come Grey's Anatomy, multicentrici. Soffre invece particolarmente da one man show con una certa staticità recitativa, difetto insuperabile e troppo spesso dimenticato da fan e produttori televisivi che lo trattano da star.
Jennifer Love Hewitt – Ghost Whisperer
Bellezza indiscutibile, la Hewitt ha spesso confidato nelle sue doti fisiche, come conferma anche il ruolo principale nella provocante serie The Client List (due stagioni prima della cancellazione). Ricchissima la sua filmografia e molto nota come attrice per ragioni piuttosto sfuggenti. La sua recitazione, pur espressiva, appare spesso indolente e vagamente melodrammatica.
Katie Holmes – Dawson's Creek
Indissolubilmente legata al ruolo di Joey in Dawson's Creek, il successo iniziale, in una serie da teenager con evidenti limiti recitativi, le ha aperto le porte dello showbiz. Pessima la sua recitazione, come i più attenti ricorderanno in How I Met Your Mother nel ruolo della "zucca supersexy". Inspiegabile l'interesse dei produttori nei suoi confronti.
Miley Cyrus – Black Mirror
Discorso analogo potremmo fare per Miley Cyrus che ha ottenuto, anche nell'episodio di Black Mirror in cui riveste un ruolo centrale, riconoscimenti che lasciano piuttosto perplessi. La Cyrus non è decisamente una parvenu della recitazione. Fin da bambina si è distinta per estro e naturalezza nel ruolo che l'ha lanciata (anche come cantante), quello di Hannah Montana.
Da allora, però, non si sono registrati significativi miglioramenti nella recitazione. Per quanto sia comprensibile volersi accaparrare a tutti i costi il suo volto che così tanti consensi semina tra gli adolescenti, lasciano perplesse le valutazioni positive sulle sue prove attoriali.
Taylor Lautner – Cockoo
Attore amatissimo, sull'onda del successo cinematografico, Lautner continua a ottenere parti principali in show come Scream Queens e Cockoo, serie quest'ultima che l'ha visto impegnato per ben quattro anni. Senza nulla togliere all'indubbia presenza fisica, qualche appunto in più andrebbe fatto sulla sua capacità recitativa, un po' piatta e forse inadatta a ruoli importanti. La fama ottenuta con Twilight continua però a essere un evidente vantaggio per lui.