Quando l'immaginazione supera la realtà. Non capita di rado che tecnologie futuristiche e all'avanguardia proposte da serie tv sci-fi finiscano prima o poi per essere sviluppate veramente, segno che spesso il progresso umano prende idee fittizie come modello: questo da un certo punto di vista è sconvolgente, ma anche facilmente spiegabile. Quello che invece è davvero inespligabile è come sia possibile che alcune serie tv abbiano in passato predetto, con semplici battute e in maniera tanto dettagliata, eventi che poi si sarebbero realmente verificati. In questo sicuramente I Simpson è stata la maestra suprema, ma non è di certo la sola: da Friends fino a Scrubs molte sono le serie tv che a tratti si sono rivelate profetiche!
Come disse un saggio: "Coincidenza? Io non credo!". Eccoci, dunque, pronti a rivelarvi le Verità con la V maiuscola che alcune tra le nostre serie tv preferite ci avevano anticipato anni addietro, da Friends fino a I Griffin. Buona lettura!
Friends predice l'avvento di Facebook
Iniziamo la nostra lista con una previsione di Friends
Ross: "Lo sapevi, c'è un sito per ex studenti dell'Università. È forte, puoi spedire messaggi alla gente, dire a tutti quello che stai facendo…"

Chandler:"Bene! E così tutti sapranno che sono disoccupato e che non ho figli!"
Siamo nel 2003 quando va per la prima volta in onda la 9×17 di Friends, in cui Ross e Chandler vivono un'avventura parallela prendendosi in giro vicendevolmente grazie a un particolare antenato di social network che in molti hanno accomunato a quello che poi sarebbe stato Facebook. A essere interessante (dato che esistevano già social come MySpace) è il fatto che il sito nominato da Ross sia specificatamente rivolto a studenti/ex studenti universitari, proprio come sarà alle origini per la piattaforma di Zuckerberg e compagni nell'Università di Harvard, nata ufficialmente nel 2004.
Arrested Development predice la politica trumpiana del Muro tra Messico e USA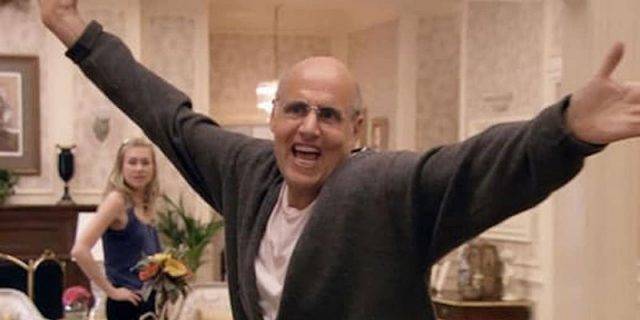 Dopo Friends, arriviamo ora ad Arrested Development.
Parliamo ora della quarta stagione di Arrested Development andata in onda nel 2013, che introduce un aspetto che qualche anno dopo sarebbe stato al centro della politica americana. In questo frangente l'astuto George, patriarca della famiglia Bluth, riesce a ottenere un contratto da parte del governo che gli permetta di costruire un muro a confine tra Stati Uniti e Messico per "tenere i messicani fuori dall'America", progetto molto simile a quello proposto dal futuro presidente Donald Trump per ridurre l'immigrazione illegale negli USA. In entrambi i casi i programmi verranno poi abbandonati.
Scrubs predice la posizione dell'ubicazione di Osama Bin Laden
Una profezia che ha davvero dell'incredibile, ma partiamo dalla cronaca. 2 maggio 2011: Osama Bin Laden viene ucciso durante il corso dell'Operazione Neptune Spear, un'azione militare perseguita dai Navy SEAL nell'ambito della lotta al terrorismo, dopo anni e anni di infruttuosa ricerca. Ci troviamo ad ad Abbottabad, in Pakistan e non in Afghanistan, luogo che secondo le principali teorie avrebbe dovuto ospitare il terrorista. Eppure, qualcuno aveva previsto tutto questo già quattro anni prima: durante l'episodio La sua storia (V) della settima stagione di Scrubs, infatti, l'Inserviente (Neil Flynn) aveva rivelato la propria ipotesi su tale ubicazione parlando proprio del Pakistan. Sempre dare retta all'Inserviente!
Parks & Recreation predice la vittoria dei Cubs
La settima e ultima stagione di Parks & Recreation, pur essendo andata in onda nel 2015, è ambientata nel 2017, tre anni in avanti rispetto alla sesta. Questo salto in avanti nel tempo ha permesso alla serie di immaginarsi alcuni scenari dell'America di alcuni anni dopo di provare a prevedere il futuro, riuscendoci pure. La previsione di cui vi stiamo per parlare ha dell'incredibile: i protagonisti della serie, infatti, menzionano una vittoria dei Chicago Cubs alla MLB (Major League Baseball). Il risvolto straordinario, però, non è solo che effettivamente tale squadra vinse il titolo nel 2016, ma che ciò avvenne a 108 anni di distanza dall'ultima vittoria. Una previsione davvero incredibile e capace di lasciare a bocca aperta!
Ps. La vittoria dei Cubs era stata profetizzata anche dal secondo capitolo di Ritorno al futuro, che però l'aveva anticipata di due anni, collocandola nel 2015.
Spooks predice l'attentato del 7/07/2005 a Londra
Passiamo ora a una predizione che cela in sé aspetti profondamente drammatici: si parla della serie Spooks, un drama britannico incentrato su un gruppo spionistico incaricato di fermare attentati prima che questi si verifichino. La previsione di cui vi parliamo riguarda il tragico attentato del luglio 2005 a Londra in cui persero la vista 52 persone, con più di 500 feriti. L'episodio in questione di Spooks, girato nel giugno 2005, ritrae infatti uno scenario drammaticamente simile agli eventi che si sarebbero verificati un mese dopo, con tanto di bomba posizionata presso la Stazione di King Cross (come avvenuto nella realtà). Gli autori, che inizialmente volevano ritirare completamente l'episodio, decisero poi di mandarlo in onda qualche mese dopo con un disclaimer che spiegasse la situazione e assicurasse che la puntata non fosse ispirata a fatti realmente avvenuti, nonostante le agghiaccianti coincidenze.
I Simpson predicono la presidenza Trump
Probabilmente la profezia più famosa di tutti i tempi: la preannunciata presidenza degli Stati Uniti d'America di Trump, prevista da I Simpson, che con le loro trenta e passa stagioni, si confermano essere la serie con il più sensibile "dono profetico". Donald Trump ottenne la carica più alta della Casa Bianca nel 2016, ma la previsione in questione risale all'anno 2000. Nell'episodio Bart to the Future, in cui il ragazzo vedendo il futuro del 2030 scopre che Lisa è divenuta la prima presidente donna della storia americana. In questa visione è possibile udire le sue lamentele circa i buchi bilanci lasciati dal predecessore, Donald Trump: una previsione che ha dell'incredibile se si pensa che l'imprenditore, a quei tempi, era davvero distantissimo dal raggiungimento di un obiettivo del genere. Uno speciale su Trump e la sua presidenza sarebbe poi andato in onda nel 2015.
I Griffin predicono la transizione di Caitlyn Jenner
Passiamo ora a un'altra irriverente serie animata che nel corso degli anni ha creato alcune profezie poi rivelatesi veritiere: parliamo de I Griffin (Family Guy in originale). Siamo nel 2009 e Brian e Stewie Griffin discutono riguardo al sesso dell'allora Bruce Jenner, ex atleta olimpico e patrigno delle famose sorelle Kardashian. Brian continua a sostenere che Bruce sia un uomo, ma Stewie replica così:
"No, questo è quello che la stampa vuol far credere, ma non è così. Bruce Jenner è una donna. Una bellissima ed elegante donna olandese"
Nel 2015, all'età di 66 anni, Jenner inizierà un percorso di adeguamento di genere che lo porterà ad essere Caitlyn. Tutto il processo fu ripreso e reso un documentario intitolato I Am Cait.
Se questo non è vedere nel futuro….
Mr. Robot predice la fuga di dati dell'App Ashley Madison
Ai tempi del finale della prima stagione di Mr. Robot, tra il pubblico, c'era chi si interrogava su quelle che dovevano per forza essere state delle aggiunte dell'ultimo minuto per stare al passo coi tempi. Si parla di uno scandalo verificatosi solo poche settimane prima, quello dell'hackeraggio dei dati sensibili degli utenti iscritti alla app per incontri (spesso usata per tradire i propri partner) Ashley Madison. Quel che è assurdo è che invece le puntate a riguardo furono girate molto prima dello scandalo: basti pensare che lo stesso Elliott, già nel pilota della serie, dice di essere riuscito a estrapolarne dei dati.
Il creatore della serie Sam Esmail ha dichiarato al sito d'informazione Hitflix che lui stesso è rimasto sorpreso di quanto la sua serie sia finita per essere una sorta di specchio della realtà, capace di anticipare alcuni fenomeni sociali.
Quantum Leap predice l'andamento del XXX Super Bowl con sei anni d'anticipo
In viaggio nel tempo (Quantum Leap) è una serie tv sci-fi incentrata su viaggi temporali e predizioni future di stampo procedural: in ogni puntata il protagonista Sam viene proiettato nel tempo ed è costretto ogni volta a impersonare persone diverse aiutandole a risolvere così i loro problemi. Tra le tante previsioni sbagliate colpisce però l'attenzione una in particolare, tanto esatta da suscitare quasi inquietudine. Un episodio del 1990 infatti introduce il tema del XXX Super Bowl (che si sarebbe disputato solo nel 1996). Guardando la suddetta partita l'uomo menziona il fatto che gli Steelers fossero in vantaggio di tre punti. Sei anni dopo la profezia si realizza sul serio: incredibile!
Legends of Chamberlain Heights predice la morte di Kobe Bryant
Legends of Chamberlain Heights è una serie animata, caratterizzata da un pesante humor nero, andata in onda dal 2016 al 2017 su Comedy Central. Tra le scene più problematiche di tutta la serie ne troviamo senz'ombra di dubbio una che vede per protagonista l'ora compianta stella del basket Kobe Bryant. L'episodio in questione, andato in onda nel 2016, mette in scena con terribili somiglianze a quella che poi sarà la vera tragedia nel 2020, la morte dovuta a uno schianto in elicottero del famoso giocatore. Guardando a posteriori questa puntata (che comunque in segno di rispetto è stata rimossa dal canale, ma che comunque circola ancora in rete), non possiamo fare altro che sentirci agghiacciati per la precisione di questa "profezia".