Si sa, i finali delle serie tv sono sempre la parte più temuta e più attesa, quella che immaginiamo e sogniamo, ma che allo stesso tempo vorremmo che non arrivasse mai. Ma quando arriva, è anche il momento che non vorremmo perderci per nulla al mondo. E infatti, l'ultimo episodio è quello che registra sempre un numero di spettatori altissimo. Numeri che neanche immaginiamo: milioni di persone diverse, sparse per tutto il paese, che non hanno nulla in comune forse se non l'essere incollati alla tv nel medesimo istante per vedere la fine del proprio show preferito.
Ma dobbiamo fare una precisazione: vi sorprenderà non trovare alcuni telefilm che avreste messo la mano sul fuoco meritassero un posto in questa classifica, ma per inserirli abbiamo bisogno di dati certi e attendibili. Dati che solo gli ascolti in tv possono fornirci. E in tal modo si finisce per escludere la grande fetta del pubblico in streaming.
Per questo motivo, al termine della classifica ufficiale, troverete alcune Menzioni Speciali.
E ora… siete pronti? Bene, cominciamo!
20) L.A. Law
L.A. Law – Avvocati a Los Angeles si aggiudica il 20° posto in questa classifica: l'ultima puntata Finish Line è stata vista da appena 22,1 milioni di spettatori. Precursore di Law & Order, con un pizzico di How to Get Away with Murder, la serie si articola in otto stagioni in uno studio legale. È stata in grado di portare all'attenzione del grande pubblico temi scottanti, come omosessualità e violenza di genere, AIDS e aborto.
19) MacGyver
L'affascinante agente segreto Angus MacGyver ha ammaliato e intrattenuto le masse per ben 7 stagioni. L'episodio finale, andato in onda nel 1992, ha riscosso grande successo: 22,3 milioni di persone sono rimaste scioccate dalla rivelazione dell'identità di Sam, l'affascinante motociclista che ha aiutato il protagonista in più di un'occasione. Per i nostalgici, sappiate che è disponibile su Amazon Prime Video.
18) St. Elsewhere
Prima di E.R. Medici in Prima Linea, prima del dramma di Grey's Anatomy c'erano loro: i medici dell'ospedale sgangherato St. Elsewhere. Visto da 22,5 milioni di persone, il finale è interessante e labirintico: lascia intendere che tutto sia avvenuto nella mente di Tommy Westphall, figlio autistico di uno dei dottori protagonisti. Da questo finale la fantasia dei cinefili ha galoppato, ipotizzando che anche le altre serie direttamente o indirettamente correlate a St. Elsewhere siano frutto di un sogno.
17) Full house
Non servono presentazioni per Full House, sit-com che ancora oggi appassiona e coinvolge. Merito va all'immortale trama: un padre vedovo deve crescere le sue figlie e ad aiutarlo accorrono il cognato rockettaro e il suo migliore amico burlone. Pian piano la loro casa diventa sempre più affollata. L'ultima puntata è stata vista da 24, 3 milioni. La serie tv è inoltre tornata alla ribalta anche grazie a Netflix che nel 2014 ha prodotto un sequel Fuller House che vedere il ritorno di molti membri del cast.
16) The Golden Girls
Cuori Senza Età è un'inno alla vita, che con occhio irriverente e sempre con il sorriso sulle labbra guarda alla vecchiaia con ottimismo. Potremmo dire che The Golden Girls ha anticipato di almeno 40 anni Grace and Frankie: quattro anziane tra vedove e divorziate condividono una casa a Miami. One Flew Out of the Cuckoo's Nest ha registrato un audience di 27,2 milioni di spettatori.
15) Happy Days
Anche in questo caso, nonostante la prima puntata sia andata in onda nel 1974, siamo di fronte a un cult della serialità. Fonzie, da personaggio marginale che era, è finito per diventare l'icona dello show e ha aperto le porte allo stereotipo non troppo stereotipato del duro dal cuore tenero. L'epilogo, Fonzie's Spots, è stato seguito da 30,5 milioni di persone.
14) Gunsmoke
Andando a ritroso e proseguendo nella classifica dei finali delle serie tv più visti di sempre, troviamo Gunsmoke trasmesso dal 1955 al 1975. Serie western, incarna perfettamente i gusti del pubblico del tempo e lo dimostra la sua longevità. E ovviamente gli ascolti registrati alla messa in onda dell'ultimo episodio: ben 30,9 milioni, sebbene non sia stato un vero e proprio finale dal momento che la serie è stata cancellata all'improvviso.
13) Star Trek: The Next Generation
Prodotta vent'anni dopo la serie originale, The Next Generation è ambientata 70 anni dopo la prima. Nonostante siano trascorsi diversi anni, è impossibile non conoscere questo telefilm che è diventato un must con il suo iconico saluto. La puntata finale è All Good Things ed ha totalizzato 31 milioni di visualizzazioni.
12) Everybody Loves Raymond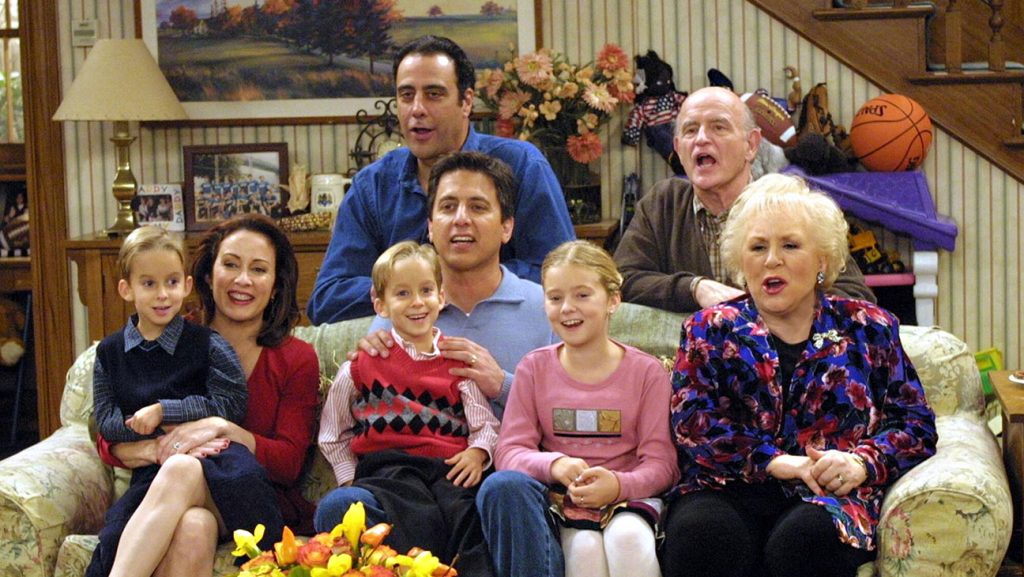 In onda dal 1996 al 2005, Tutti amano Raymond è quasi la progenitrice di Tutto in Famiglia o La Vita Secondo Jim: rappresenta con ironia la tipica famiglia americana, con nonni e vicini ficcanaso compresi. Senza contare che Ray – il protagonista – è apparso in un episodio de La Tata come amico di scuola di Francesca! Il finale è stato visto da appena 32,9 milioni di spettatori.
11) Dallas
Siamo quasi a metà della classifica dei finali più visti delle serie tv e all'11° posto, con 33,3 milioni, troviamo Dallas (che rientra anche tra le 10 serie con il maggior numero di episodi). È stata una delle prime soap opera trasmesse in tutto il mondo e va citato che l'episodio in cui viene svelato il colpevole dell'attentato a J.R. Ewings ha registrato la bellezza di 83 milioni di ascolti! Un numero incredibile… ma comunque non quanto il primo posto di questa classifica!
10) Frasier
Frasier è lo spin off della serie Cheers, che si concentra su Frasier Crane, diventato regular dello show madre nel 1984. Dato il grande successo riscosso dal personaggi, nel 1993 è stata realizzata una serie dedicata a lui che è stata anche piuttosto apprezzata e lo dimostrano le sue dieci stagioni e i 37 Emmy vinti. L'episodio finale ha visto incollati alla tv 33,7 milioni di spettatori.
9) Quell'Uragano di Papà
Quell'Uragano di Papà (o in originale Home Improvement) è uno degli show comici più conosciuti e seguiti di tutti i tempi. D'altronde, per essere nella classifica dei finali più visti delle serie tv, è una di quelle che è stata in grado di smuovere grossi numeri di persone, appassionandole con la sua comicità. L'ultima puntata conta 35,5 milioni di persone. Il protagonista è Tim Taylor che tiene un programma su come abbellire la propria casa. E la sua valletta è una giovanissima Pamela Anderson.
8) Family Ties
L'avete riconosciuto? Sì, prima di viaggiare nel tempo a bordo della DeLorean Marty McFly (Michael J. Fox) ha recitato nella sitcom di successo Family Ties (o Casa Keaton, com'è stata tradotta in italiano). Un successo testimoniato anche dal pubblico che ha guardato il finale: 36,6 milioni. Punto di forza è lo scontro generazionale tra gli hippie degli anni '60 e i figli del consumismo degli anni '80.
7) All in the Family
Anche questa è una sitcom, ambientata però negli anni '70, in Italia tradotta come "Arcibaldo" dal nome del protagonista Archie Bunker, padre di famiglia che vive nel Queens. Intorno a lui e al suo bigotto moralismo ruotano le vicissitudini della famiglia, affrontando con ironia temi di attualità. Ben 40,2 milioni di persone hanno visto la puntata finale.
6) I Robinson
I Robinson è una di quelle che sembra non passi mai di moda, quasi come se fosse obbligatorio passarla in tv e che tutti almeno una volta debbano vederla. Anche se a trasmetterla è un canale sconosciuto nel cuore della notte. Ha appassionato grandi e piccoli e il suo finale è stata seguito da 44,4 milioni di persone. E dire addio a questa famiglia non deve essere stato facile.
5) Magnum PI
Al 5° posto, l'ultimo episodio ha attirato un discreto numero di spettatori: solo 50,7 milioni. Il suo baffo è leggenda e così la serie: Tom Sullivan Magnum IV, veterano del Vietnam e investigatore privato alle Hawaii ne è il protagonista. Con la sua ironia e la sua sagacia, il lussuoso contesto esotico, ha conquistato in breve il grande pubblico.
4) Friends
Immancabile: uno dei finali delle serie tv che ci hanno straziato il cuore e che continuano a commuovere, visto da 52,5 milioni di spettatori. E tra pochissimo, torneremo a incontrare i nostri amati protagonisti. Conclusasi nel 2004, Friends non ha mai smesso di influenzare, di intrattenere e di far sentire bene le persone. Perché lo dicono tutti, Friends è antidepressiva, fa bene al cuore. E, dopo tanti anni, anche noi ci sentiamo amici di quella gang imperfetta, ma perfetta per noi.
3) Seinfeld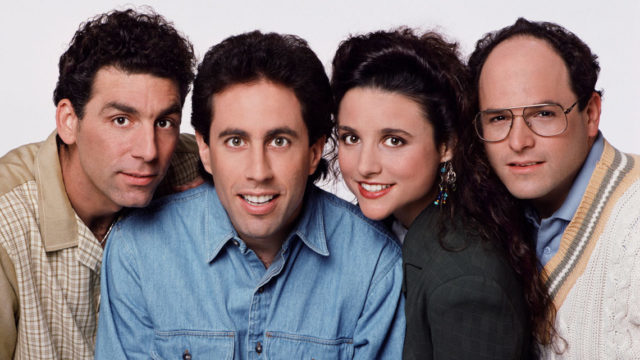 Medaglia di bronzo alla serie tv Seinfeld, che parla di tutto pur parlando di niente. Ed è proprio quello il punto di forza: spogliati da qualunque messaggio educativo, da qualsiasi lotta o sensibilizzazione, i protagonisti risultano solo delle persone. Umani, con pregi e difetti. L'ultimo episodio, nonostante abbia perplesso alcuni, ha registrato un audience di 76,3 milioni.
2) Cheers
Il Cheers è il bar dove i protagonisti si riuniscono e l'abbiamo già visto precedentemente, con Frasier. L'ultima puntata, One for the Road è un episodio speciale dalla durata di 98 minuti. Con oltre 93 milioni di spettatori, è secondo nella storia nella classifica dei finali più visti delle Serie Tv. La messa in onda dell'episodio fu preceduta da una raccolta dei momenti migliori dal titolo Last Call! A Cheers Celebration.
1) M*A*S*H
Medaglia d'oro a M*A*S*H, il cui finale Goodbye, Farewell risulta essere il più visto, seguito dalla bellezza di 105,9 milioni di persone. Ormai leggenda e oggetto di numerosi riferimenti alla cultura americana, è una sitcom che non tralascia di trattare temi di attualità con toni più seri e attenti come la guerra del Vietnam in particolare e – più in generale – quella fredda.
Menzioni speciali
Dobbiamo fare delle menzioni speciali. infatti, come abbiamo già sottolineato, la mancanza di dati certi circa le visualizzazioni sui siti di streaming ci impedisce di inserire tra le 20 serie tv più viste quelle che seguiranno. Ma è un dato di fatto che gli ascolti siano stati altissimi e questo nonostante sfuggano ai dati ufficiali tutti i fan collegati da pc. Quindi una menzione sembra d'obbligo.
Al 24° posto troviamo How I Met Your Mother che ha totalizzato 13,2 milioni di spettatori con il suo finale Last Forever. Segue Lost con 13,5 milioni e l'episodio che ha diviso il pubblico, facendo parlare ancora di sé come fosse andato in onda ieri. The Big Bang Theory è al 22° posto in classifica, avendo registrato 18,5 milioni di ascolti. E infine, al 21°… Game of Thrones! Ben 19,3 milioni di persone erano incollate alla tv il 19 maggio del 2019 per scoprire finalmente chi si sarebbe seduto sul trono. Senza contare tutti gli appassionati collegati dal resto del mondo. Un risultato non da poco!