Per gli amanti della letteratura le trasposizioni cinematografiche o televisive delle proprie opere preferite rappresentano spesso delle cocenti delusioni. E ciò sembra essere ancor più vero per gli esigenti seguaci del Re del brivido Stephen King. Nel corso degli anni dai suoi romanzi sono stati tratti innumerevoli film e, soprattutto ultimamente, prodotte diverse serie tv. Tra queste alcune si sono rivelate dei mezzi flop (come The Mist) e altre dei prodotti molto interessanti (come Castle Rock, di cui vi parliamo meglio qui).
Ciò che sembra comunque assodato, in generale, è che portare sullo schermo le opere del Re non è un'operazione semplice. Vuoi per la lunghezza e corposità tematica dei materiali originali, vuoi per la complessa sfaccettatura del sistema dei personaggi, fatto sta che per qualche motivo le trasposizioni kinghiane sono delle scommesse non sempre vinte.
Se una serie come Castle Rock ha puntato su una narrazione antologica che trae spunto da diverse opere dello scrittore del Maine, centrando l'obiettivo di cogliere l'atmosfera inquietante e sovrannaturale del suo universo narrativo, altre, come Under the Dome, non sono riuscite a gestire le numerose sottotrame del romanzi cui si ispirano.
Ed è per questo che oggi ci proponiamo di stilare una classifica delle cinque migliori serie tv tratte dai libri di Stephen King, soffermandoci in particolare su quelle che hanno riscosso un maggior successo di pubblico e ottenuto il plauso della critica, in qualche caso riuscendo persino a soddisfare l'esigente fanbase dello scrittore.
5) 22.11.63
Apre la nostra classifica la miniserie televisiva del 2016 targata Hulu, che vede nientemeno che il Re in persona e J.J. Abrams nei panni di produttori esecutivi.
James Franco interpreta il ruolo di un disilluso insegnante di liceo che scopre di poter viaggiare nel tempo fino al 1960. Qui dovrà impiegare tutte le sue risorse per impedire che il 22 novembre di tre anni dopo il presidente John Fitzgerald Kennedy sia assassinato a Dallas da Lee Harvey Oswald.
Se la serie è tratta dal celebre romanzo di King, anche la mano di J.J. Abrams si nota chiaramente, tant'è che i possibili parallelismi tematici con Lost sono evidenti: viaggi nel tempo, scontro tra bene e male e un destino cui sembra impossibile sottrarsi, per uno show che sa mescolare con efficacia fantascienza e storia recente.
Probabilmente non la migliore trasposizione da King, anche a causa dei forse eccessivi tagli dettati dalle esigenze tempistiche della televisione, ma comunque un buon prodotto che sa appassionare e coinvolgere dal primo all'ultimo episodio grazie alle ottime performance recitative.
4) L'ombra dello scorpione
Proseguiamo con una serie del 1994, le cui tematiche ci risultano (purtroppo) più attuali che mai visti i tempi di pandemia in cui viviamo.
Mentre sul catalogo Starz Italia sono disponibili i primi episodi del remake con protagonisti James Marsden e Alexander Skarsgård, noi ci soffermiamo invece sulla primissima trasposizione di The Stand, o L'ombra dello scorpione, uno dei romanzi in assoluto più celebri e apprezzati di Stephen King.
L'opera da cui la serie trae spunto è tra le più lunghe del Re (oltre mille pagine), e va da sé che la trasposizione televisiva abbia dovuto tagliare e rimaneggiare i materiali originali.
Il risultato è tuttavia ottimo, e ci mostra efficacemente il mondo post-pandemia di Captain Trips, la super influenza creata in laboratorio che, a causa di un errore umano, ha devastato i cinque continenti e risparmiato la vita di pochissimi fortunati.
I numerosi protagonisti descritti approfonditamente da King in quello che è considerato uno dei suoi massimi capolavori si trovano così ad arroccarsi su due opposte fazioni, una votata al bene e l'altra al male.
Simboli dell'eterna lotta tra buio e luce, uno dei temi chiave nell'opera di King, sono Stu Redman (interpretato da un giovane Gary Sinise), che incarna i migliori valori dell'uomo medio, e Randall Flagg, misteriosa e diabolica creatura dai poteri sovrannaturali.
3) It
La miniserie televisiva in due puntate del 1990 è rimasta nell'immaginario collettivo come una delle trasposizioni più incisive e iconiche di un'opera di Stephen King.
La materia da cui è tratta, il gigantesco romanzo omonimo, è stata adeguatamente portata sullo schermo soprattutto grazie alle ottime interpretazioni degli attori protagonisti. Tra questi il vero mattatore è Tim Curry, che veste gli agghiaccianti panni del clown Pennywise, il cui sorriso diabolico ha turbato indelebilmente l'infanzia di molti di noi.
E il percorso di formazione dei quattro personaggi principali, segnati dal trauma infantile dello scontro con il diabolico It, e la conseguente presa di coscienza in età adulta di quanto vissuto, sono le macro-tematiche fondamentali del romanzo egregiamente sviluppate nei due episodi dello show.
Certo, anche in questo caso stiamo parlando di una serie non esente da difetti, di nuovo conseguenza della difficoltà nella gestione di un materiale di partenza così vasto e denso di contenuti. Nonostante ciò ci sentiamo di promuovere It, soprattutto grazie all'eccellente interpretazione di Tim Curry, che ha saputo rendere il suo Pennywise un antagonista assolutamente iconico.
2) Castle Rock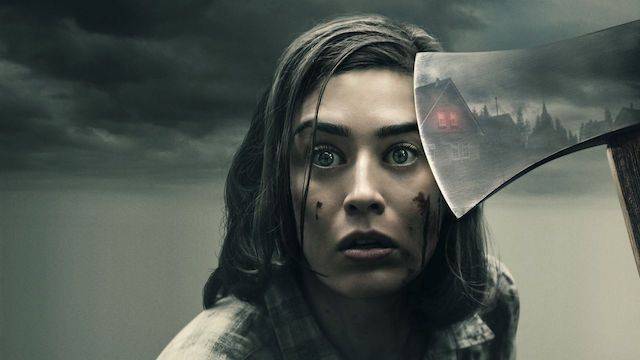 Lo show Hulu del 2018 è liberamente ispirato alla serie di racconti e romanzi ambientati nell'omonima (e immaginaria) cittadina del Maine, la Castle Rock del titolo.
Anche in questo caso la collaborazione tra Stephen King e J.J. Abrams ha dato vita a un prodotto assolutamente godibile, in grado di portare sul piccolo schermo alcune delle tematiche più frequentate nell'universo narrativo dello scrittore.
E la scelta di ambientare lo show a Castle Rock si è rivelata assolutamente vincente, poiché la cittadina si fa immaginario crogiolo di personaggi, situazioni e tematiche ricorrenti nell'opera di King.
Così gli svariati filoni narrativi, come la storia del ragazzino scomparso nei boschi e poi misteriosamente riapparso, o quella del giovane senza nome che potrebbe essere l'anticristo, in Castle Rock si intrecciano sapientemente in una sorta di antologia ideale dell'opera di King.
Mistero, sovrannaturale, sovrapposizione di diversi piani dimensionali e temporali: al centro di tutto c'è sempre il Male, quell'oscuro senso di oppressione che il Re ha saputo narrare nei suoi romanzi e che in Castle Rock riesce a manifestare la sua inquietante presenza.
1) The Outsider
Di mezza spanna superiore rispetto a Castle Rock per la profondità della psicologia dei suoi personaggi, è paradossalmente una delle opere cartacee meno celebri del Re ad aver ispirato quella che riteniamo essere la migliore trasposizione della nostra classifica.
The Outsider ha ottenuto infatti il plauso unanime della critica e, soprattutto, è riuscita a soddisfare anche i fan più esigenti dello scrittore.
Nello show del 2020, da molti definito addirittura più incisivo rispetto al romanzo da cui è tratto, Jason Bateman è un tranquillo professore di provincia accusato del brutale omicidio di un ragazzino, mentre Ben Mendelsohn veste i panni del detective incaricato delle indagini.
Questi due attori straordinari danno volto ed emozioni a una serie che inserisce in modo geniale l'elemento sovrannaturale e orrorifico tipico dell'immaginario kinghiano nella placida atmosfera della provincia americana.
In The Outsider il Male riesce così a infiltrarsi nel quotidiano torpore dei protagonisti, sconvolgendo le loro esistenze e stravolgendo del tutto le certezze che hanno sulla realtà che li circonda. In definitiva, una serie che rende il giusto merito all'opera letteraria da cui è tratta riuscendo al contempo a donare quel guizzo autoriale in più che l'ha resa un gioiellino da non perdere.