Se c'è una cosa che noi fan delle serie tv abbiamo imparato nel corso del tempo è che l'amore è una delle forze motrici più grandi del mondo. Da questo punto di vista, penso che Buffy, a modo suo, abbia fatto scuola.
Una delle diverse serie tv in cui è difficile trovare un personaggio che non abbia avuto relazioni con gli altri, quando non c'è in gioco l'amore generalmente entra in gioco il sesso, ovvero la seconda forza motrice più grande del mondo seriale.
Ma ciò che non manca in Buffy, così come in molte altre serie tv, sono le storie d'amore tra personaggi lanciate un po' così, alla "come viene, viene". Coppie che abbiamo odiato così tanto a lungo che nemmeno sappiamo più da quando.
Le ragioni che ci spingono a odiare questi soggetti messi insieme sono molteplici: dal loro essere mal assortiti al fatto che si vede chiaramente la mancanza di chimica o di un minimo di destino tra i due. Ed è vero che abbiamo parlato già più volte di coppie nelle serie tv, come quelle inutili (che potete trovare qui). Ma a volte è proprio questo loro essere senza senso che ci porta a odiarle.
C'è anche da dire che ognuno ha le sue preferenze, ma spesso è chiaro a tutti che certi accostamenti possano essere… come dire… discutibili, ecco. Perciò, oggi abbiamo raccolto la bellezza di dieci coppie, che passano da telefilm come Buffy fino a Game of Thrones, di personaggi che abbiamo odiato tantissimo insieme.
1) Shannon Rutherford e Sayd Jarrah (Lost)
Non saprei dire con esattezza quale fosse la cosa che meno mi piaceva di Shannon. Se la sua aria un filino spocchiosa, se il suo lato un po' arrivista, o se forse proprio la relazione con Sayd. A pensarci bene: che cosa hanno esattamente questi due in comune? Quale motivo dovrebbe spingerli uno verso l'altra?
Tra l'altro, persino la loro durata come coppia non aiuta a stabilizzarli. I due effettivamente si innamorano, ma nel momento in cui riescono ad appartarsi in una tenda sulla spiaggia, lei viene sconvolta dalla visione di Walt che la porterà dritta alla morte per mano di Ana Lucia. Durati poco e decisamente insopportabili. 
2) Myranda e Ramsay Bolton (Game of Thrones)
Anche con questo punto ci troviamo nella situazione per cui odiamo terribilmente un personaggio più dell'altro. Perché, a ragionarci bene, è proprio Ramsay il vero elemento di disturbo di questa coppia. Che poi la giovane Myranda si aggreghi alla sua pazzia perché perdutamente innamorata di lui, quello è tutto un altro paio di maniche.
Conosciamo l'ex bastardo Bolton per essere un pazzo furioso, sadico e violento. La stessa violenza che utilizzerà con Sansa la pratica anche con la sua amica e concubina Myranda, per la quale non nutre rispetto. Questi due insieme altro non erano che la faccia della stessa medaglia di perversione e follia.
3) Kira Yukimura e Scott McCall (Teen Wolf)
Altro grande elemento di verità: spesso in una serie tv tendiamo a odiare qualsiasi personaggio che inizi una relazione con il nostro beniamino. Capita in continuazione, come la storia di Sam insieme a Rachel in Glee o di Paul con Rory nel revival di Gilmore Girls. Possiamo dire quindi quasi con certezza che è ciò che capita alla coppia formata da Kira e Scott in Teen Wolf.
Si sente da più parti che la loro coppia non è mai stata molto apprezzata dai fan, nonostante la lunga durata della loro relazione. Questo è probabilmente dovuto al trauma dopo la scomparsa del vero amore di Scott, Allison, morta tra le sue braccia alla fine della terza stagione. Con tutto il bene del mondo, Kira può essere carina, ma non può competere con l'amore vero.
4) Buffy Summers e Riley Finn (Buffy, The Vampire Slayer)
Ed eccoci a una delle note più dolenti di Buffy, The Vampire Slayer, ovvero la storia tra Buffy e Riley. Tutti noi conosciamo il triangolo amoroso più famoso portato avanti da questa serie tv, ovvero quello tra Angel, Buffy e il mitico Spike. Come è normale che sia, anche un'eroina come la giovane Buffy Summers vuole un po' di normalità ogni tanto. Ecco quindi spuntare Riley.
I due si conoscono al college, e la loro relazione sembra svilupparsi bene finché Buffy non confida prima a Spike un problema familiare. Il fidanzato si sente escluso e comincia a fare una serie di cavolate come farsi mordere da dei vampiri. Tutto porta a una rottura tra lui e Buffy, e noi non potremmo esserne più felici!
5) Olivia Pope e Jake Ballard (Scandal)
Diamo un punto di svolta al nostro elenco passando da serie tv sul soprannaturale come Buffy a qualcosa di molto più moderno. Conclusasi da poco, Scandal gira intorno alla sua protagonista, Olivia Pope, donna dotata di grandissimo carisma che, dopo aver lavorato per la Casa Bianca, decide di creare la sua associazione di legali per gestione di situazioni di crisi.
La relazione con il caro Jake è probabilmente una delle storyline principali avute dalla protagonista, ma non siamo stati tutti in grado di apprezzarli. Anzi, c'è da dire che in molti avrebbero preferito ben altro tipo di accostamento. La storia d'amore tra Olivia e il presidente Fitz, infatti, è quasi leggendaria, e il fatto che lei preferisse Jake ci faceva davvero storcere il naso.
6) Maggie Pierce e Jackson Avery (Grey's Anatomy)
L'universo di Shonda Rhimes sembra essere costellato da serie tv in cui il triangolo amoroso è un motore fondante della narrazione. Possiamo dire effettivamente di aver odiato più coppie in Grey's Anatomy che in qualsiasi altro show. E no, non c'entra soltanto la lunga durata di questo telefilm, giunto ormai alla quindicesima stagione.
Ciò che ha fatto parecchio arrabbiare i fan, e che ancora oggi sono imbestialiti, dato che sento le loro urla stando qui, è stata la relazione nata tra Maggie e Jackson, che è andata solidificandosi sempre di più. Ma insomma, questo ragazzo ha mosso mari e monti per April e non è riuscito a recuperare un rapporto con l'amore della sua vita? Dai, non possiamo crederci!
7) Spencer Hastings e Caleb Rivers (Pretty Little Liars)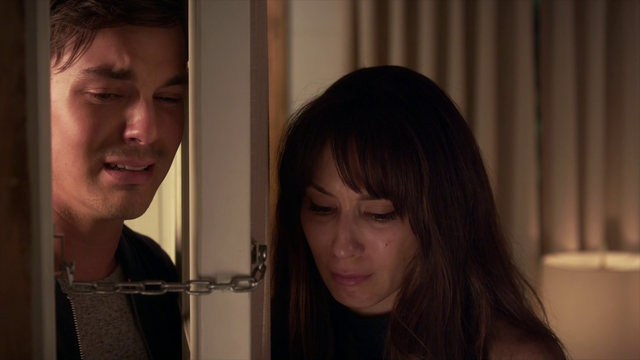 Il mal assortimento delle coppie ha colpito anche un'altra grande produttrice di drammi dall'aria trash: Marlene King, creatrice della serie tv Pretty Little Liars. Con le sue sette stagioni ci siamo arrovellati il cervello prima per capire chi fosse -A, poi per capire chi fosse .A.D. e infine per capire come fosse possibile creare coppie a caso.
L'esempio più lampante di un tale intervento è senza dubbio la storia riguardante Spencer e Caleb. Dopo la grande rivelazione di -A, la serie tv si è fermata per la classica pausa, riprendendo quindi con la seconda parte e con un bel salto temporale di qualche anno. E cosa abbiamo trovato? Caleb, l'amore della vita di Hanna, fare coppia fissa con la sua amica Spencer.
No Maria, io esco!
8) Blair Waldorf e Louis Grimaldi di Monaco (Gossip Girl)
Tralasciamo per un attimo la svolta trash che questa serie tv ha intrapreso con l'avanzare delle stagioni e concentriamoci su uno dei miei personaggi preferiti in assoluto: Blair Waldorf. La giovane ragazza dell'Upper East Side ne aveva passate di cotte e di crude a livello sentimentale, quindi Louis, in un primo momento, mi era quasi sembrato carino.
Insomma, la boccata fresca che ci voleva per la nostra eroina. Se non fosse che è durata due puntate! Louis è partito bene salvo poi rivelarsi un vero figlio di buona donna. I due sono il chiaro esempio che l'apparenza inganna, e di certo l'odio nei loro confronti è sempre stato altissimo.
9) Quinn Fabray e Finn Hudson (Glee)
Un'altra delle serie tv che più ho adorato, Glee, si è divertita a giocare con le coppie, creando nel corso delle stagioni accostamenti bizzarri e alcune volte al limite della logica. Se non fosse stato per il suo risollevarsi finale, non so quanto avrei potuto continuare ad amarla. In sua difesa, c'è anche da dire che la coppia incriminata compare fin dalla prima puntata.
Finn è il quarterback della squadra di football, Quinn è la capo cheerleader. Che i due finiscano insieme sembra quasi scritto nelle stelle, ma per entrambi il destino volge verso altri lidi. Dopo la storia della gravidanza pensavamo che tra i due fosse finita per sempre, ma invece si è preferito reiterare questa cosa anche nella seconda stagione. E allora è stato solo odio.
10) Lorelai Gilmore e Christopher Hayden (Gilmore Girls)
Fanalino di coda di questo elenco, una serie tv cult della nostra adolescenza: Gilmore Girls. Originariamente tutte noi avevamo parteggiato per la storia tra Rory e Dean, finché non è comparso Jess, e da allora Dean quasi nessuno l'ha più sopportato. Ma se c'era una coppia che odiavo, era quella formata da Lorelai e Chris.
Padre biologico di Rory, quest'uomo ha l'arduo compito di entrare e uscire dalla vita dell'ex fidanzata e della figlia. Prima con una nuova compagna, poi con la storia del divorzio, poi il riavvicinamento. Insomma, ogni volta che Lorelai sembrava essere felice lui ricompariva per scombinare ancora di più i piani. Non ci riuscivo proprio a sopportarlo.