A volte recitare bene non basta. Il mondo del business attorno alle serie tv è diventato costellato di attori capaci di fare qualsiasi cosa. Oggi la difficoltà non è il non rimanere legati a un singolo ruolo: oggi la difficoltà è il non rimanere legati a un singolo genere. Bryan Cranston è solo uno dei tanti volti che si è riuscito a fare spazio in questo business in più occasioni, e in due generi opposti.
Alcuni dicono che i migliori attori sono coloro che riescono a far ridere, altri ancora sostengono che nella massa spiccano quelli che riescono a ridurre lo spettatore in lacrime. E se qualcuno riuscisse a fare entrambe le cose, ovviamente in due ruoli differenti?
Oggi siamo qui per raccontarvi, e non elencarvi, come questi cinque attori siano riusciti a trasmettere i due limiti estremi delle sensazioni emotive con due loro personaggi: facendoci piangere in una serie drama e facendoci sbellicare in una comedy.
Alcuni di questi, addirittura, hanno trasceso le nostre stesse regole, riuscendo a trasmettere entrambe le sensazioni con entrambi i personaggi, e a loro va un plauso eccessivo. Ma non soffermiamoci oltre e andiamo subito a dar loro i giusti meriti.
1) Bryan Cranston (Breaking Bad/Malcolm in the Middle)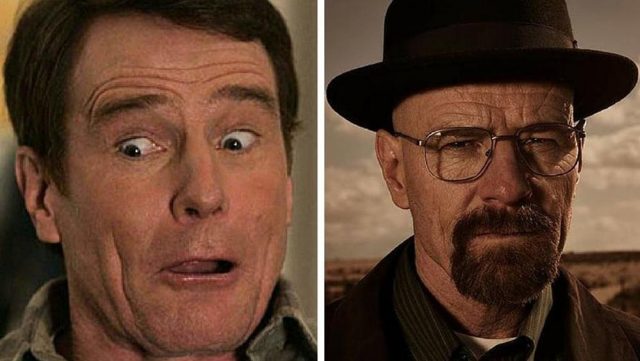 Non siamo qui a parlarvi di una novità quando elenchiamo i pregi di Bryan Cranston. Il protagonista di una delle serie più famose di sempre, per alcuni addirittura la migliore. Cranston durante le cinque stagioni ad Albuquerque riuscì a trasmettere una profondità in Walter White che pochi erano riusciti ad attribuire al proprio personaggio. I momenti in cui ci ha ridotto alle lacrime non sono neanche numerabili, uno su tutti il finale.
Eppure Bryan anni prima si era già cimentato coi prodotti televisivi.
Hal, padre del protagonista di Malcolm in the Middle, non ci ha risparmiato risate durante le sette stagioni iniziate nel 2000. La duttilità di Bryan Cranston nell'interpretare un personaggio così inetto e sempliciotto, abbindolabile da chiunque, è incredibile. Non sembra quasi lo stesso interprete se non fosse per il grandissimo talento che accompagna le sue interpretazioni.
E diciamo che Bryan Cranston non fu l'unico a saper gestire due ruoli così bene sul set di Breaking Bad. Anche i suoi colleghi Bob Odenkirk e Jonathan Banks si dilettarono in comedy varie, tra cui How I Met Your Mother, Community o Modern Family.